NAGPUR, India, (Reuters) – India captain Virat Kohli is "excited" Australia and New Zealand have agreed to play cricket's first day-night test and called the match starting on Friday at the Adelaide Oval a "landmark" occasion.
The longest format of the game, played over five days, has seen dwindling crowds at grounds and according to governing body the International Cricket Council (ICC), day-night tests are an effort to address the problem.
"It is a landmark test," Kohli told reporters yesterday ahead of the third test against South Africa which starts in Nagpur today.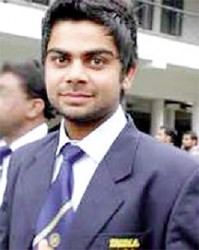 "It is a big experiment. It is a big step towards changing something in test cricket. I hope it works. I hope it can be another option as well.
"I'm glad two teams have actually agreed to play an official test like that as an experiment. Credit to Australia and New Zealand, both, that they have decided to do this.
"Hopefully, it will be better for the game. It will be a step which we all might remember a few years down the line. Let's hope so."
The 50-over format and the shortest Twenty20 format are already day-night affairs across the world, but some Australian players have expressed concerns about the visibility and durability of the pink ball that will be used in the match.
Kohli felt it was a step in the right direction to protect test matches.
"If it is officially put into place it will be something different, it will be something exciting," he said.
"As cricketers we all should be willing and accepting of the fact that we need to step forward and contribute to the game however possible.
"If this is a step towards improving the excitement and the popularity of test cricket, then I think every team should be in for it."
Play is due to start at 2PM local time (0330 GMT) and finish at 9PM local.
Around the Web