The fastest female in Schools Track and Field history, Kenisha Phillips claimed her second record for the 55th annual Championships yesterday with an emphatic victory in the Girls 200m under-16 final.
The strongly built District 4 sprinter once again set the track at the National Stadium ablaze by storming to glory in 25.4s, one day after becoming the fastest female student athlete in the marquee 100 metre event.
Phillips led District 12's Cassie Small (26.0s) and District 13's Tiffauna Garnett (26.2s) onto the podium. Her recorded time on the penultimate day of the five-day fixture lowered the previous mark set by Tirana Mitchell (25.6s) in 2012.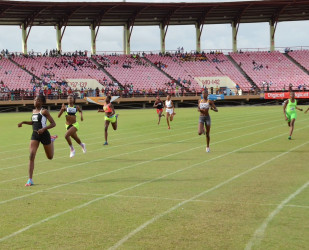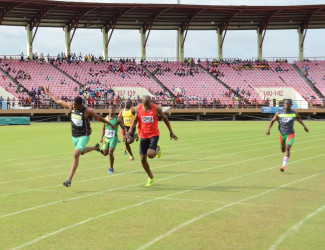 Running out of lane four, the 15-year old Buxtonian was ahead of Small with five paces after an explosive start.
As she rounded out the bend, Small briefly threatened from lane five, but with teeth clenched, eyes on the finish line, the female who created history on Wednesday, changed gears and torpedoed to the tape to underline her position as one of Guyana's greatest high school sprinters.
Avon Samuels was also in record-breaking mode as she rewrote the books in the U-18 event to continue her gold medal heist. Samuels who also claimed 100m gold, took over the lead from third place finisher, Natricia Hooper on the final bend on the 300m track and never looked back.
The District 11 standout from Christ Church Secondary School clocked 25.5s to erase Shannon Griffith's record (25.6s) which was set three years ago. Hooper snared the silver in 26.1s while Shenael Hughes of District 3 had to settle for the bronze in 26.9s.
Linden's own Compton Caesar also continued his gold medal heist. The muscular sprinter who had equaled the U-18 100m record on Wednesday, recorded a sprint double by flying across the line in 22.3s, just three hundredths of a second off the record set by Jason Yaw in 2013.
The budding track star bested Tyrell Peters (22.5s) and Titus Webster (22.7s) to finish at the top of the podium.
Earlier in the day, District 11's Claudrice McKoy completed a treble by winning the 1500m U-16 finals. The Chase's Academy fourth form student also won the 3000 and 800m events on Tuesday and Wednesday respectively.
Other winners yesterday included Yaw who flirted with the 200m U-20 record after besting Linton Mentis and Tevin Garraway.
Yaw clocked 22.2s, just one hundredths of a second off Kevin Abbensetts' record. Mentis placed second in 22.5s while Garraway recorded time was 22.6s.
The final day of the championships will be highlighted with the 400m individual events, various relays and the prize giving ceremony. Action is set to start at 09:00hrs.
(Emmerson Campbell)
Around the Web