The Government of Guyana has thrown its support behind the Guyana Football Federation (GFF) and its Stag Beer Elite League by stating its intention to sponsor the league's first place prize of four million dollars.
According to a release from the GFF "The Government of Guyana recently announced their alliance with the Stag Elite League, following a meeting between Guyana Football Federation (GFF) President Wayne Forde, first Vice President Brigadier (rtd.) Julian Bruce Lovell and Minister of State Joseph Harmon".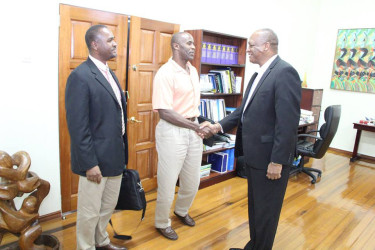 Excerpts from the correspondence further noted "It was during the meeting that Harmon, a longtime lover of the game, stated that the Government of Guyana will sponsor the league's first place prize of $4M".
The release noted "The first part of the league (Genesis) will conclude tomorrow (Sunday) at the Leonora Stadium, when Slingerz FC come up against rivals Alpha United where the winner between the two will pocket the Government's contribution while the loser takes home $2M".
"In the third place play-off, Pele FC who was beaten by Alpha United in the semi-final (3 – 1) faces Fruta Conquerors (who lost 2 – 0 to Slingerz)" the release added.
It further said "According to a release from the Ministry of the Presidency, Minister Harmon pledged the government's commitment to supporting the work of the GFF. The GFF President outlined to the Minister, his plans to erase lawless practices from the football fraternity in Guyana and restoring the game to its former glory".
"Forde lauded Minister's Harmon intervention and added that the GFF will be working closely with the Government of Guyana to aid in the development of the game" the correspondence added.
Around the Web