The just concluded 2015 National School's Cycling, Swimming, and Track and Field Championships will mostly be remembered for the record breaking feats achieved by sprint prodigy Kenisha Phillips.
At just 14 years old, the sprint star in the making is set to become Guyana's and perhaps the Region's next 100m and 200m champion of the near future.
A star has been birthed.
Why such a bold pronouncement?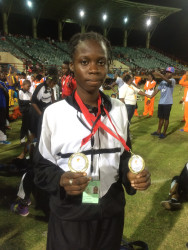 Five days ago at the National Stadium, Phillips secured her status as the fastest Guyanese female student sprinter of all time when she broke the under-16 100m record and bettered the under-20 record in the process.
The third form student of Bladen Hall Secondary School posted 12.0s to lower the previous mark (12.2s) set by Onasha Rogers last year at the same venue.
Phillips 100m run was also faster than the U-20 record which stands at 12.1s set by Rhobyn Alleyne in 2004 at the Enmore ground. The eye popping run is a culmination of a remarkably rapid rise to the top of the local sprinting ranks for someone who juggles training and studies.
It did not end there.
A day later in the 200m, Phillips claimed her second record for the 55th annual Championships storming to glory in 25.4s.
Her recorded time on the penultimate day of the five-day fixture broke the record which was set by a former prodigy Tirana Mitchell (25.6s) in 2012. The record breaking run, underlined her position as one of Guyana's greatest high school sprinters at just 14.
Stabroek Sport spoke to the native of Buxton recently and she gave an insight into her training regimen, her fleet-footed exploits and her aspirations.
According to Phillips, athletics has always been her favourite sport and she has been competing for the past seven years but only recently started to take the discipline seriously.
As far as her own heroics are concerned, Phillips confidently admits that she was not surprised by her record breaking feats as her work ethic is second to none. "I feel great to break the records but coming into the championships I felt that I could because I was training hard every morning. I train in the morning hours from about 4 to 6 then I prepare and go to school," she disclosed.
Kenisha trains under the watchful eyes of her uncle Linden Phillips at the Buxton Community Centre ground.
Both of Phillips' parents along with her uncle had athletic careers but she idolizes track and field superstar Usain Bolt and hopes to put Guyana on the map as Bolt has done for Jamaica. "I see myself as a star and representing Guyana at the Regional meets and at the Olympics, I think I have the talent and I am very dedicated to my training," she said.
During the interview with this publication, Phillips noted that she is aiming to continue her rise in track and field in order to secure a scholarship to a college in the US where she will be exposed to a higher level of training, competition and facilities.
"I'm still learning the sport," she said. "For me to go that fast, I know I have the potential to do something great. There's no limits on my body."
She thanked Mings Products and Services, her coach and parents for being her benefactors.
Harnessing her talent is a long term project that is worth the investment. Phillips could be the next 'Big Thing' for the Region. (Emmerson Campbell)
Around the Web