(The Sports Xchange) – Stephen Curry delivered one of the best shooting displays of his career as the Golden State Warriors maintained their perfect start to the season with a 116-99 victory over the Hornets in Charlotte on Wednesday.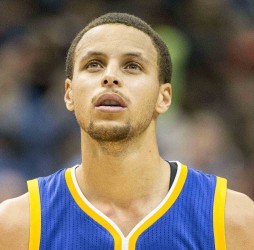 Curry had 28 points in the third quarter and finished with 40 for the game despite sitting out the entire fourth quarter. He was 14 of 18 from the field and eight of 11 from three-point range.
Afterward, he said he could not have imagined a better evening, especially since the Hornets honoured his father Dell as their all-time scoring leader in a ceremony at halftime.
"It was a cool atmosphere to play in," he said. "Especially on top of my dad's ceremony. It was nice to be able to get out there at halftime and hear his speech, standing with my mom and sister and my aunts and my grandma.
"So I can't ask for more, to play like I did and get the win on top of my dad's ceremony."
The win moved the Warriors to 20-0, extending the best start in NBA history. The Warriors have now won 24 straight regular-season games dating back to last season.
"It's getting surreal, for sure," Curry said. "It doesn't even sound right, to be honest. The NBA has so many great teams and great talents, so to be able to put on a run like this is special. It says a lot about our focus night in and night out.
"We don't always play our best but we find different ways to win. That's the strength of our team. Different guys step up on different nights."
The Warriors took command quickly, racing to a 28-13 lead and never looked back. They led by as many as 26 at one point.
Curry's explosion came over the final 7:26 of the third.
"Steph was incredible," Warriors interim head coach Luke Walton said. "In his hometown like this, 40 points in only three quarters, I mean, that's why he's MVP of the league."
Klay Thompson was the only other Golden State player in double figures with 21, 15 of those coming in the first quarter.
The Warriors shot 52.3 percent from the field for the game and were 16 of 34 from three-point range.
The Hornets (10-8) shot just 37.2 percent from the field, including Kemba Walker's woeful two of 16. Nicolas Batum led the way with 17 points, while Frank Kaminsky scored 16.
Hornets coach Steve Clifford tipped his hat to the Warriors.
"They played really well and obviously they're the best team in our league," Clifford said. "Steph had a great third quarter, obviously, in a variety of ways.
"The one thing that's disappointing and that has to change is you can't pick and choose when you're going to be physical. We got beat up again on the glass and we have to have someone who is willing to hit people in there."
Around the Web