KINGSTON, Jamaica, CMC – Jamaica Scorpions survived destructive bowling by Rahkeem Cornwall to steal a three-wicket win from Leeward Islands Hurricanes on the third day of their fourth round game in the Regional First Class Championship at Sabina Park here yesterday.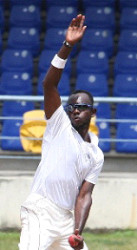 Chasing a target of 150, Scorpions stumbled to 84 for five as Cornwall's off breaks wreaked havoc and threatened to take the match away from the home side.
Cornwall grabbed five wickets for 39 runs but a composed half century from opener Paul Palmer guided Scorpions to victory after tea, to climax an exciting afternoon of cricket.
The match was evenly poised when Hurricanes resumed from their overnight 112 for three, trailing Jamaica by 79 runs on first innings.
The Leewards Hurricanes, who gave a better account of themselves after a first innings total of 164 all out, went to lunch at 180 for six, a lead of 101.
Half centuries from Shane Jeffers and Orlando Peters as well as contributions from Chesney Hughes and Jacques Taylor, of 27 and 24 not out respectively, propelled Hurricanes to 228 all out.
Jeffers added just nine runs to his overnight total before departing for a well-played 61 from 129 balls punctuated with five fours and a six.
Jeffers figured in an opening stand of 71 with Hughes while Orlando Peters struck 52 before he was run out.
Man-of-the match Nikita Miller grabbed four for 71 to finish with eight wickets in the match, Damion Jacobs picked up three for 72 while the other two went to Marquino Mindley.
The Jamaicans began their chase after lunch but were setback by Cornwall's bowling assault which sent them reeling at 44 for two and later slumping to 84 for five.
However Palmer's patient unbeaten knock of 51 which produced six fours kept the Scorpions on course, assisted by a 57-run partnership with Dave Bernard Jr who scored 36 before becoming one of Cornwall's victims.
Scoreboard
Hurricanes second innings
(112-3 overnight)
Chesney Hughes lbw b Miller                              27
Shane Jeffers c Jacobs b Mindley                       61
Daron Cruickshank c Bernard b Jacobs               14
Nkrumah Bonner b Mindley                                 10
Orlando Peters run out                                          52
Steve Liburd c Palmer b Miller                              8
Jamar Hamilton c wkpr Baugh b Jacobs                  2
Rahkeem Cornwall c wkpr Baugh b Jacobs        16
Jacques Taylor not out                                           24
Gavin Tonge c Campbell b Miller                           6
Alzarri Joseph lbw b Miller                                   0
Extras (b4,lb1,w1.nb2)                                         8
TOTAL (all out, 91.4 overs)                             228
Fall of wicket 1-71,2-94,3-112,4-127,5-157,6-
161,7-182,8-220,9-228.
BOWLING:Cottrell 4-0-34-0, Mindley 12-8-18-2,Miller 43.5-12-71-5, Campbell 3-0-15- 0,Lambert 3-0-13-0, Jacobs 26-2,72-3
Scorpion second innings
John Campbell c Peters b Cornwall                      15
Paul Palmer not out                                              51
Kirk Edwards c Liburd b Cornwall                       4
Andre McCarthy C wkpr Hamilton b Cornwall    13
Tamar lambert c Peters b Cornwall                       6
Carlton Baugh Jr run out                                          2
Dave Bernard Jr c Bonner b Cornwall                     36
Nikita Miller run out                                           8
Damion Jacobs not out                                          1
Did not bat: Marquino MIndley, Sheldon Cottrell
Extras (b12,lb2)                                                   14
Total (7 wkts, 40.5 overs)                                 150
Fall of wickets: 1-20,2-44,3-70-4-77,5-84,6-141,7-149
Bowling:Tonge 8-2-26-0, Joseph 3-0-17-
0,Cornwall 15-3-39-5, Taylor 10-0-26-1,Hughes
4.5-0-28-0
Man-of-the-match: Nikita Miller
Toss: Hurricanes.
Umpires: Verdayne Smith, Nigel Duguid.
Around the Web