NEW DELHI, (Reuters) – South Africa resorted to dogged stonewalling in their pursuit of an improbable 481-run victory target after Ajinkya Rahane stroked his second century of the match to tighten India's grip on the fourth and final test yesterday.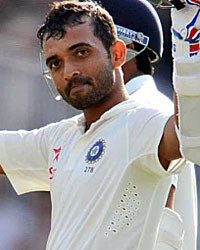 The hosts declared their second innings on 267-5 half an hour before the lunch break as soon as Rahane (100) became the fifth Indian to score centuries in each innings of a test match on the penultimate day at the Ferozeshah Kotla stadium.
Skipper Hashim Amla led South Africa's extraordinarily dour reply, taking 46 balls to get off the mark as the visitors crawled to 72-2 at stumps after 72 overs of relentless blocking over two dot ball-littered sessions.
Amla was unbeaten after making 23 painstaking runs from 207 balls while AB de Villiers managed 11 off 91 with South Africa still 409 behind the victory target.
The visitors lost Dean Elgar cheaply before Amla and Temba Bavuma (34) started blocking balls after balls in a desperate bid to take the match into the fifth and final day.
Even after Ravichandran Ashwin dismissed Bavuma, the score moved at a funereal pace as de Villiers too curbed his natural aggression, needing 33 balls to get off the mark.
Despite the presence of contemporary cricket's most destructive batsman in de Villiers and one of the most fluent scorers in Amla, the first 10 overs of their partnership did not yield a single run and things did not improve later either.
"We have managed to hold them back and hopefully tomorrow, we can carry on with the same," Bavuma told reporters, confident his team can bat out three sessions on Monday to eke out a draw.
"It's a tough ask to bat out the 90 overs. It will be day five, so you expect the wicket to deteriorate even more. But we have the experience, we have the skill and whatever happens, we will be going down fighting.
"Definitely we will carry on the spirit tomorrow and try our best to salvage a draw out of this game."
In a low-scoring series in which no other batsman from either side managed a single hundred, Rahane took 206 balls to bring up his second of the match and the sixth of his test career with the help of eight boundaries and three sixes.
After India resumed on 190-4, Rahane played a couple of uppish drives before bending his knees for an upper-cut, chipping a Morne Morkel delivery over third man in an uncharacteristic show of aggression.
At the other end, captain Virat Kohli (88) added five runs to his overnight score before a low Kyle Abbott delivery trapped him leg before to end the series-high 154-run fifth wicket partnership.
Rahane could not be denied his hundred, though.
The 27-year-old slog-swept Imran Tahir over midwicket for his second six of the innings and stepped out against Elgar for his third to storm into the 90s.
Rahane then took a quick single off leg-spinner Tahir to join an elite league of Indians that also included Vijay Hazare, Sunil Gavaskar (thrice), Rahul Dravid (twice) and Kohli.
Scoreboard
India 1st innings 334 (A. Rahane 127, R. Ashwin 56; K. Abbott 5-40, D. Piedt 4-117)
South Africa 1st innings 121 (R. Jadeja 5-30)
India 2nd innings (Overnight: 40-2)
M. Vijay c Vilas b M. Morkel                                       3
S. Dhawan b M. Morkel                                                  21
Ro. Sharma b M. Morkel                                              0
C. Pujara b Tahir                                                       28
V. Kohli lbw b Abbott                                                 88
A. Rahane not out                                                       100
W. Saha not out                                                            23
Extras (lb-2 nb-2)                                                            4
Total (for 5 wickets declared, 100.1 overs)                267
Fall of wickets: 1-4 M. Vijay,2-8 Ro. Sharma,3-53 S. Dhawan,4-57 C. Pujara,5-211 V. Kohli Did not bat: R. Jadeja, R. Ashwin, U. Yadav, I. Sharma Bowling M. Morkel 21 – 6 – 51 – 3(nb-1) K. Abbott 22 – 9 – 47 – 1 D. Piedt 18 – 1 – 53 – 0 I. Tahir 26.1 – 4 – 74 – 1(nb-1) D. Elgar 13 – 1 – 40 – 0
South Africa 2nd innings (Target: 481 runs)
D. Elgar c Rahane b Ashwin                                          4
T. Bavuma b Ashwin                                                     34
H. Amla not out                                                             23
A. de Villiers not out                                                       11
Extras                                                                            0
Total (for 2 wickets, 72 overs)                                      72
Fall of wickets: 1-5 D. Elgar,2-49 T. Bavuma Did not bat: F. du Plessis, J. Duminy, D. Vilas, D. Piedt, K. Abbott, M. Morkel, I. Tahir Bowling I. Sharma 12 – 7 – 16 – 0 R. Ashwin 23 – 13 – 29 – 2 R. Jadeja 23 – 16 – 10 – 0 U. Yadav 9 – 6 – 6 – 0 S. Dhawan 3 – 1 – 9 – 0 M. Vijay 2 – 0 – 2 – 0 Referees Umpire: Kumar Dharmasena Umpire: Bruce Oxenford TV umpire: CK Nandan Match referee: Jeff Crowe

Around the Web