Team Minions were crowned champions of the Farfan and Mendes Junior Christmas Squash Team Tournament on Sunday when they narrowly edged team Rising Stars at the Georgetown Club, a release from the tournament said yesterday.
Makeda Harding, Lucas Jonas, Daniel Islam, Aliyah Persaud and Mikhail Persaud were the winners for the champions as they edged team Rising Stars 5-4 on aggregate. With team Rising Stars consigned to second, Team Avengers had to settle for third place, the release said.
In an important match for Team Minions under 15 player Makeda Harding pulled off her first win over under 17 player Rebecca Low in a solid 3-1 performance. Harding's clean sweep of matches gained her the Most Outstanding Girl Award, while Shomari Wiltshire picked up the male prize with a 3-0 victory over Alexander Cheeks.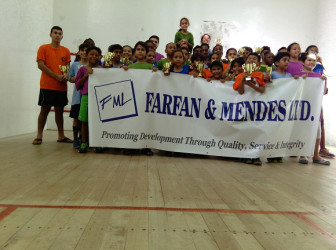 Nyron Joseph ensured he completed his Junior Squash Career on a high note with a 3-1 triumph over Ben Mekdeci, who had threatened to pull off an upset when he won the second set, and took the third one to deuce, before conceding that set, and the following two. The release said that Joseph concluded a fine junior career this year with both the National Junior and National Senior titles, the first time a male player has done so since Roger Arjoon, and the first time for any player since Nicolette Fernandes.
Aliyah Persaud, awarded the prize for the Most Improved Girl, completed a sweep of her opponents with a 2-0 victory over Mohryan Baksh, while Most Improved Boy Daniel Islam completed a win over his twin Anthony 3-0 in emphatic fashion.
Complete Final Day Results
Nyron Joseph beat Ben Mekdeci 3-1 (11/8, 8/11, 12/10, 11/4)
Daniel Islam beat Anthony Islam 3-0 (11/2, 12/10, 11/3)
Makeda Harding beat Rebecca Low 3-1 (7/11, 17/15, 11/5, 11/6)
Lucas Jonas beat Dominic Collins 3-0 (11/5, 11/5, 11/4)
Aliyah Persaud beat Mohryan Baksh 2-0 (11/2, 11/7)
Michael Alphonso beat Demetrius DeAbreu 3-2 (11/7, 11/1, 3/11, 9/11, 11/8)
Nathan Rahaman beat Haley Carpenter 2-1 (8/11, 11/2, 11/7)
Mikhail Persaud beat Mashal Allicock 2-1 (11/3, 13/15, 11/9)
Louis DaSilva beat Noah Rahaman 2-0 (11/7, 11/1)
Madison Fernandes beat Abosaide Cadogan 3-2 (3/11, 10/12, 11/6, 11/8, 11/9)
Shomari Wiltshire beat Alexander Cheeks 3-0 (11/8, 11/9, 11/8)
Michael Ramroop beat Jael Gaskin 3-2 (11/6, 11/6, 6/11, 5/11, 12/10)
Kamir Khan beat Liam Carpenter 2-0 (11/6, 11/3)
Samuel Ince-Carvalhal beat Gianni Carpenter 3-0 (11/5, 11/7, 11/4)
Christiana Fernandes beat Isabella Ramjohn 2-0 (11/4, 11/9)
Chad DeAbreu beat Teija Edwards 2-1 (11/4, 7/11, 11/8)
Larissa Wiltshire beat Taylor Fernandes 3-0 (11/8, 11/8, 11/7)
Most Improved Girl: Aliyah Persaud
Most Improved Boy: Daniel Islam
Most Outstanding Girl: Makeda Harding
Most Outstanding Boy: Shomari Wiltshire
Around the Web