PORT OF SPAIN, Trinidad, CMC – Barbadian Kyle Hope stroked a half-century but it was not enough to prevent a dominant Guyana Jaguars side from posting their fourth straight win of the Regional First Class Championship with a massive innings and 49-run victory over Trinidad and Tobago Red Force yesterday.
Starting the final day on 52 for two requiring a further 213 to make the visitors bat again, Red Force battled to 136 for two at Queen's Park Oval before suffering a sensational collapse to be bowled out for 216.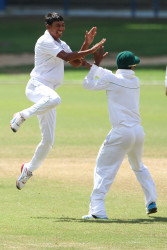 Jaguars were propelled by West Indies player Veerasammy Permaul who claimed five for 62 while fellow left-arm spinner Gudakesh Motie picked up four for 43. The right-handed Hope hit a top score of 74, adding a crucial 104 for the third wicket with left-hander Narsingh Deonarine who made 47.
However, once the partnership was broken, Red Force lost eight wickets for 80 runs as Jaguars coasted to victory in their fourth round encounter.
They have vaulted clear to the top of the standings on 70 points while Red Force remains fourth on 30 points.
Hope and Deonarine offered Red Force plenty of hope at the start in a handy partnership that denied Jaguars any success early on.
The attractive Hope stroked 13 boundaries in an innings consuming 146 balls and 2-1/2 hours while Guyanese Deonarine, in his first season with Red Force, stroked eight fours off 100 balls.
Once Motie removed Deonarine, however, the innings plunged into decline and never recovered. Hope followed soon afterward, caught at the wicket off Permaul at 146 for four and without a run added, Yannick Ottley was bowled without scoring, four overs later.
Wicketkeeper Steven Katwaroo and tail-ender Marlon Richards, both of whom scored 15, put on 24 for the eighth over while Uthman Muhammad (16) Kavesh Kantasingh (nine not out) added a defiant 25 for the last wicket, but it was not enough to stop Jaguars' push to victory.
Scoreboard
RED FORCE 1st Innings 210
JAGUARS 1st Innings 475
RED FORCE 2nd Innings
(Overnight 51 for two)
J Solozano lbw b Reifer                                         1
K Hope c wkp Bramble b Permaul                 74
Y Carriah c Hetmyer b Permaul                      16
N Deonarine c Hetmyer b Motie                    47
*J Mohammed lbw b Motie                              12
Y Ottley b Permaul                                               0
+S Katwaroo lbw b Permaul                           15
Imran Khan c Johnson b Permaul                 2
M Richards c wkp Bramble b Motie           15
Uthman Muhammad c Beaton b Motie     16
K Kantasingh not out                                           9
Extras (b4, lb4, w1)                                            9
TOTAL (all out, 77.4 overs)                      216
Fall of wickets: 1-5, 2-32, 3-136, 4-146, 5-146, 6-160, 7-163, 8-187, 9-191, 10-216.
Bowling: Beaton 13-2-47-0, Reifer 8-3-35-1, Permaul 31.1-14-62-5, Motie 20.3-7-43-4,
Barnwell 5-2-21-0 (w1).
Result: Jaguars won by an innings and 49 runs.
Points: Jaguars 17, Red Force 2.
Man-of-the-Match: Chris Barnwell.
Around the Web