Marian Academy, President's College and Plaisance Secondary were among the winners in the u-17, Girls and u-15 divisions respectively when the Youth Basketball Guyana (YBG) Youth-Level Tourney continued on Saturday at the Cliff Anderson Sports Hall.
In the u-17 division, President's College dismantled Bladen Hall Secondary 65-17. Kadeem Peterkin top scored with 18 points and seven rebounds while Anton Fileen recorded 17 points, five rebounds and seven steals.
For Bladen Hall, Darnell Hamer registered 10 points and eight rebounds.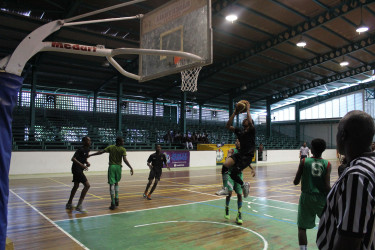 Meanwhile, Marian Academy downed the Bishops High 41-24. Jordan Alphonso netted 17 points and seven rebounds in the win while Jonathan Mangra supported with five points and 11 rebounds.
For Bishops, Timothy Thompson recorded a double-double of 12 points and 18 rebounds.
The final match of the section saw North Georgetown dismissing Queens College 31-24. Devon Hazel led the way with 14 points and eight rebounds while Javroll Shepherd netted 12 points.
For the loser, Omari Joseph scored 11 points.
For the girls, Marian Academy defeated St Roses High 11-5. Georgianna Vyphuis top scored for the Carifesta Avenue unit with six points and 15 rebounds while Lotifa Caesar led the loser with three points and 10 rebounds.
In the u-15 section, Plaisance Secondary defeated St Joseph's High 28-14. Andrew Johnson and Matthew Moses led the winner with 12 and seven points respectively while Immanuel Younge netted six points for St Joseph.
In the same division, Tutorial High edged Bishops High by a 27-21 margin. Zion Gray and Stanley More top-scored in the win with 14 and six points apiece. For Bishops, Roydon Glasgow recorded 12 points.
The final match of the division saw St Roses crushing Marian Academy 27-15. Anthony Yansen recorded figures of 15 points, four rebounds and as many steals in the win while Kwesi Roberts registered six points, six rebounds and four steals.
For Marian Academy, Josiah Daniels scored six points and three steals. The event will take a break for the Christmas season and will resume in January.
Around the Web