Flex Night International 2015 is a wrap.
After the dust settled, and every muscle fibre in each gladiator was pumped to the max, one man was left standing as the Mr Flex Night Champion. His name is Wendel Sedro.
The tattooed Surinamese muscleman brought the size, shape, symmetry and muscularity the judges wanted to see, to the National Cultural Centre stage. First, he posed and flexed his way to the top honours in the heavyweight class, then used his sharp mass of striated muscle to slice through the competition in the overall pose down of champions.
In bodybuilding, most would agree that shows are typically won from the back and Sedro brought all the tools to get the job done. His barn door back, prison bar-like hamstrings and otherworldly calves set him apart from the competition. His back and mammoth calves hogged the spotlight which enabled him to take home the coveted award and the $200,000 first prize ahead of last year's overall champion Godfrey Stoby.
Stoby had to settle for the under 176-pound trophy and second place overall. Under 165-pound ruler, Marlon Bennett was third overall. Claiming divisional titles were Alfred Jordan (under 165 pound) and Zalim Bacchus (under 143 pounds).
Men's Physique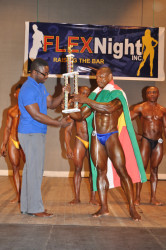 It was not an easy choice, but the judges awarded the Men's Physique Showdown trophy once again to Suriname's Daes Burgzorg. It was deja vu all over again as locals Emmerson Campbell and Yannick Grimes placed second and third, the same as last year.
Among a group of 10 V-tapered physiques, Burgzorg brought the shape and stage presence the judges wanted to see.
Ms Bikini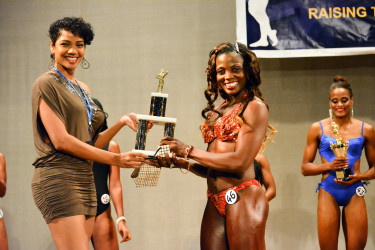 In the sizzling Ms Bikini segment, Galimo Militia upstaged local crowd favorite Kavita Ganpat and her Surinamese rival Joelle Issa in the crowded category. The overall Ms Bikini champion was the near perfect mix of muscularity, symmetry, beauty and style.
Ms Best Legs
Last but not least, the evergreen Alisha Fortune once more took home the first place trophy in the Ms Best Legs category ahead of Militia and Suelle Shepherd.
Clad in pink stilettos and matching swimsuit, Fortune was statuesque, well-conditioned, and in one of her best forms.
The show was well coordinated and the organizers must get a thumbs up. Sponsors included Fitness Express, Southland International Inc, Copa Airlines, Colour's Boutique, IPA Pharmacy, and Gizmos and Gadgets among others. (Emmerson Campbell)
Around the Web