Despite the conclusion of the much-hyped Guyana Football Federation (GFF) Stag Beer Elite League, prize monies for three out of the top four finishers are not in the coffers of the federation as the entity is reportedly cash-strapped.
Slingerz FC was crowned the winner of the League Genesis section of the league, defeating Alpha United 3-2 in the finale on November 29th at the Leonora Sports Facility. Similarly, Pele claimed the third position after downing Fruta Conquerors 1-0.
According to sources close to the federation, the entity is supposedly in possession of only the first place prize of $4,000,000 and to the public's knowledge, that was donated by the Government of Guyana recently.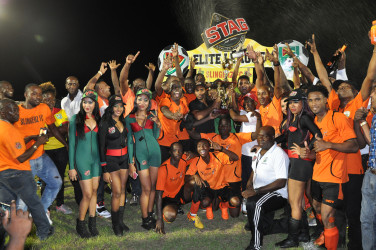 The sources further alleged that the GFF is not in possession of the respective cash prizes to pay Alpha United, Pele and Fruta Conquerors who are slated to receive $2,000,000, $1,000,000 and $500,000 correspondingly.
They further alleged that contrary to what the public has been made to believe, the competing clubs are also yet to be paid for match day stipends for rounds 13 and 14.
According to the sources, the federation has supposedly met the title sponsors to try and ascertain when the presentation for the prizes will occur. Efforts to contact the GFF for a comment proved unsuccessful.
The sources further disclosed that the recently-elected Wayne Forde GFF administration inherited less than three million dollars from the Clinton Urling-led Normalization Committee upon the latter's departure from office.
The sources further alleged that the GFF is currently in a dire situation as the current funds might not be adequate to pay their staff for the months of November and December.
The second part of the league is expected to resume in February of 2016, with the prize monies for that section slated to be the same figures.
Around the Web