Guyana's powerlifters returned home on Monday with a treasure chest of gold medals after dominating their rivals at the 6th Commonwealth Power-lifting Championships which concluded in Vancouver, Canada on Sunday.
Eight of the nine local gladiators including 16-year-old Britney Mack were part of the gold medal heist which enabled the Golden Arrowhead to continue flying high on the world stage in the iron sport.
According to a release from the Guyana Amateur Powerlifting Federation (GAPF), Mack (sub-junior 52kg class), Rudolph Blackmon (junior-83kg), Karel Mars (105kg open), Marino Jeffrey (93kg open), Winston Stoby (74kg Master's 2), Edwin Spencer (83kg Master's 2), Naranjan Singh (83kg Master's 4) and  Britney's father Osmond Mack (74kg Open) all lifted gold medals in their respective classes at the event.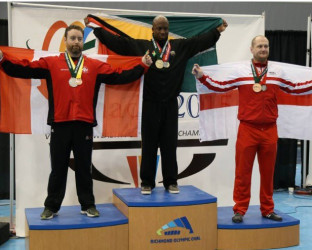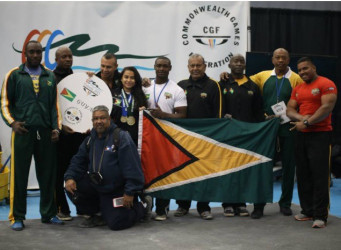 In the squat, bench press and dead lifts, teen Mack accumulated a total of 257.5 kg. Blackmon's total was 685kg while Mars, Jeffrey, Stoby, Spencer, Singh and the elder Mack totals were 817.5, 665, 637.5, 482.5, 410 and 650 kilogrammes respectively.
Only Erwyn Smith competing in the same category as Jeffrey missed out on gold, finishing with silver as he ended up second to his compatriot. His total was 600.0kg. In their maiden appearance at the recently concluded Championships in Vancouver with an almost perfect total of eight out of nine overall gold medals in the different weight classes, powerlifting stamped its authority as the country's best gold medal producing indoor sport.
The GAPF athletes have now lifted at the major Championships including the Caribbean, Worlds, South American, Pan American and now the Commonwealth.
Around the Web