BRIDGETOWN, Barbados, CMC- Roston Chase is on the brink of his second first class century as Barbados Pride recovered from a shaky position to post 272 for six against Leeward Islands Hurricanes at the close of the opening day of their fifth round game in the Regional First Class Championship at Kensington Oval here yesterday.
Chase is unbeaten on 95 after helping to pull Barbados Pride out of a hole when they slipped to 92 for the loss of four wickets.
Medium pacer Garvin Tonge grabbed four top order wickets for 43 runs to deliver a major setback to the Pride's innings before two solid half century partnerships propelled their recovery.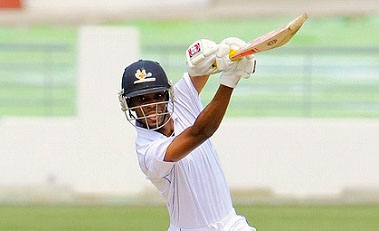 Sent in to bat, Pride's frontline batsmen struggled to cope with Tonge who removed opener Kyle Corbin and Kemar Brathwaite with the score on 12 and 13 respectively.
But Jonathan Carter counter attacked with a knock of 54 to begin swinging the momentum back in favour of Barbados Pride.
Carter struck eight fours and featured in a 74 run partnership with Shamarh Brooks who contributed 17.
Tonge's impressive bowling which temporarily suppressed Pride's run flow was overshadowed by an entertaining innings from Chase who stole the spotlight.
Chase has already struck 13 fours including one to announce his arrival at the wicket, a sweetly timed cover drive to bring up his 50 partnership with his captain Kevin Stoute and a boundary to bring up his half century.
But luck was also on Chase's side as he survived a number of chances because of sloppy field.
Tonge was denied a fifth wicket when Jahmar Hamilton dropped a ball which flew from the edge of Chase's bat.
The 23-year-old batsman was given another life when Sherwin Peters at the wicket dropped a dolly off Rahkeem Cornwall.
97 runs were produced from Chase's partnership with Stoute who hit five boundaries in scoring 41 while Ashley Nurse was not out on 22.
Scoreboard
Barbados Pride first innings
Kyle Corbin c R Cornwall b G Tonge                                     12
Kemar Brathwaite c J Hamilton b G Tonge                         0
Jonathan Carter c R. Cornwall b G Tonge                          54
Shamarh Brooks c S Jeffer s b G Tonge
Roston Chase not out                                                                  95
Kevin Stoute c C Hughes b R Cornwall                               41
Mario Rampersaud c S Jeffers b S Peters                         15
Ashley Nurse not out                                                                 22
To bat: Sulieman Benn, Miguel Cummins, Tino Best
Extras   5b 3lb 2w 6nb                                                               16
Total (6 wickets, 77overs)                                                     272-6
Fall of wicket:1-12, 2-13, 3-87, 4-92, 5-189, 6-226
Bowling: Tonge 23-10-43-4, Bolan 17-4-52-0, O Peters 8-1-30-0, Cornwall 23-5-67-1, Taylor 3-1-13-0, Hamer 4-0-17-0, S Peters 8-2-22-1, Hughes 4-0-20-0.
Umpires: M Jones and J Wilson
Around the Web