New Amsterdam United sent an ominous warning to the rest of the field, crushing Georgetown unit BlackWater 7-0 when the 5th Georgetown Football Association (GFA) Banks Beer Knockout Cup continued Saturday.
Though Keon Williams started the assault with a first half brace in the 28th and 33rd minutes at the No. #5 ground in Berbice, it was Jamal Butts that stole the show with a hat-trick in the 56th, 70th and 88th minutes.
Completing the score line with solo efforts in the 44th and 89th minutes respectively were Jermaine Samuels and Leonardo Adams.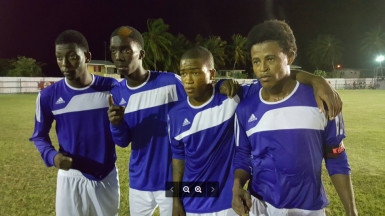 Following a cagey start, the rout commenced 28 minutes into the affair as Williams stabbed home into the lower left corner after an initial strike from Butts while cutting into the right side of the box was parried by the 'keeper into the path of the forward.
Williams recorded his second of the night five minutes onward, finishing past the advancing 'keeper down the centre of the net after racing onto a through pass from Adams within the centre of the box.
The score ballooned to 3-0 one minute before the end of half time as Samuels bundled the ball over the net with his body within the six-yard box, following a cross from a right sided corner kick.
Butts then took over the match in the second stanza, opening his account 11 minutes into the resumption with a shot into the lower left corner past the advancing 'keeper following a deflection, after racing onto a through pass.
The carnage continued as Butts recorded his second 20 minutes before the end, turning and smashing the ball into the right hand corner from within the centre of the penalty area.
A deserved hat-trick was then completed two minutes before the end with a finish into the right hand corner after collecting a pass within the six yard box.
The lopsided matchup was completed one minute later as Adams etched his name on the scorer's sheet, racing away down the centre of the field before unleashing a powerful right footed shot from the top of the box into the roof of the left corner
In the feature affair, Rosignol United defeated Cougars FC by a 3-0 margin compliments of goals from Shane Gangoo in the 28th minute while Adrian Best and Jason DeJonge recorded own goals in the 41st and 88th minutes respectively.
The event is billed to continue on Wednesday. Winner of the tourney will receive two million dollars and the championship trophy while the second, third and fourth place finishers will pocket one million, $500,000 and $250,000 respectively along with the corresponding accolade.
Around the Web