MELBOURNE, Australia, CMC – Fast bowler Peter Siddle has warned struggling West Indies not to expect any let up in the second Test in Melbourne starting Boxing Day.
The Caribbean side suffered their worst defeat in 84 years to Australia when they were crushed by an innings and 212 runs in the opening Test in Hobart two weeks ago.
And Siddle said the Aussies would be keeping their feet down in an effort to continue their winning trend in the three-Test series. Australian fast bowler Peter Siddle.
"At the end of the day, every team goes through their ups and downs," Siddle said.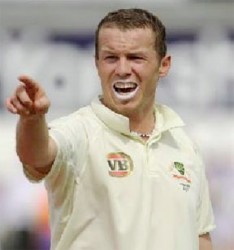 "Hopefully one day they do come back, but at the moment, we want to stay on top of them. We don't want to give them anything. We've still got to win Test matches."
He continued: "They've got players that can come out and perform well at Test match level, so we've got to be ready for that and make sure that they don't perform. That's our job.
"At the end of the day, if we're making them perform badly, it means we're playing good cricket and that's what we're all about."
West Indies have not won a Test Down Under in 18 years and have not beaten Australia period since 2003, a statistic that continues to plague the beleaguered side.
However, they are under pressure to hit back in Melbourne following a dismal performance in the first Test which ended inside three days.
And with the historic Boxing Day Test already attracting plenty of attention, Siddle said the Aussies were ready to play though cricket and entertain the large crowd expected.
"It's a Boxing Day Test, so it's always going to be watched all around the world and people will still come to watch the game," Siddle pointed out.
"How long the game lasts is a different story. We're about playing well and playing good cricket, and that's what we're going to do. We're going to come out on morning one whether it's with bat or ball and perform well and start well. We set the tone.
"We'll be playing an exciting game of cricket and it's definitely going to be worth watching."
Around the Web