Christmas came early for the Kennard's Memorial Turf Club (KMTC).
Yesterday, Metro Office and Computer Supplies continued their sponsorship agreement for the traditional Boxing Day meet scheduled to be staged at the Bush Lot, Corentyne track.
During a simple ceremony at the company's Quamina Street location, officials were on hand to present the top prize and the fourth placed cash incentive of $1 million and $125,000 respectively for the feature C and Lower race.
The main event is expected to feature steeds like Plum Plum, who won Sunday won the Guyana Cup Rematch. Jack In My Style, Spit Fire, California Strike, Run Nana Run and Lady Budapest among others are also touted to compete.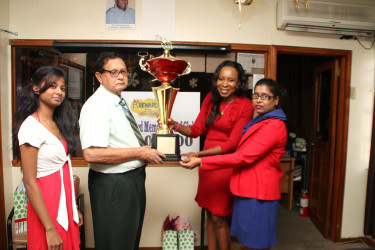 According to president of the KMTC, Cecil Kennard, the entity has been onboard with the Boxing Day meet for over two decades, but has been sponsoring the cash prizes for the main race for about a decade now.
Kennard expressed gratitude to the company for the support, especially its president Ron Ramnarine. It is understood that Ramnarine has provided the sponsorship in the name of his late father, Deo Kharag.
The main supporting six-furlong race will be the E and Lower, which will see the top horse and jockey carting off $500,000 and the runner-up collecting half that amount.
The one-mile race for G1 and Lower and Three and Four-year maidens has a winning purse of $300,000, while the H1 and Lower six-furlong showdown has $250,000 set aside for the champion.
Other races carded for the day include the J1 and Lower and Two-year-old Guyana bred, with a winning purse of $180,000, while the J3 and Lower and the K1 and Lower have a top prize of $140,000 and $120,000 respectively.
The day's activities will be held in strict adherence to the rules of the Guyana Horse Racing Authority. Kennard also highlighted that vehicles transporting animals to the venue on race day will be exempted from paying the Berbice River Bridge toll.
Around the Web