By Mellissa Ifill
Dr Frank Middleton Warner Williams, who died on September 5, 2015 at the age of 98, was "everybody's physician" and a patron of the arts. Dr Williams, affectionately known as Uncle Frank, was born on the 28th December, 1916 at Stewartville/Den Amstel, WC Demerara. He was the eldest of five children born to Simon Augustus Williams, alias Soda Duff and Christobel Warner Williams. He spent his formative years in the countryside under the watchful gaze and tutelage of his father who was a teacher and later a headmaster, and his mother Christobel. Uncle Frank was a product of the social and educational revolution among African-Guyanese families in the late 19th and early 20th centuries and he excelled at primary school, securing a place at the prestigious boys' school Queen's College. His experiences at QC, a secondary school established to cater mainly to the children of the local elite, though shaped by colonial era power relations of race, class and the town/country divide, prepared him for his rigorous medical studies at the London hospital and Edinburgh University where he held degrees of MB BS (London) – 1949, and MRCP (Edinburgh) – 1954, 1956-1960.
An exceptional man of medicine
Dr Williams' performance as a medical doctor in Guyana is worthy of and has received great commendation. He commenced his medical studies fairly late, at age 28, since he was forced to wait for a scholarship due to a discriminatory scholarship selection process. In the interim he became a nurse. He was proud of his days as a nurse/dispenser and was convinced that this earlier career as a nurse/dispenser made him a better doctor. Unsurprisingly therefore he had an enviable rapport with his patients.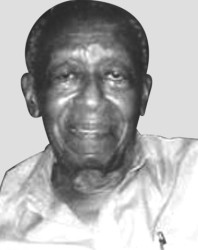 Dr Williams' passion about medicine was undeniable. He held many powerful positions in the local medical establishment and was a pioneer in treating certain illnesses in Guyana. He was the first head of the Medex Programme, of which he was enormously proud since he believed that the work of 'barefoot doctors' deserved the highest respect. He was also the Chief Physician at the Georgetown Public Hospital. Dr Williams was one of the first (if not the first) physicians in Guyana to regard stress as a health factor. He stressed the value of breastfeeding and inspired a 'Back to the Breast' campaign, a critically important factor in infant health and mortality. He also stressed the need to prioritise control measures to eliminate and prevent malaria. Dr Willliams was also the personal physician to and friend of former president of Guyana, Forbes Burnham.
Along with Dr Hassan Rayman, whose brainchild it was, Dr Erick Lyder and Dr Dick Albert Klautky, he co-founded Medical Arts, one of the first private medical facilities offering alternative medical care to the public to be established in Guyana. Shareholders also included Kenneth Bender, Jerry Manson Hing, Sam Bacchus, Cecil de Caires, Cecelia Rayman, Zalina Hack, Elaine Klautky and David Klautky. The company was registered on the 15th day of May 1966.
While the aforementioned positions illustrate Dr Williams' skill as a doctor and an administrator, it was his connection with and care of his patients that made him both renowned and revered throughout Guyana. His daughter Andaiye recalled one day as a young girl she went to see him at his private practice to discuss a matter of importance to her. When she entered his office he asked worriedly, "What's wrong?" and when she told him what she'd come to ask him he said incredulously "You walked past my patients to ask me that? You think that is more urgent than their sickness?"
He had great empathy and was always willing to treat his patients who saw him at his private clinic, often without cost. At the celebration of his life on September 10 last, tribute after tribute spoke to his great skill as a doctor but moreso to his character as a human being. Pandit Rampersaud Tiwari described him as "…a man of generous heart, kind speech and a life of service and compassion." Prof Ewart Thomas noted that "he had a profound impact on thousands of lives through his medical genius, his kindness, and his humility." Dr Dick Albert Klautky, his close friend, described him as " … more than a physician. He was compassionate, kind and generous. As a physician he was respected and beloved by his patients. He shared their pain and their suffering." Joy Pilgrim, another close friend and colleague noted that "as a diagnostician, he was regarded with reverence. His bedside manner was honest and gently straightforward. He was humble and treated all his patients, high and low, rich and poor with the same patience and thorough care." George Lamming wrote that "There was a time when the name Frank Williams was synonymous with Guyana from frontier to the coast. In a land where social divisions were a constant threat to peace, it was a name that signalled some promise of relief. For more than half a century he had provided the medical profession with a model of integrity and patient-care that gave the phrase 'family doctor' the intimate bond of a blood-relation. Dr Williams had become everybody's doctor."
Notwithstanding the countless stories that attest to his care, his humbleness, his accessibility, his skill and notwithstanding the countless accolades, Dr Williams never used his status as a renowned doctor to lord it over others. As remarked by Jacqueline Cholmondeley in her tribute, Dr Williams "attended to presidents, dignitaries and the common man with the same grace and demeanour which was a part of his general manner. He was that rare human being full of compassion for everyone he touched. He understood the needs of the human body because of his medical training but was also very aware of the needs of the spirit and mind of an individual."
Professor Nigel Harris paid perhaps the greatest compliment one doctor can offer another noting, "I have had the privilege of meeting physicians the world over in my 40 years as a doctor, but I can think of few who could match this gentle, caring, intellectually gifted human being – Frank Williams was exceptional in so many ways. Medicine is as much an art as it is a science, the touch of a hand, the kind word, the conveyance of a message that even at grim times all will be well. Uncle Frank was the doctor of doctoring ‒ the model that I sought to emulate when choosing my medical career."
Arts patron and cricket lover
Apart from medicine, Dr Williams had many other loves. He loved music, paintings, sculpture, theatre and dancing. He loved learning. His breadth of knowledge of subjects ranging from philosophy, literature, sport, the arts made him a superb and much sought after conversationalist and guest. He learned to play the organ quite young and served as an organist at Smith's Church, where he was mentored by the Rev Holly Bryan. At the age of 14, he was the organist at the funeral of Andrew Benjamin Brown, a politician and barrister and first African-Guyanese to be elected to the Court of Policy in 1897 who held the seat until 1922. He was a serious collector of art and had a keen eye for great work, thus his collection included pieces from the earliest Stanley Greaves, early Phillip Moores, early Donald Lockes, early Ron Savorys, and early Marjorie Broodhagens, among others. Before they became household names, Frank Williams purchased their work both because he loved it, and because he thought art should be seen as a basic need not a frill, and that artists should be supported.
Stanley Greaves recalled that early in his career, Dr Willliams was his first patron, which he called "an unheard of thing in those days." He asked Greaves to consider doing a painting based on an extract from one of his favourite books The Outline History of the World by H G Wells. Greaves notes that the passage chosen by Dr Williams did not only serve as the theme for a very imaginative painting 'Evolution' but also signalled what would become his main line of inquiry in art. Dr Williams subsequently acquired another famous Greaves painting, 'The Forest of Wishbones' and commissioned him to paint the walls of the Children's Ward at the Georgetown Public Hospital.
Dr Williams was also one of the founder members of the Theatre Guild, and served on the first Executive Committee with Lloyd Searwar as Chairman. When the founders secured the Tobruk Gymnasium on Parade Street, Frank served as the Chairman of the Executive/ Management Committee. In 1960, when the Theatre Guild Playhouse was formally opened, it did so under Frank's chairmanship.
Dr Williams also loved cricket and loved the game for its own sake. He never missed a ball or a stroke at a Test match at Bourda and was a familiar figure in the southern stand.
He also loved literature and hosted and entertained many visiting writers from all over the Caribbean. After the family moved to Cove and John in about 1960, Sunday gatherings at his home became legendary where many congregated to listen to music and engage in stimulating conversations.
Apart from medicine, the arts and cricket, Uncle Frank was interested in politics. Although he supported his friend and patient Forbes Burnham, he was scrupulous and fair. An illustration of his political integrity, moderation and fairness was the letter he signed early in 1966 to Forbes Burnham recommending that the political prisoners who were being held at Mazaruni be set free prior to Guyana's independence scheduled for May 1966. Dr Williams engaged politicians of the day from opposing parties. While he served as the official physician to Mr Burnham, he often remarked that Mrs Jagan had been the best Minister of Health he'd known. While still Mr Burnham's physician the Working People's Alliance was founded in 1979. Among the founders was his daughter Andaiye. Notwithstanding the disapproval of most of their friends at his daughter's 'disloyalty' and 'waywardness', along with his wife Hazel, Frank welcomed and regularly entertained his daughter's radical friends at their home.
Dr Rupert Roopnaraine in his tribute to Dr Williams remarked, "In the days of the Civil Rebellion of the seventies and early eighties, we often huddled together at Cove and John – the rebels of the Working Peoples' Alliance – in the home of Mr Burnham's personal physician. This never arose as an issue. It was this habit of reconciliation, in the absolute meaning of the word: the ability to see and go beyond conflict, that was a kind of gift that Uncle Frank had."
Dr Williams' political courage and integrity was succinctly summed up by Professor Nigel Harris, "He was not a man afraid of talking truth to power – in societies where expression of an opinion different from those of the powers that be can invite vengeful reprisal, where one's integrity can be compromised in accommodating wrongdoing, Uncle Frank's quiet defiance, his rejection of bullying and malfeasance was a clarion call to the faint of heart."
Dr Williams also had a keen interest in the development of adult and tertiary education in the Caribbean. He was an ardent supporter of the University College of the West Indies, precursor to the University of the West Indies, and tangibly demonstrated that support with a substantial financial donation to the Princess Alice Appeal Fund for the expansion and development of the university. He was also a committee member of the Extra Mural Department of the University College of the West Indies. The Extra Mural Department prioritised Adult Education and regularly staged public lectures by "distinguished" persons (local and visiting) on interesting topics at the Public Library. Dr Williams supported the work of the Extra Mural Department when he completed a series of 10 radio broadcasts on 'Medicine in Everyday Life' during the late 1950s.
Dr Frank Williams spent his last years virtually housebound and bedridden with Alzheimer's, but in his mind, he remained a practising doctor. Asked his name he said not Frank Williams but Dr Frank Williams. When he wanted to get out of the house, day or night, it was because Dr Williams had patients waiting for him.
Dr Williams in the words of Professor Nigel Harris, "was man for all seasons ‒ physician, healer, intellectual, quiet champion for justice, journeyman for integrity and fair play. May his soul rest in peace and may the spirit which he engendered live on forever."
Dr Frank Williams is survived by his daughter Andaiye, foster son Abyssinian, sister Elsene and countless blood and non-blood nieces and nephews.
Tribute to Dr Frank Williams in Creolese by Marc Matthews
Me try yesterday when Lincoln tell me, but all kinna ole mass, ring den silence den scratch scratch till a cuss.
Go try again today.
Yu See Da man dea is guh me top list of d-remarkable man dem ah me life…a giant…afta me fadda moe dan anybody else me did wan fuh meet when me come 1969 was he, same so when me fall thru winda was he ah beg kamal tell fuh come let me see he.
Girl too much so much of how much he inspire me jus wit he presence dat doh he physical ain't dea no moe, he fuh me part an parcel of me a light of grace.
Bless you.
All 2 awe me Una boy & Kamal togedda send our love, as from yesterday …reminisce.
Ah time I did go bush help Finny cut road fuh coz Bernard, an ah jump off tractor an me barefoot get juk by cable an swell up and fever mek me had fuh come down town …wan time ah go Medical Arts
(dig duh Arts) Uncle Frank put me lay down; sey he got fuh lance the abscess,  he hole me foot an matthews halla. He laugh: Marc I haven't cut it, look. An show me the sheaved scalple…then he sey, Well you turn me into surgeon.
Use fuh Walk from Beehive to C'onjohn fuh jus listen to he be in he company, when Una bin at we in London an Kamal ask she who she'd go fuh see straight way she sey Frank he an Andre Procter the only 2 man mongst a devy of pearl necklaces.
Girl 3 day ago in St Thomas ah see he double; ah jump.
I can go back to getting sent with message to hospital compound…seeing he, Uncle Leslie, Claude Merriman togedda gaffing.
Lea me done yea. Ah know Abby dea he shares our love.
Around the Web