Since 1982 there has been an International Dance Day observed by countries around the world. It was founded by the dance committee of the International Theatre Institute, now headquartered in Shanghai, China, to "encourage all dancers, whether amateur or professional, to share their passion and creativity with the world."
It is sanctioned by UNESCO and is promoted by an agency working closely with that world body known as the International Dance Council. The work of this NGO, described as the umbrella organisation for all forms of dance within UNESCO, has caused Dance Day to take place annually on April 29. On that day dance events are encouraged around the globe, to attract the attention of the wider public to the art of dance, with an emphasis on always aiming to bring new audiences into the dance.

In Guyana, the National Dance Festival is staged on International Dance Day. It is an initiative of the Department of Culture and is envisaged to be the vehicle through which dance groups and companies can forge meaningful relationships in the medium, thus laying the groundwork for renewed interest and qualitative growth in as well as national recognition of the discipline that is dance. This collective activity was staged at the National Cultural Centre on Wednesday last.
Through sponsorship of this annual festival, the Guyanese Ministry of Culture advances its "mandate" to "foster and promote the creative industry – the performing arts – and enhance the appreciation of the role of culture in the national development process." This is spelt out in the printed programme for the National Dance Festival by the Working Committee whose objectives include encouraging "dance/community groups and companies to work together." It aims to exhibit "the creative talent of dancers of all the regions at a national event" and "facilitate the emergence of a 'dance culture' in Guyana."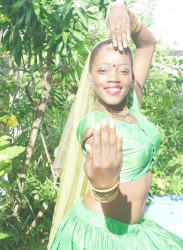 Repeated reference to this culture of dance and culture of nation is of interest for many reasons. There are reports of messages and announcements made by the President of the International Dance Council (CID – Conseil International de la Danse) lamenting the absence of dance from the national policy and the absence of any official national provision for the dance in several nations around the world. On Dance Day 2003, the President of the CID is quoted as saying "in more than half of the 200 countries in the world, dance does not appear in legal texts. There are no funds allocated in the state budget to support this art form. There is no such thing as dance education private or public." (See Wikipedia)
This was followed by successive calls for improvement in that area with the CID training focused on education, schools, and children on Dance Day in different years. Then in 2008, the international message targeted governments, sponsors and the media, "the three most important factors affecting the practice of our art." The CID asserted that "dance professionals struggle to approach them individually – with poor results. We propose a better way."
This dance culture then, taken for granted in Guyana and the Caribbean, seems far less than established universally. (See message by UNESCO Assistant Director General for Culture, Perez de Arminan, 2015 and the CID International Dance Day Message 2015 by Israel Galvan)
Arminan stresses the "immense therapeutic and creative value" of dance, which can "reinforce our sense of identity and belonging." His 2015 message celebrates "the universality of this age-old creative expression, and embraces its tremendous unifying force." We did not have to wait for Arminan to remind us of those well-acknowledged factors of the dance, but the claim that, in spite of this, the culture of dance is not fully grounded and supported by official action in more than half of the countries of the world is surprising.
Dance is among the performance arts that evolved from ancient religious rituals and was the very origin of all theatre. It was universal, developing in virtually every culture in all regions of the world. It abounds in traditional rituals and is an important factor in the cultures of the world. But how much of this is highlighted in the activities of Dance Day? Indigenous dance forms and traditions remain under-researched, largely unknown and are not promoted in the theatres of innumerable nations. It is under-utilised on the formal stage of most countries. Dance is performed; dance exists; but there might not be a developed and flourishing dance culture.
Guyana is not among those countries where dance is absent from official recognition or government support. It is very much in the national consciousness, is prominent on stage in national theatre and might even be popular. There is an audience for it and it has been promoted in different sectors of the society. It is funded, arguably not sufficiently, by government which facilitates its promotion as may be evidenced by this National Dance Festival. The festival also reflects the fact that a good deal of training is provided at a national level both publicly and privately. Dance was the first of all the performing arts to benefit from public formal training in Guyana with the establishment of a National School of Dance in 1975.
The festival on Dance Day in 2015 reflected the outreach done by the Department of Culture to include dance activities in far-flung regions and to encourage dance development among little known community and amateur groups. Festival Hostess La Vonne George introduced a very wide range of participants from most of the nation's 10 regions in a mixed programme of professional and amateur groups. There were several performances from groups not previously heard of, little known amateur outfits with an interest in dance, some of whom might have been debutantes, and some of whom came from faraway places in Regions 1, 2 and 9. The Ministry of Culture would have been pleased with the appearance of groups in those last two categories.
There are things that would be expected in a national festival of dance. Some of these were in evidence. Work was exhibited by some of the leading dance companies in Guyana. Foremost among these was the National Dance Company which showed its class with definitively superior choreographies such as 'E-Motif' to give an idea of the work of the country's senior dancers. They were joined by Classique Dance Company, a very sound institution, versatile but best known for its exploits into popular dance. Its 'Six Days Adventists' demonstrated that. There is undoubted virtuosity while the performance was designed to enthrall the audience. Also prominent was the Nadira and Indrani Shah Dance Troupe with Nadira Shah Berry visiting to lead her company (they were also preparing for Nrityageet, which will be performed tonight). Their work is varied but they performed 'Mughal Kathak', and kathak is a noted strength of theirs. The National School of Dance joined the elite group that represented the establishment in this varied festival.
Private dance schools also abound on the local landscape. The Let's Dance Studio represented them with 'Escape' as an adequate piece to fulfil the expected appearance of professional companies in a national festival. Crystallites Dance Company joined them with different pieces including 'Fusion' – a demonstration of the kind of work this company and private dance school is pursuing.
Another expectation from the festival would be the exhibition of a very informative sample of the state of the national dance. What work is being done by groups, troupes, schools and companies around the country? The performers gave a good idea of this through the dominance of pieces representing popular dance and popular forms since that is a contemporary trend on the local stage. This included the very high level of skill and technique in spectacular acrobatics.
One form not given too much attention but important in any scan of local dance is the work going on among village Hindu groups. Both the religion and individual tutors like Kenrick Cheeks have widely promoted Indian dance in small village groups and these popular forms, often influenced by Bollywood, were well represented by the Jewan ka Nritya of the West Coast Demerara.
Another form that is of great interest in the present context of national dance is Amerindian dance.
There were samples of this from such groups as the Baaraz Culture Group, Mainstay Lake and Surama Culture Groups that showed the increasing interest in indigenous dance and the number of groups from Hinterland communities coming forward to perform publicly. There was a hint of this during Amerindian Heritage Month and now, appropriately, in the National Dance Festival.
It must be pointed out, however, that all of this does not represent indigenous traditional dance forms. They were mixed, not pure forms, but valuable for what they show of the traditional folk influences. They retain the character of performance from Hinterland cultures, even if they are not ancient rituals.
In fact, ancient rituals were significantly absent. Here is where the laments about gaps in the dance culture expressed by international commentators apply to Guyana as well. The traditional dance forms are little known, rarely seen, moribund or already vanished because of insufficient research, no practice, no exposure and little preservation. There is need for focused attention to this in and out of International Dance Day, and most certainly in a national dance festival.
Around the Web