(Continued from last week)
As we continue to focus on Carifesta XII which was held in Port au Prince, Haiti, from August 21-30 and closed its curtains exactly one week ago, we find ourselves still confronting the persistent and overriding significance of Haiti as a venue for this Caribbean festival. It was, after all, the second non-English speaking territory to host it. But while there were a few similarities, including the wide popularisation of the festival, the experience was quite different from that of Suriname.
Theatre/art is predominantly defined by its audience, and the audience was one of the most prominent factors in Carifesta XII. It was predominantly Haitian, as it was mostly a very large popular audience. What was quite atypical of Carifesta, was that there was a real language issue – but more a language issue than a language problem. This was not the case in Suriname. Haiti is more a patois speaking country than it is a nation of standard French. Its first language is Kreyol (French Creole). There was not enough dialogue among Caricom nations for reasons that went beyond the language issue, but the audience made up of people from the visiting Caricom countries were a decided minority, totally swamped by the audience of Haitians. Carifesta XII was much more for the people of Haiti than it was for Caricom. And no one is saying that that was necessarily a bad thing.

There was a marked prominence of popular entertainment – musical bands, soca, popular and party music and steel pan. This was provided mainly by Barbados, Trinidad and Tobago, Antigua, Haiti and Guyana. Great emphasis was placed on a major jazz concert held inside the theatre Cine Triomphe, but the other concerts were held outdoors or on open air stages. These were the kinds of stages provided by the host country and these were the types of concerts that held sway to suit the performance venues and the popular audiences.
These were – the Kiosque, the square blocked off and used as the Grand Market – a wide open air arena with sloping, Greek type auditorium; Theatre National – a smaller version, also open air; Place Boyer – large outdoor park in which a stage was erected. These attracted large appreciative crowds each night. Very significantly, Place Boyer is perennially teeming with the people of the city who find entertainment there even when there is no Carifesta. The Theatre National is located in a central market area in the city centre and the people of the proletarian community flock to it for every Carifesta show. These are quite opposed to Palais Municipal, an open air venue with a covered stage located in an uptown middle class area. The Kiosque is also a centrally located exceedingly popular venue, but for every show there, thousands of people remained outside its boundaries. The Grand Market was a further major irony. The masses of the people were not allowed inside and far more of them were crowded outside the gates and barriers.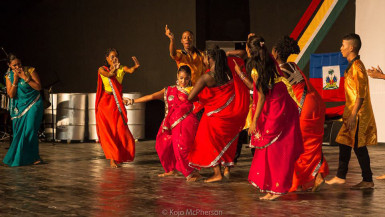 For them, Carifesta communicated very well and language was not a barrier. Along with the popular music, dance reigned, as did the steel bands provided by Guyana (much in demand), Trinidad, and Antigua. Pan was quite a novelty in Haiti and was appropriately fascinating. The outdoor Place Boyer was a favourite place for the masquerades – Guyana's maskarade, the Garifuna of Belize, Bahamian Jonkannu, and the tuk band and landship of Barbados. In the wide scheme of things, therefore, there was a firm place for creole, traditional culture, which Carifesta XII particularly courted.
This culture was conspicuously present in Haiti's very powerful dance theatre which is highly influenced by and reflects the traditional and the spiritual. The dance dramas do not depend on verbal communication, are driven by traditional drums – strong African survivals – and contain sequences of possession and spiritual healing. To a large extent these are the African based sources of 'doctor plays' in Caribbean masquerades in which the injured or slain are revived through possession and spiritualism. The performances demonstrated the hallmark of Haitian culture with high energy levels and crowd appeal.
The great popular appreciation for this type of theatre was replicated in the crowd response to some of Guyana's dramatic pieces which used dance drama, cultural traditions and elements of Caribbean performance styles. The traditional dances would have found some kinship, but dance in general was a successful part of Carifesta.
A notable factor was the return of the National Dance Theatre Company (NDTC) of Jamaica to Carifesta. For decades this has been the Caribbean's most acclaimed and celebrated dance company which just resumed appearing in the festival after a very long absence. Class acts such as NDTC had faded out of Carifesta. This was repeated in the fine arts. Trinidad and Tobago's featured master artist was again LeRoi Clarke, the Philip Moore of Trinidad. Dance was well served by them as well as by Guyana and Haiti itself. Guyana had many pieces based on folklore and traditions in keeping with the country's theme 'Rites and Rhythms of Guyana'. Haiti had a full length dance theatre production titled 'Aida.' It used the title of the famous Italian opera, the tragic 'Aida' composed in 1871. While having a few vague similarities with the classical work, the Haitian ouvre is typical of the country's culture.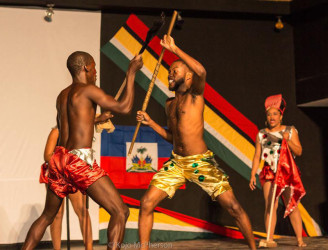 Another way in which dance served Carifesta was that it did much more than the other artistic disciplines in terms of exchanges and dialogue among different countries. There were workshops, masterclasses and interactions, including one class in Indian dance led by Guyana. The festival was otherwise lacking in the way nations benefited from seeing what other nations were doing. It is an area in which Carifesta needs much improvement. There was some dialogue in the Symposia, which included a few relevant issues. The Symposia, after all, are the designated fora for intellectual exchanges, even though they were quite dominated by Haiti.
Conspicuous by its absence was any form of similar exchange in literature and drama. Carifesta XII deliberately did not focus on these two arts because they feared a language problem. Both involve many words uttered in English and could not be sustained in Haiti, especially given the dominant Kreyol speaking audience, so there was hardly a literary activity outside of the Symposia and a major full-length play as performed by Guyana was rare. Barbados and Haiti made overtures towards the dramatic and one of Jamaica's major acts was the storyteller Ameena Blackwood-Meeks.
However, in spite of language, Guyana's grand exhibition of literature was a success. Ironically, it was very popular and people showed a genuine interest in trying to read the books and asking to buy them. In spite of language, the major full length play on which Guyana placed emphasis, Sauda by Mosa Telford, was a success, very well received by the audience at the Triomphe. So were the films shown at the same venue and no doubt film-makers spoke to each other. The presentation of Sauda was a Guyana Prize for Literature event. Two prize-winning plays were featured, Harold Bascom's Makantali being the second. It was excerpted and adapted by the National Drama Company. Another Guyanese writer read poetry accompanied by a dance in Kuchipudie style.
Perhaps the success enjoyed by Haiti in international fiction led to an expectation that Carifesta in that nation would have been a good forum for drama and literature. Relevantly, a Haitian writer, Myriam Chancy, was the winner of the Guyana Prize Caribbean Award for fiction in 2010. She was also featured prominently in Guyana's literary exhibition. But literature was scantily treated in the festival and the infrastructure for drama was very limited. There is only one good dramatic theatre in the Cine Triomphe, yet even that has serious stage limitations and was originally built for cinema anyway.
The other theatres, mainly open air, were hastily knocked together and to a large extent were not quite ready when the festival opened. There was much overnight work to knock them into shape. The Carifesta programme itself was in parts hastily knocked into shape. But there were problems of countries – surprisingly, Suriname included ‒ not turning up and others suddenly turning up. The programmers had a handful with this on a daily basis, and the events shifted and changed. There were communication hitches and a threat from Hurricane Erika, which only caused one evening's interruption.
There was a feeling that "Haiti was not ready". But to what extent was that coloured by the country's reputation for poverty, and its affliction by political turmoil? It is still recovering from natural disasters and many thought it could not possibly find the resources to pull off a Carifesta. It is not too harsh to say many things did not go right. Yet Haiti did find the resources to pull it off. These resources included the people, the will and a marked commitment to its Caricom partnership. No wonder the nation enjoys considerable goodwill from the rest of Caricom. This goodwill was not misplaced. Haiti put in ground transportation and tight security.
The IAAF World Championships Athletics were held in China at the same time as Carifesta. Some very highly placed leading countries suffered in the relay races. How did Haiti measure up? In 2006 the baton was passed from Trinidad to the Bahamas. It was dropped. In 2008 Guyana passed the baton to The Bahamas. The Bahamas dropped it again.   In 2013 the baton was passed from Suriname to Haiti. It fumbled a bit, but rescued it and carried it safely to the tape. In the past 10 years when there were official passings of the baton from nation to nation, Haiti was the only one to carry it through. In 2015 it was handed over to Barbados. Will they follow successfully? We have to wait two years to see.
Around the Web