Jamaica reverberated last week with birthday tributes, programmes and performances in honour of Ranny Williams called 'Mas Ran,' (October 26, 1912 – August 11, 1980) who was born as Randolph Samuel Williams on October 26, 2012 in Colon, Panama. He was taken to Jamaica at the age of 6 and grew to be the foremost and most influential comedian in Jamaica and the Caribbean.
Those tributes included radio broadcasts – of particular importance, an interview with former associate Alma Hylton (now Mock Yen) on RJR on October 25; and a performance at the Ranny Williams Entertainment Centre on October 26. This was produced by the Jamaica Cultural Development Committee presenting "Jamaican Men in Theatre". The performers included many who appeared on stage with Williams or were influenced by or associated with him in some way. These included leading actors and directors Munair Zacca and Volier Johnson, as well as David Tulloch, Christopher Daley and Donald Anderson.

Williams made his indelible mark in comedy, drama, both mainstream and folk theatre, radio, television, film, folklore and social work. His greatest achievements, contributions and influence have been in theatre. The comedy team "Lou and Ranny" was a Caribbean leader in the field, while he was outstandingly influential as a stage actor in the LTM Jamaica Pantomime.
According to the LTM sources, Mas Ran's first partner in comic appearances was Lee Gordon with whom he formed the duo "Amos and Andy". They provided slapstick and comic relief in the early Pantomimes. Williams's entry on the professional stage, however, was provided by Marcus Garvey in 1930. Garvey was an impresario. He produced rallies and shows at Edelweiss Park, near Cross Roads in Kingston, and was a significant contributor to the very strong tradition of vaudeville in the popular theatre of the Caribbean. Garvey, who was also a leader in the literary and cultural revolution known in the USA as "The Harlem Renaissance", wrote poetry. Valuable accounts of this were provided by Tony Martin, who also published a volume of the poems, in Literary Garveyism (The Majority Press). Garvey also wrote plays – epic sagas of the Black race performed at Edelweiss Park.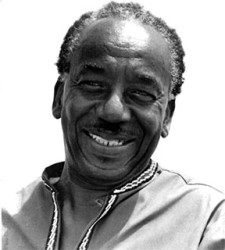 Williams made his debut as a professional stand-up comedian on Garvey's stage and became much involved in vaudeville and production. In addition to information on Garvey's theatre provided by Errol Hill, very interesting and important information has now been provided by Mock Yen, who, as radio and drama personality Alma Hylton, performed as "Putus" in the duo "Morgie and Putus" in a pioneering radio series. According to Mock Yen, Williams was introduced to Edelweiss Park by vaudeville producer Ralph De Leon. Legendary Trinidadian calypsonian Roaring Lion mentions in his "history of calypso" his work in other Caribbean countries producing vaudeville, including an association with Bill Rogers in British Guiana.
This brand of performance developed over the decades, right up to 1970 in the "Christmas Morning Concerts" and similar performances by Vere Johns and Ed 'Bim' Lewis. Williams was a leader in this, particularly after he teamed up with Louise Bennett as "Lou and Ranny". This comedy team also created the radio serial "The Lou and Ranny Show", beginning on JBC in 1959, which was the most outstanding of its kind. Several other comedians were members of the cast of this series or were influenced by it. These include another legend, Charles Hyatt, and Maude Fuller.
This work that started in the 1930s gave rise to many comedy teams and stand-up comedians who continued with the vaudeville tradition. These included Bim and Bam (Jamaica), Sam Chase and Jack Mello (British Guiana) and Habeeb Khan (Guyana). The influence of this brand of theatre was also responsible for what many contemporary performers, such as Oliver Samuels, Bello and Blakka ("Blakka" Ellis and Bell) and Paul Keens Douglas.
Another important heritage of Williams is in the Jamaica Pantomime, and a vital element of Caribbean theatre itself. Different sources tend to mix up dates and titles, and just a little bit of work will straighten that out, but it is a fact that Williams played a major role in the 'Jamaicanising' of the annual pantomime imported from England and performed every Christmas at the Ward Theatre in Kingston. This development in the pantomime started in 1942 when Jamaican folklore and folktale elements were introduced into the pantomime produced by the Little Theatre Movement (LTM), and director Noel Vaz was also associated with it.
Supreme hero of Caribbean folktales Brer Anansi was introduced into the Pantomime along with local folktales, and Williams played Anansi. This character rose significantly in importance and influence with many Pantomimes including Anansi in their titles – such as Anancy and Blue Beard, Anancy and Beeny Bud, or Rockstone Anancy. What is more, the Anansi trickster figure as created by Williams on stage became central to the Pantomime, which traditionally has a rogue in its dramatis personae. In later editions, even when Brer Anansi was not in the play, there was a villain. That villain played by Williams, became the Jamaican trickster con man character known in Jamaican creole as a "samfie".
Williams created a tradition with that role that has ever since been written in as a part of all pantomimes up to the present time with versions of the type included by current script writer Barbara Gloudon. The role was inherited by Samuels in the 1970s along with the practice of engaging the audience in direct dialogue and by-play, involving the gift of ad lib and spontaneity. These are now standard features of Pantomimes and characteristic features of popular Jamaican plays.
Apart from stage plays, and radio, Williams also created for television, with his "Ranny Williams Show," started in 1963 at the dawn of Jamaican TV, being prominent there. Additionally, he appeared in several films listed by the LTM source as including Oh Dad, Poor Dad; A High Wind in Jamaica; Jamaica, No Problem; White Souls; Tropical Isles; Zacc Experience and The Marijuana Affair.
Mock Yen also confirmed another contribution made by Williams, which was his place in Jamaican folklore. Not only did he perform elements of this on stage, but he also carried out research in this area. He investigated not only Anansi, but other folk material that he performed on stage or used in his radio programmes. It was the same with Bennett who was also a folklore researcher and performer, although they worked separately in this area.
Although 'Miss Lou' published much more of what she collected, 'Mas Ran' published a bit, but performed and used the material in other ways, such as the work he did in attempting to keep the jonkunu alive in street performances. He was responsible for jonkunu bands appearing in many years in the annual Jamaica festival on August 6 (Independence Day).
The story-telling tradition would have received timely boosts from his activities. He carried on the art of storytelling using the folk material collected, but also told contemporary tales in his radio programmes. Stories were concocted to invoke humour, but many of them were social commentary. Williams was quite a commentator on social and human behaviour, using stories to satirise the manners of the times in his creation of several characters and incidents. These included versions of creation myths or myths of origin in which his stories pretended to explain many social phenomena.
Much of that might have been remembered during the celebrations of Mas Ran's birthday on and around October 26. His heritage continues in important traditions in the Caribbean theatre and in what has been inherited by the stand-up comedians today.
Around the Web