Story and photos by Kenesha Fraser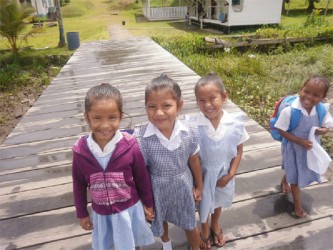 Home to approximately 500 men, women and children, Kabakaburi, Upper Pomeroon River is nestled between the communities of Warapana and St Monica.
A 45-minute boat ride along the Pomeroon from Charity brings one to the picturesque and peaceful community.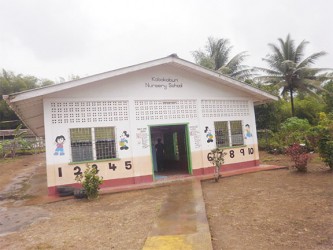 The Mission (main point) in the village houses the primary and nursery schools and village office. In addition, the main solar panel there provides water for the schools and residents living on the mission. There is also a community market, multi-purpose hall, community centre, health centre, craft centre and a guest house.
Like most of the people in the village, Mary Thomas was born and raised in Kabakaburi and knows the area very well. She is s vendor at the Kabakaburi Market and sells there every day from Monday to Friday.
"Kabakaburi is divided by creeks," she related. "There is the Yarami Creek that is at the beginning of the community and there is the creek before St Monica. I was born and I grow up here but before now, the village wasn't like this. It was very bushy and so many persons weren't living here. The community has become developed and more persons are living here now.
"Many developments have been made from the olden days to now and I am of the view that each resident is thankful for the developments. The primary school that is here now was first established by the Anglican Church in the early years but it was then handed over to the government."
Before solar panels were given to each family in the village by the government, residents used lamps and those who could afford it used generators for electricity. Each household also has black tanks
to store clean rainwater.
Sophia Hendricks known by all as Aunty Sophie is a retired Community Health Worker who is now a vendor at the market.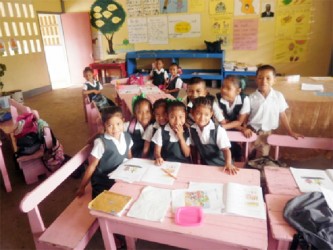 "I worked for 18 years as a health worker," she said. "I enjoyed working very much and I wish if I could have worked for a longer period. I always liked helping people and it gave me great joy to serve my community.
"I am saddened to know that there are no job opportunities for our youths. Most of them now have to go into the mines to find jobs," she added.
"This community is a very quiet one and I enjoy living here. There is no crime here and we can all sleep with our doors opened because nobody would break and enter."
Families plant their own fruits and vegetables. "Only when we want to buy things for our stalls as vendors then we would travel to Charity," Aunty Sophie said.
She said stall holders would rent the stalls from the village council in order to sell their produce to other community members.
Ruth Thomas and her friend Marina Calistro were walking up the hill to the primary school. Thomas has been the cleaner for the school for five years, but she is not a resident.
"I do not live in Kabakaburi but every day I would paddle to come to work from Aripiaco [a nearby community]. I enjoy being in this community a lot even though I don't live here. We have had a lot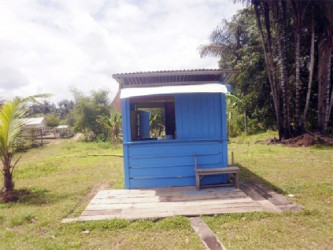 of improvements and even though more things can be done, I love it here," Thomas said.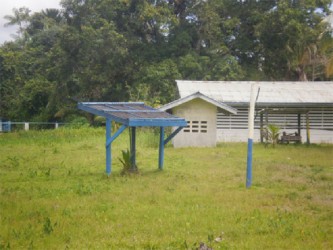 Calistro who was going to collect her children from school said she was born and raised in Kabakaburi. "I used to have a lovely time while growing up here. We don't have many recreational activities here but we all try to create an enjoyable environment for ourselves so it's really loving here," she said.
After completing four years at the University of Guyana, Oswald Williams said that he is proud to be a teacher at the Kabakaburi Primary School.
"I really like living here. I was born here and after completing university I came back to serve my region and community. I enjoy teaching and most parents look up to me to be a good teacher for their children especially those in the 'common entrance' class," he said, using the old name to refer to the National Grade Six Assessment.
"Students here get the concept of the teaching quite easily and though we have some materials to teach the children, things can be improved," he said. He called for more input into education in the Pomeroon.
"If this is done, it will surely enhance the learning skills of students," he added. "I try to make teaching as fun as possible for my students so we would play games such as volleyball, cricket and football to occupy the attention of the youths."
Further up the hill near the primary school, Naureen Thomas was in her canteen attending to the needs of school children who had flocked to buy snacks.
"It was great growing up here for me. I even went to school right here," Naureen said. "We always had the primary school but now the school has up to Form 3 so the students would start nursery school then move up to primary school and then up to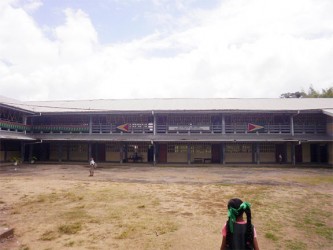 the Grade 9. Most parents however send their children to Charity to attend school.
"When I was growing up, I used to enjoy going to swim in the river. It used to be so much fun. Now that things have improved for us, I think that the younger children have a lot of things to keep them occupied now."
Most residents attend church right in the community and those who do not live on the mission would go there to shop at the market or use their cell phones.
"Most persons have cell phones in the community but we don't get to use them in our homes unless we have antennas," said Stephanie Jacobus. "If we do want to use our phones, we have to come to the mission and stand near the church to get GT&T signal. Those with Digicel phones have to stand near to the bench. If we could get a tower in the area that will provide phone signals for both services in our homes, it would be really helpful."
Kabakaburi children were warm and welcoming, smiling and posing enthusiastically for pictures and as the boat left the mission, for the return trip to Charity, the sounds of laughter filled the air as the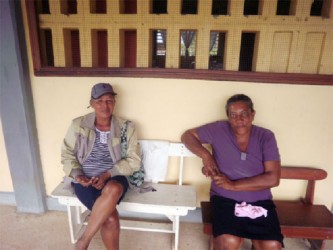 children waved goodbye.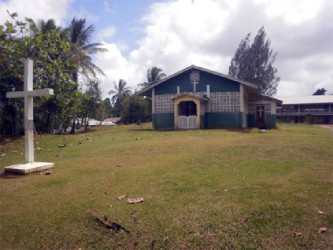 Around the Web