Story and photos by Kenesha Fraser
La Belle Alliance, comfortably nestled between Lima and Richmond is home to more than 60 families and has the largest burial ground of any village along the Essequibo Coast.
While no one seemed to know, it couldne linked to the fact that La Belle Alliance is also the name of a cemetery in Belgium dating back to 1916.
The village was as quiet as the proverbial grave when this newspaper visited recently and on enquiring this reporter was told that everyone was indoors.
Most of the villagers were shy, but Aunty Jackie and Uncle Selman were eager to share their experiences about living in the village.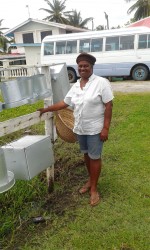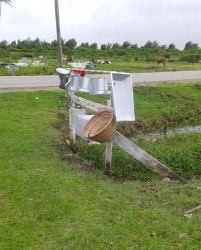 "In 1986, we moved from Lima and came here to live. I can remember that all here where we are living now were rice fields. The road was made out of loam and this trench here was always clean so we used to use the water for household needs like washing and bathing," said Aunty Jackie as she sat at her sewing machine.
"We were fortunate to have electricity but the road was sometimes very dusty so we had to wet it often to keep down the dust. We never had any school or so in the village so our children had to travel to Anna Regina or Sparta or Danielstown to attend school."
Uncle Selman, who was also working feverishly on his machine to complete some sewing, added that the village was beautiful and clean in the early days.
"Things use to be great back then and very beautiful but because of technology, things are easier now. My wife and I started this sewing business in 1980 and we had a lot more customers then than we have now," he said. "We had even moved to Antigua and when we came back, we still had our customers. I love sewing and for me and my wife, it's something that we both enjoy doing. It keeps us occupied and happy. I really enjoy living in this village and we do not have any major crimes or issues. Just petty things. Everybody lives good with each other here."
Now residents have access to potable water, electricity (including a series of blackouts) and land line telephone service.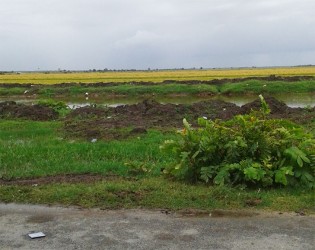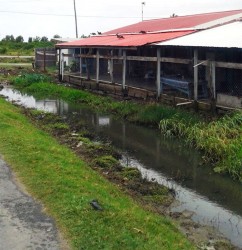 Just up the street, Khado Singh and his wife were making sure that their house was secured from the rain which was pouring heavily. "I was living here since 1987 and in those times the place was not populated," Singh said. "Just a few persons were living here and the place was not civilized. I used to supply 200 rods of this village with water from my vat because in those days we did not have GWI water. I built this vat when I built my house because I saw that water is important and each villager had uses for the water. In 1992, the place became civilised and people started coming to occupy the lands. I love living here but the only thing that bothers me is the frequency of flooding here. I think that the trenches and drains should be cleaned so that the water can flow more easily. I am concerned about the current state of the burial ground because it is not in the best state. A lot of broken tombs are visible and this should not be."
Singh, who plants a kitchen garden, said, "I have nice neighbours and this place is quiet."
Along the back street, Mona Lall, who was busy doing household chores, stopped for a few minutes to talk about growing up in the village.
"Well my father was a prison officer and we used to travel a lot until he decided to come back to Essequibo to live," she said. "I was about 15 years old at the time. I can remember that we were the first persons to occupy the street at the back here. After several years then other people started coming to live here. This is a very nice place to live."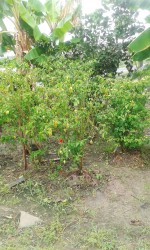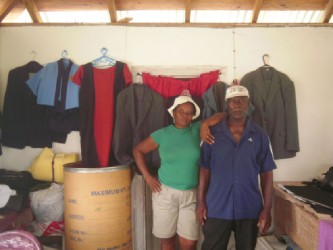 Along the public road, Beverly Williams known as Sister Bev to most persons, had just returned from the market.
"I moved here in 1980 and in those days, the village was not populated. I can remember that before the seawall was built, the water from the sea would come over when it was high tide and flood the entire place. Thankfully, the seawall was looked after so we don't get that type of flooding anymore," she said. "Now residents are living quite comfortably here."
Sister Bev is a vendor of local handmade items such as parrot and bird cages and kitchen utensils.
"I used to sell craft but the market is not readily available for that here on the Essequibo Coast so I've stopped selling those. I sell at the Anna Regina and Charity markets and the also sell items from right here at home. I have a deep passion for the items that I sell so it's very enjoyable for me," she said.
Even though most of the villagers were shy and reserved and declined to have their pictures taken, they were warm and friendly. According to them not many young people live in the village but the few that live there are gainfully employed and occupied.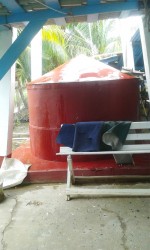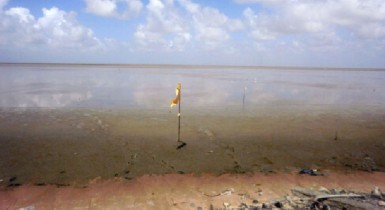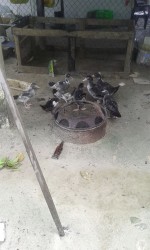 Around the Web