The small farming village of Grove, located on the outskirts of Parika, East Bank Essequibo and made up of residents of mixed ethnicity, is bordered by the villages of Salem and Look Out. It has a population of about 200 and residents describe the village as being quiet and peaceful. They said, "Everyone does look out for each other but one, one time there must be a lil row… Otherwise, everything else good though. On Saturdays the males would go out and take a drink."
At times, the peace is disturbed by some residents playing loud music and while this newspaper was there the sound of music, although not that loud, was emanating from a resident's home.
This would also happen at night but louder and a few times the police had to be called in to stop it.
Junior La Rose, who lives in another village, was passing through on his bicycle. He was running an errand for a family member.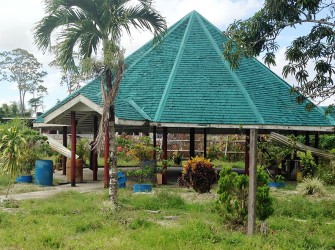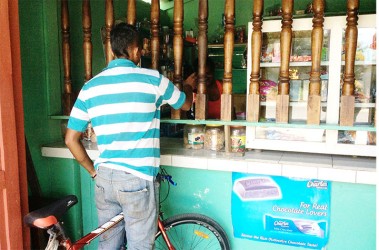 Ally Azim, 9, was taking a stroll on the road. It was the last week for school and he had gotten home early that day. His father had already purchased a one-foot kite for him but he was not allowed to fly it until Easter Day.
A resident, Rose Gomes and her little son were awaiting transportation to go out. Her son was fussing as she waited with him under a tree but stopped when she spoke firmly to him. They left soon after when a taxi stopped to pick them up.
Waveney Jones was all excited about sharing her experiences growing up at Grove as compared to the vast changes now.
She operates a grocery shop and was attending to a customer when 'The world beyond Georgetown' stopped in.
Two large almond nut trees provide shade in front of her home to her family as well as to customers and visitors so they do not feel too tired from the sweltering heat.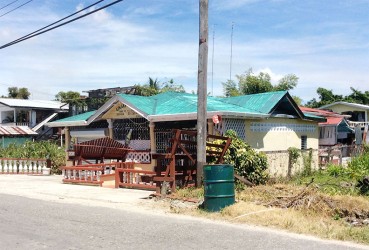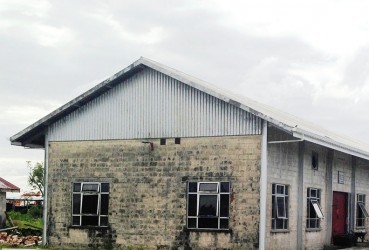 Most of the residents are engaged in farming while Jones's neighbours also operate a grocery shop and snackette. A bar located opposite her house was closed a few weeks ago.
The village has a multipurpose centre where a library was housed and a boxing gym. But the centre has been closed for a while. Residents would like to see it up and running again.
Improvement
With a glow, Jones said, "Life improved a lot. It is 100% different. We used to fetch water but now we are getting water in the pipes and in the shower all the way upstairs."
She also recalled that she "went to school barefoot or with slippers and we used to hold we books in we hand. Now each child getting bags and shoes to go to school with…"
According to her, "If we mother couldn't afford we had go just like that. We never used to frown if mommy said she couldn't afford something. We were contented and my four children grow up just like that.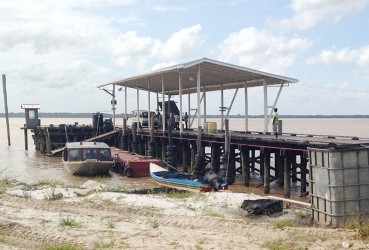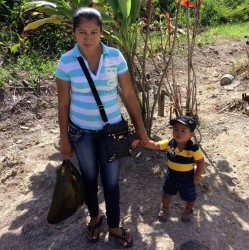 "Now some children telling their parents they don't want this and they don't want that. There was no telephone service but now we have landlines and even the children have the latest cell phones."
Continuing the comparison, Jones recalled the days when the village had no electricity and they had to use lamps while a few persons enjoyed generators.
Residents starting benefiting from electricity when a cassava mill was established in the village and "the current stopped up to there."
She recalled that farmers had no problem then with getting market for their cassava which was supplied to the mill.
The best part was that farmers "didn't have to grade the cassava; any quality would go in the bag."
The cassava flour was never sold in the area but would be transported to Georgetown in bulk. Residents were not sure what it was used for but assumed that it was mixed with the regular flour. Plantain was also processed at the mill.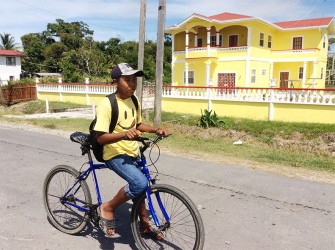 A pleasant woman who is not afraid of hard work, Jones still goes to her provision farm daily with her husband. She had taken a break that day though.
Her granddaughter who lives with her and a niece assist her in the shop when she is not around.
The farm is located in the backdam at Salem a few
villages away and they access it by travelling by boat along the canal.
She said, "Trucks would come from all over, Berbice and so to buy the produce. They would call on Saturdays and order and we would bring out what they need."
And farmers are grateful that hucksters also go and purchase, the orders are not enough to cover their expenses.
According to them, "The price is not too good… but we have to contend. Cassava is $20 per pound wholesale while plantain is sold at $50 and $60 a pound. If we retail it we would get more money but we have to be in the farm."
They said too, "We have to depend on the hucksters and if they don't come and buy then we're doomed."
Some farmers who are not lucky to get sales told this newspaper that many times their produce would go to waste. They too complained that "the price that the hucksters pay is not good."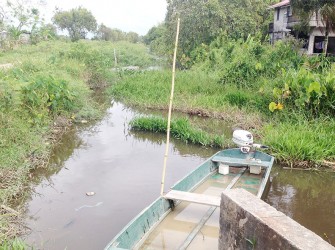 According to them, "Different hucksters would pay different price. Sometimes they would even give us $15 a pound for cassava and that can't pay us."
Another issue the farmers raised was the poor condition of the drainage canal. They lamented that the front part is clogged with weeds which prevents the water from draining properly. They feel that farmers are not given much attention in that area.
Jones does not depend only on the farm and the income from the shop. On Saturdays she earns extra by making snacks like channa, egg balls and black pudding to sell.
She attended a school next to her home that was called the Hyde Park Congregational. That school, a small wooden structure was dismantled and relocated to Salem. A concrete church was then constructed in its place.
Jones is accustomed to working hard and said she did farming since she was a young girl. That was after her father died and her mother was left alone to take her of her and her 10 siblings.
She recalled, "As soon as school closed we had to go to the backdam… We used to walk to Salem and then used to paddle canoes to get to the farm." Now life is easier, she said "because we use engine boats."
At that time they did not have problems selling their produce as the Guyana Marketing Corporation used to go into the area with trucks to make purchases. Some hucksters also went there to buy.
Transport services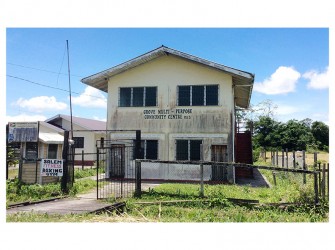 Hakiem Mohamed transports passengers who use the Odyssey Transport Services, located in the village, six days per weeks with his minibus.
He drops the passengers off at the Odyssey wharf from Georgetown at 4 am and takes another load back to Georgetown at 3 pm when the boat comes in. He would also take some passengers to Ogle Airport, East Coast Demerara to catch flights.
Odyssey offers a service of transporting goods and passengers to the Mazaruni area from Tuesday to Sunday.
Shira Chung, 40, who "born and grow in the village," loves to keep herself occupied. When her household chores are over she enjoys spending time in her kitchen and flower gardens.
She also has talents in craft-making and supplies basket trays and motives made from dried coconut branches to Guyana Stores.
She lived with her husband and two children—Roseanna and Ronday who are now 18 and 20 years old—in Bartica where they were engaged in large-scale ground provision farming before returning to the village.
Her husband, Ronald Chung, a mason, exited a taxi with a quantity of tools. He was returning home from Bushabali/Lanabali in the Essequibo River where he is building his sister's house. He would spend a few days there at intervals.
Ronald learnt the trade by working as a labourer with contractors from a young age. He said proudly that he worked hard and developed himself in the trade.
Like all other areas in the countryside, it was evident that residents of Grove live a simple life and work hard for their survival.
Around the Web