In the village of Versailles on the West Bank Demerara, Martley Mc Rae and his employees were hard at work in his block-making factory. McRae supplies decorative blocks, concrete spindles and hollow blocks for private homes and building projects; his business has been thriving ever since it was established 15 years ago.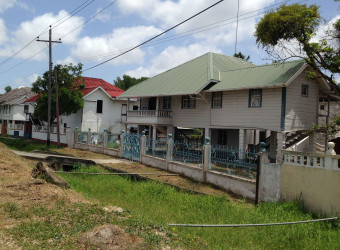 He learnt the trade in Suriname where he lived from 1990 to 1997 and has passed on his skills to his workers. It has been his sole source of income since then.
Mc Rae who has been living in the village for the past 20 years is married with two children: one is studying communications at the University of Guyana and the other is a fourth form student at the West Demerara Secondary School.
Versailles, one of the French named places in Guyana, is bounded by the villages of Malgre Tout and Goed Fortuin and is just about a mile away from the Demerara Harbour Bridge.
With a population of around 2,000, Versailles, which is said to be a peaceful village, is bursting with activities.
The former estate had been owned by a Vieira; the grandfather of businessman and politician, Anthony Vieira, who operated the former Vieira Communications Television (VCT). Huge dishes used for the television channel still stand in the compound of the Victorian-style house from where a section of the business was run. The older Vieira had purchased the entire estate, including the village of Schoonord, as well as Goed Fortuin and Malgre Tout. The villages are divided by kokers.
At one end of Versailles is the koker where the fishing boats would moor and from where the fishermen carry out their activities. It was formerly home to the Guyana Power & Light (GPL) power plant.
At the other end is the Aracari Resort and a gated community, the Roraima Housing Scheme. The village also has a wash bay service, a gym and furniture store, a block-making factory and two lumberyards.
Some horse-cart owners, who conduct transportation services, were waiting by the lumberyard for hires. One of them also runs a snackette on the roadside and stocks refreshing coconut water.
Residents seek medical assistance from the health centre and some worship at the Jehovah's Witness church, both located in the village.
Daryl Gomes operates the wash bay service, which he had set up one year ago when he moved to Versailles from Poudrouyen. Gomes had just finished washing a car when this newspaper dropped in and was awaiting his next customer.
He said business was somewhat slow but he has his regular customers who would visit daily.
The Aracari Resort is said to be the main attraction in the village. A staff member, Priya Deoraj, was friendly and helpful and seemed to have the right personality for the job.
The hotel offers accommodation ranging from economy to luxurious, along with a swimming pool, gym, restaurant and bar, beauty salon and spa, outdoor games, nightly entertainment at the poolside as well as catering packages for any occasion regardless of the venue. Facilities to host activities such as weddings, birthday parties or conferences are also available.
Cheryl Dover, a former Neighbourhood Democratic Council overseer said the village sits on a double 'S' turn," which results in a lot of accidents.
She recalled that the last time there was an accident a minibus was left "sitting" on top of a tree in front of her house and her bridge was also damaged.
She decided to "put plants so that the drivers can see." She warned that they should "take their time and drive carefully, especially if they don't know the area so they won't get into accidents."
Eddie Gheraw, owner of Eddie & Liz's Lumber Yard was sitting at the entrance of his business place looking on as carpenters conducted an extension project.
He had been operating his business for several years down in a street at Goed Fortuin. Three years ago he moved to the roadside location.
The World Beyond Georgetown also caught up with Samuel Hendricks who had given up his trade as a diver in the gold-mining area because of malaria and had to find alternative work and "start from scratch."
He developed his skills in the carpentry trade and soon became a contractor, finding employment for the youth. Fifteen years later he spent some time working in Barbados.
He relocated from the Pomeroon in Essequibo in the 60s and spent 20 years in Georgetown before moving to Goed Fortuin in 1985. He got married four years later and moved to Versailles 13 years ago. He has taught the trade to "many young men in the area and now they are doing work on their own."
Residents are very productive and according to Hendricks, most of them have busy lives; going out to work in the mornings and returning in the evenings. "There is no quarrelling among the residents, just friendly encounters," he said. They socialize at weddings, birthday parties or funerals.
Eric Anderson was also one of the carpenters working on Gheraw's premises.
Also a mason, he learnt the trade from a young age and when the opportunity arose for him to work in Barbados and Antigua he gladly took it. After spending seven years in those countries and enhancing his skills, he returned in 2009 with enough money to make his life comfortable.
Meanwhile, residents, while happy that the quality of the water was "one hundred per cent good" were concerned about the poor service they were receiving. "The water pressure is very low and can only be accessed through standpipes in the yard. We have to buy black tanks and pump the water upstairs. Not many of us can afford tanks, much less pumps," one resident pointed out.
Koker
Down at the koker, some fishermen were mending seines after returning from a fishing trip.
Others were loading their boats to go out again and some were just sitting idly by. In front of one of the small camps, a few men were engaged in a high-stakes game of cards.
The peace and quiet of the village would be disturbed at times by the rowdy behaviour of "limers" at the koker, some residents said, adding "a lot of shady things go on there." They claimed that persons are engaged in selling drugs, drinking and gambling. "This should stop! We reported it to the police before but they are not acting." They said too that the area at the koker looks rundown and should also be in a better condition.
The "old road" that the fishermen use to carry on their activities has started to sink and erode. The fishermen said it needs work to prevent it from deteriorating more.
According to residents, "Excavators are used to dig the trench and this also cause the dams to be destroyed." Residents said that during the high tide water would "flow over the road."
Fishing business
Some of the fishermen who use the 'Chinese seines,' that are affixed to one spot, said they are being taken advantage of by other fishermen who use anchor seines.
"Dem can move around with the anchor seines so dem does go in front of we seines and block the trout and gillbacker," some of the angry fishermen said.
Complaints were made to the fisheries but nothing was done. In fact, "The situation is getting worse. They are taking bread out we mouth," a driver said.
The fishermen call their fishing points names such as Broad, New York, Miami, Lonka and Ebola; these are areas where they would haul in big catches.
One of them, who has been a captain for over 20 years, told the World Beyond Georgetown that the fishing business is risky. He said this in reference to the rough waters and his close encounters with pirates.
While he was lucky to escape, many of the other fishermen were beaten and robbed at the hands of pirates.
Residents are proud that so many fishing boats are moored in the area, while at the same time disappointed that most of the fish is sold at the Meadow Bank wharf in Georgetown.
The residents said that although so many fishing boats would venture off to sea from that koker hardly any would return there with fish to sell.
They believe that this can be changed if fish festivals are held. They are confident that such a venture would be a success as it is in other countries like Barbados. Claiming that "people are tired of just going home and sleep after a hard day's work," they advocated that "It would be something really nice to introduce here. People won't only come and buy fresh fish to take home, but they can come and have it fried, baked, barbecued or anyhow they like it."
Meanwhile, with the Demerara Harbour Bridge so close, residents said the traffic jam with the long lines of traffic during rush hour affects them and needs to be addressed.
They suggested that the government should "open Coglan Dam and Bella Dam in Plantain Walk and let the traffic pass through there and come out at Crane," questioning, "Where are the engineers in this country?"
They are also dissatisfied with the way Guyana Power & Light (GPL) trucks use the road to access that company's old site in the village.
According to them, "GPL come and dump poles there and then go and pick up poles without using signs or hazards. They just stop as they feel and this practice is unsafe. They were supposed to place cones about 30 feet away from the trucks."
Some residents recalled witnessing one of the trucks causing a three-vehicle smash up in the village.
Around the Web