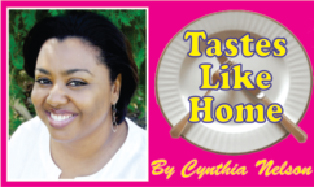 Hi Everyone, Towering above houses, generously scattered across the length and breadth of the region, breadfruit trees are laden with globes of fruit hanging from strong stems. Breadfruit is in season.
Roasted, stewed, curried, fried, boiled, grilled, pickled or baked, this versatile, filling fruit, can be enjoyed as an appetizer, soup, entrée, dessert or a beverage. Savoury or sweet, breadfruit is one of the most loved ingredients in the Caribbean. Did you know that in St Vincent and the Grenadines there are about 25 different varieties of breadfruit? They go by names such as Kashee, Sally Young, Butterheart, Hope Marble, Soursop, Dessert, Lawyer Caine, Hogpen, and Cocobread among others.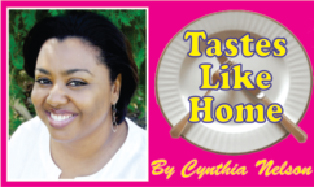 Here in Barbados breadfruit falls into two basic categories that are dictated by the colour of the flesh when cut – yellow meat and white meat. The white meat breadfruit is generally used for pickles, to make chips and for roasting. The yellow meat breadfruit is prized and preferred boiled and then pan-fried with butter, for breadfruit cou cou, creaming and porridge. A fire-roasted yellow-meat breadfruit is gobbled up in no time, especially when it is accompanied with fried salt fish or a helping of stew that contains salt meat. Yum!
Last week one of my regular old lady friends at the market had some plump perfectly round, full breadfruit and they were yellow meat (she told me). I don't know how to discern if a breadfruit is white meat from yellow meat. I usually rely on a vendor to inform me. I prefer the yellow meat, not just because of the colour when cooked; I like the texture as well. I had been planning to make this pie for a few weeks now and the deal was sealed when I got the market.
I won't say that I am the biggest fan of breadfruit. I have very specific ways in which I like to eat breadfruit – boiled and then pan-fried just like that (not like a Guyanese style of boil 'n fry), fire or oven roasted and sliced thinly and fried as chips. That was it… until last week! That's when I first made my first breadfruit pie!
Shepherd's Pie meets Breadfruit Pie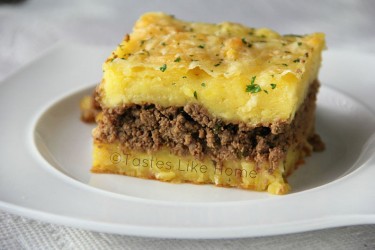 Breadfruit has a natural affinity with cheese and when mixed together and baked, even those who do not like breadfruit will find themselves surprised as they reach for more pie. At least that was the case with 2 children of different friends with whom I shared the pie. One of my friends was so pleased by this development that she is making the pie this weekend but instead of minced beef she will be using minced chicken.
Picky eaters or not, I think that you will like this pie. When you make it and eat it, you will also find it is an excellent replacement for macaroni pie. You can opt to make the cheese sauce that you would normally make for macaroni pie, pour it over the hot boiled breadfruit and mash it all together. Put the mixture into an oiled pan, sprinkle the top with cheese and bake. Try it. I know you'll like it.
When I made my breadfruit pie, I had some of the mashed breadfruit and cooked mince left back and turned it into stuffed breadfruit balls. To make the breadfruit balls, take some of the mixture, roll it into a ball and then flatten it between the palms of your hands, put some of the mince in the middle and seal the filling by lifting and pinching the edges of the breadfruit. Put the balls into an oiled muffin pan and bake at 375 for 30 minutes. Let cool in the pan for 5 – 7 minutes before removing. Eat as is or with a dollop of sour or pepper sauce.
Here's what to do to make the Breadfruit Pie.
Get some mince (about 1 ½ pounds) – beef, veal, chicken or pork. Season the mince with finely minced garlic, onions, celery, parsley, fresh thyme, hot pepper, salt and several shakes of Worcestershire sauce.
Heat a pan with oil until it is smoking hot. Add the mince and spread it out in an even layer, leave it to cook for 5 – 7 minutes before turning it. Cook the mince until it is no longer pink. The cooked minced should not be completely dry but it should not be soupy either. It should be a little juicy. Set aside the cooked mince.
Peel, core and boil 1 – 2 full breadfruit (or 1 large breadfruit), in lightly salted water until soft and a knife inserts easily. Mash the hot breadfruit with some black pepper, 4 tablespoons of butter (salted or unsalted) and 3-heaped cups of grated sharp cheddar cheese. Mash it as smooth as you can but don't fret if there is some texture to it; it really does not affect the taste or the overall texture of the pie.
Preheat the oven to 375 degrees F.
Brush a 9 x 13 ovenproof dish with oil (use whatever pan/dish you have based on the quantity of ingredients you used). Place the dish upon a baking sheet.
Spread half of the breadfruit mixture at the bottom of the dish in an even layer.
Spread the cooked meat all over the surface of the mashed breadfruit.
Top the meat with the other half of the mashed breadfruit by completely covering the meat.
Sprinkle the top with grated cheddar cheese and bake for 45 – 50 minutes or until the top is golden. Just like macaroni pie, let the pie rest for at least 1 hour so that it can set before cutting it.
I sprinkled some parsley on top of the pie 10 minutes before it was done cooking. I only did so because I had the parsley left back from something else I had made so it is optional.
You can turn the pie into a lasagna-style pie by using a smaller pan/dish and making multiple layers of the mashed breadfruit and meat, starting and ending with the breadfruit.
However you make it, try the pie and let me know what you think.
Cynthia
Around the Web