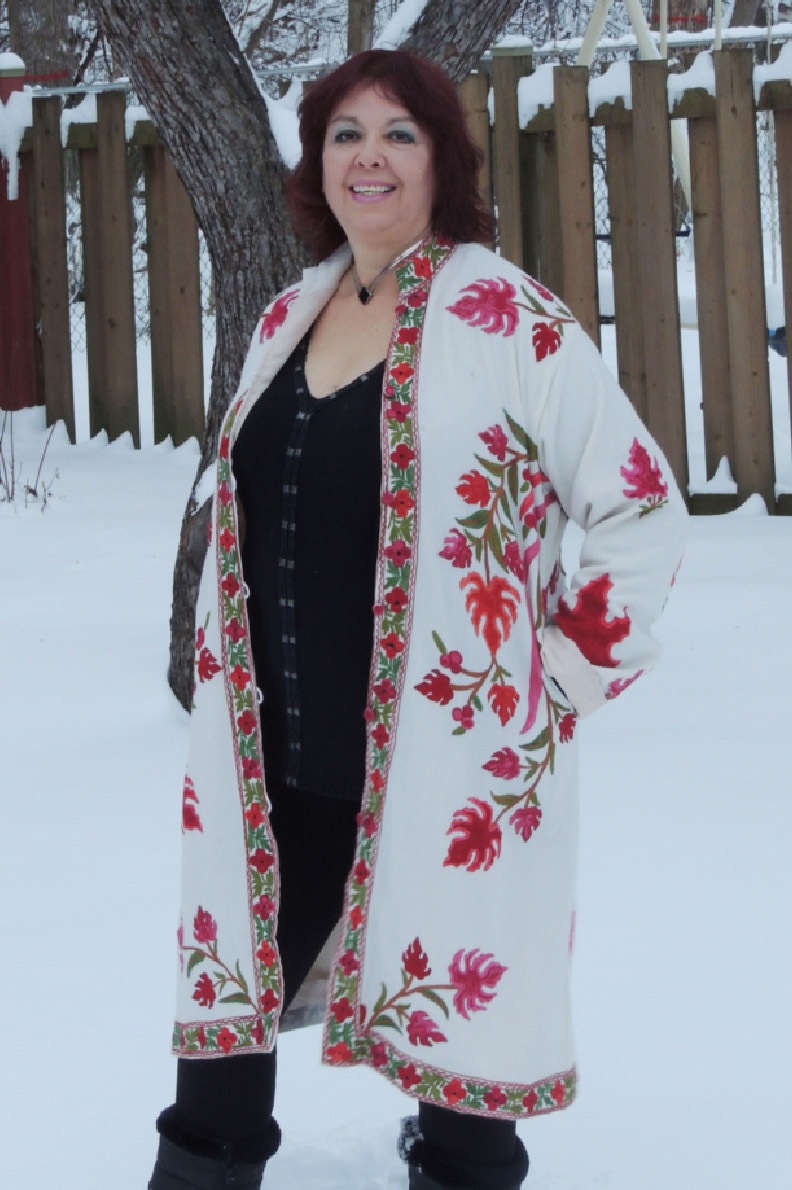 Canada-based Guyanese singer Fauzya Moore has just released her debut album, 'My Six Seasons', a fusion of Bossa Nova, Jazz, Soul, and Caribbean and Latin American rhythms.
Fauzya calls it a "world fusion" album, which is exactly what it is. The first song is "Way Down in Demerara," originally written by RCG Potter. But from the opening bars you recognise that it's being sung like you have never heard it before; and you just want to keep listening to it.
Fauzya wrote the lyrics to the second song on the album: "Rainy Season Come in Fast" and she sings in an up-tempo soulful way of flooded polders, seawall breaches and school children playing in the rain and mud. It's a song that touches you on many levels. No one likes floods and seawall breaches, but the way Fauzya sings it brings a smile. You believe the rainy season will come in fast and go just as fast.
In an email interview with The Scene she explains that the album title, 'My Six Seasons', is her own mingling of the two Guyanese seasons with the four she now lives with. Fauzya is a classically trained singer and though her first album does not reflect that in terms of sound, it's difficult to disguise that training in her voice.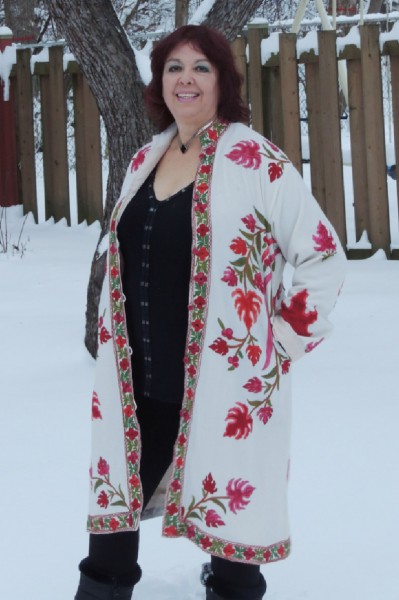 She says she hopes the album speaks to a wide audience. "I would like to do more of this kind of repertoire – and I would love to sing more Guyanese songs," she says. There are three folk songs on the album: "Timba Man", "Sityra (Gyal)" and "Janey Girl [Gyal]" as well as "Twilight" (words by Cecile E. Burgan-Nobrega).
Fauzya says she had long wanted to record an album and it just so happened that everything came together at once. "I was training with the right teacher; Maria Knapik, a Polish-Canadian soprano with an international career that included appearances at the Kennedy Centre in Washington and Carnegie Hall in New York. She knew the right producer, Greg Geeves, a noted Ottawa arranger and producer with a useful understanding of the international music scene," Fauzya says.
Knapik had just published 'Piesni' an album of Chopin's rarest works; songs that he wrote in and about Poland over the course of his career but which he was too deeply indebted to publish, Fauzya says. Describing Knapik as "a soprano on a mission", she said her teacher told her, with a big smile that "If I was going to record anything, I was going to record the songs of Guyana. I was astonished. In many years of on-again-off-again classical training no one had ever asked me if there were songs that were special to Guyana let alone told me to record them!"
And so began the gestation of 'My Six Seasons.' Fauzya researched and searched; contacted experts like Vibert Cambridge, Pat Cambridge, Bobby Moore and Alyma Moore gathering her lyrics and music. In the meantime Geeves, who had worked with some of Ottawa's tiny Caribbean community became quite fascinated by the songs and culture of Guyana, and the Latin American songs on the album and developed his own rhythms and arrangements for them.
She recalls introducing Knapik and Geeves to "Way Down Demerara," and "Twilight." "They were totally ecstatic; there is nothing more exciting to experienced musicians than finding a high quality work that they did not know existed," she says.
"I am proud that Guyana's songs can be placed alongside internationally recognised repertoire with ease," she notes. On the album, "Twilight" at number 7, falls very comfortably before Dvorak's "Song to the Moon" and Gordon Lightfoot's "Song for a Winter's Night". There are also the American "Skylark" at number 3, the Brazilian "Waters of March" at number four and further down at 10 and 12 respectively two Spanish pieces, "Noche Anunciada" and "Cuando Calienta El Sol".
Fauzya says: "On a personal note, I feel as if I have found my musical centre, less in the classics, more in jazz, folk and popular music."
Fauzya has been singing since she was a child. She remembers singing at Sacred Heart in Main Street. She also sang in several other locations in Guyana, including with Caricom staff at the Theatre Guild and Colgrain House; mostly folk songs.
"We often learn folk songs at the knees of our elders," she says. "I had a great-great aunt Irene Shanks/Aunt Renee, born in 1888, who taught me Guyana's folk songs when I was a little girl. She had spent the first years of her life in the Mazaruni prison settlement where her father was Warden, and once in a while she would come out with snippets of songs – Hindi folk songs for example – that I could not understand and have never heard since.
"Then, in the magnificent tradition of Guyana's immediate pre-and post-independence education and culture, I learned the different ways in which our songs and culture could be presented and performed. People like Lynette Dolphin, Edith Peters, Ram John Holder, Valerie Rodway, the Pilgrim brothers, Rajkumari and Gora Singh and many others were pioneers in presenting culture in new and exciting ways. …I went to St Roses where Mr Aaron taught us 'Twilight.' We developed an incredible sense of our heritage, something that explains, I think, the cohesiveness of the Guyanese diaspora and its unique and longstanding willingness to help in the development of the country.
"Perhaps today we underestimate the role of music in the cognitive development of children. Now scientists say that if you want to develop a mathematically competent child, teach the child music. If you want a child to love and do right by his or her country, teach them about its culture," she adds.
Though born in Guyana, Fauzya's upbringing was international. "I spent a good chunk of my early childhood in England, where like so many others, my father was studying, in his case, Guyanese History. Accents develop in the first ten years of childhood. I'm often teased about my accent which becomes mostly British with Guyanese overtones when I'm in the North, and Guyanese with very British overtones when I'm in the Caribbean and Guyana. I tell people that I come by the confusion honestly," she says.
In later years, she backpacked in France and other places and "I came to realize how adept Europeans, and Canadians for that matter, are at building on their popular and folk music. They record it, and use the melodies in a variety of jazz, classical and other music thereby sharing them with multiple audiences and ensuring their survival through the centuries. Melodies get around. I once heard on the Canadian CBC that the French melody 'Ah! Vous Dirai-je, Maman' better known as 'Twinkle Twinkle Little Star' was used by the German-speaking Mozart in series of variations, was also the melody (in minor key) of Smetana's famous symphonic poem 'Vltava' (a great river in the Czech Republic) and was the basis of the Israeli national anthem.
"Visit New Zealand or Cameroon, and you can hear Bob Marley's 'No Woman No Cry' and 'Buffalo Soldier' in the hotels and on the street!"
In Canada, Fauzya has sung with the Ottawa Choral Society, with Knapik and occasionally at celebrations and funerals.
There is a saying that 'life imitates art' and Fauzya found this to be true a few years ago while at Harvard's Kennedy School on a Canada-US Fulbright Scholarship, and an Ash Centre/Harvard Scholarship. She was sent there to study government, but then amazingly, "smack in the middle of Harvard's most celebrated and demanding leadership class was a series of compulsory musical evenings." Could a singer get any luckier? She says the idea was to get people to sing and make music together "as a means of teaching us how to listen to each other and cooperate in producing something worthwhile; an alternative I suppose to the dig-out-you-eye competitiveness of the global marketplace. The rationale was that orchestras and choirs have a lot to teach us about leadership because they teach people to create by listening to each other, to cooperate closely and to lead when necessary."
Fauzya had even more impetus to return to her singing once she returned to Canada. She still continues with her day job with the federal government, where she worked first as a consultant and then with the Department of Foreign Affairs, Trade and Development and the Treasury Board of Canada.
She visits Guyana every five years or so and is due for a visit this year.
'My Six Seasons' can be digitally downloaded or ordered in hard copy at:
http://www.cdbaby.com/cd/fauzyamoore. It will be available shortly on Amazon.com and Fauzya is exploring other means of distributing it in Guyana.
Around the Web