This is the third time that the Carib Soca Monarch crown is sitting on his head but for the recently crowned king Jumo Primo this time the taste of victory is just different and he believes it is because he worked hard coupled with the monumental support he received and continues to receive.
"It is like I won, but it was not just a win for me but for a lot of people that night…," was how Jumo described his win at the National Park last Saturday.
Speaking to The Scene days after the win Jumo, who knocked last year's winner Kwasi `Ace' Edmonson to second place; a position he was forced to accept last year, was still basking in his triumph.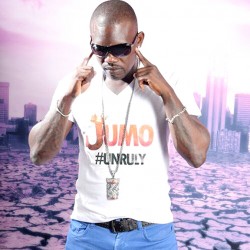 "I still feel very excited, but most of all the hard work paid off. It was dedication a lot of prayers and for me it is an achievement in itself," he said about the win.
For some it could have been an "Unruly" night as nothing went their way but for Jumo it was his ability to keep the crowd "Unruly" that just did the deed and gave him the crown. "Unruly" is the title of this year's winning song and Jumo said the song is just about people "being unruly while enjoying themselves."
And so it was an 'unruly' crowd that was behind him that night. But Jumo said that it was all he needed to deliver a performance of a lifetime. The win is testimony to the fact that to gain the victory one cannot just write a song weeks before the competition, jump on stage and palance and walk away with a crown. No. It takes more dedication than that and a deep love for the art, Primo explained revealing that he wrote his song months ago and spent weeks perfecting it.
"If you are having trouble with something you just work to get it fixed and so sometimes I am in the studio 6 in the morning to sometimes till after midnight…," he said.
It was not an easy road but one filled with bumps but Jumo said he kept telling himself that it will happen and he never gave up. At times, two days would pass without him resting as he prepared, but he said he was boosted by the support he received from his fans and the random person who would from time to time just give him a thumbs up. Prayers too, he said, played a part as many told him they were praying for him. And so while he has "mad respect" for his competitors, Jumo was very confident that he would have snatched the crown off Kwasi Ace's head because of his dedication.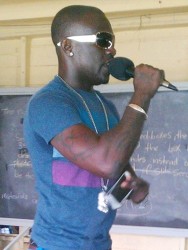 It was the sweetest victory "an overwhelming win, the greatest win ever" which has been made sweeter by the outpouring of love he has been receiving.
"My fans, the kids, the security guard, the rich, the poor, the man on the street who has nowhere to live, the taxi driver all of them just telling me how good that I won. It is amazing for me, I didn't expect it," Jumo said.
Speaking about the song, Jumo said it is one that gives people the energy to party.
"First your head starts to move and then your feet and then your whole body from top to bottom starts to react, and you are just being unruly enjoying yourself," he said.
Mashramani is the time of year when people just want to have fun and Jumo would be the "happiest man in the world if Mash is every day because it is the one time when people come together and everyone just enjoys…, no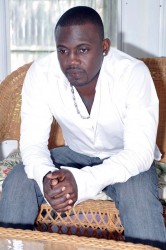 quarrel, no fight just fun." The song, he said, "is not patriotic but it is still patriotic by having people just come together as one enjoying the same song."
And if the song was good enough to take the Soca crown then it is good enough to cop another and that is just what Jumo plans to do come Monday when Guyanese take to the streets to celebrate after hard work. He is confident that he will win the road march crown as well. He plans to dethrone Vanilla who has won several times. This year she will have her stiffest competition yet as the man who was in her corner last year will now be competing against her. Jumo explained that while his songs would have been entered before he never actively pushed them. Instead, he would have helped Vanilla and Adrian Dutchin, who has also won in the past. This time around, he said, he will be giving it his best shot. His song played a lot during the children's mash tramp and Jumo does not see it being any different come Monday. His confidence is boosted by the fact that representatives from many entities have been calling him and requesting to play his song. "I would love to be victorious and I would work hard as it…"
As he looks forward, while not ruling out his participation at next year's competition, he said his main focus would be on Trinidad. He intends to enter that country's international soca monarch competition come 2016 and he knows that to make head way on that stage he will have to work twice as hard as he worked this year.
"I know I can't just go a day or two before the competition and expect to win…," Jumo said revealing that his plan is to be in the twin island from November.
He plans to go with about three songs including "Unruly" and the best would eventually be entered into the competition.
For Jumo, soca is his genre and he does not agree that it is only seasonal as it is "the only music that sees people going crazy.
"It might be seasonal because it plays more around Mash time but when you go into a party it is not only dance hall music they play but soca; it still lives in the party."
He pointed out that he would release songs year round and they are all played and are always the life of a party.
"It is the only time [when soca music plays] when a man who never got a free wine gets a free wine," Jumo said with a laugh.
 Work begins
As he looks to the future Jumo promises that he will continue to record and release videos "keeping my fans and gaining new ones."
"The work has now begun," he said while indicating that the soca monarch competition is a good initiative by ANSA Mc AL.
But he said it is time for artistes to pay attention to what they are submitting and ensure that their submissions are of a high quality "because eventually people like me and others would move on to higher things and they would have to keep it going.
"I am appealing to them to do good music, keep recording and don't wait until Mash time to bring out a song, keep yourself relevant keep bringing out songs and work hard."
But even as he appealed for artistes to do better Jumo also appealed to the relevant authorities to make copyright laws a reality to protect those who perform in the creative arts world.
"It is not easy for us to invest so much money and time and we are not getting back anything… You record a song and people sometimes would sell 5,000 but no money is coming to you; you have to wait until a show comes along to get some money," he said.
He wants it to be known that he has been punishing for years like any other artiste but he has been working very hard to stay relevant and it is what he advises others to do even though they are being squeezed by the absence of copyright laws.
Around the Web