One half of the duo in Duo Collection, Natalya Thomas epitomizes the saying that you should never ever give up on your dreams.
Natalya always knew that she wanted to design clothes. It was her passion. She had been sketching for years and yearning to turn her ideas and drawings into something tangible. Designing is likely a part of her DNA. She grew up in a creative, artistic family and recalls that both her maternal and paternal grandmothers were seamstresses.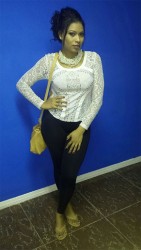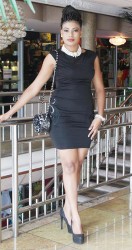 Her aunt Nadia Thomas-Winter is an artist and designer as well. Natalya, in an interview with The Scene, recalled watching her do costumes and hanging around while her grannies sewed. She meddled, dabbled and got in between and according to her, there were times when she was "bumped". But she persisted.
Natalya saw her chance for a break when Guyana Model Search and Designers Portfolio was advertised in 2012.
She jumped right in, entering both competitions. Her striking good looks and command of the catwalk earned her the Model Search top prize and Natalya found herself a much sought after fashion model.
Most girls would have been extremely thrilled with that accolade and may even have turned their lives in a different direction, but Natalya was unfulfilled, devastated even. She admits that she was jealous of the designers whose clothes she strutted around in, making them look good. She felt as though something was missing from her life, but looking back now, recognises that it was a lack of design experience that might have been her downfall.
She did not accept that she had failed, but Natalya decided to take a break. Though she never stopped sketching, often jumping up in the middle of the night to get her thoughts and dreams on paper, she stopped beating herself up over what might have been.
Then early in 2014, conscious that there was something missing, she felt the impetus to try again. And this time she took a different approach.
Deciding to go it alone, Natalya began designing her own clothes. She bought a sewing machine and began turning out styles that had her mom and other family members placing orders, even though she admits she was mostly self-taught and wasn't the best seamstress. Soon, friends and other persons were buying into the niche business she had carved out for herself and they were posting photos on social media.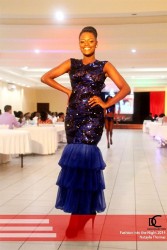 She recalled that her aunt Nadia, who lives overseas saw photos on Facebook and decided they could collaborate. In September, they took a decision to have a public launch of their collections under a single brand – Duo Collection. They set the date for December 30.
'Fashion Into the Night' was not the typical fashion show; no catwalk and models flitting in and out. Instead the designs were well displayed and patrons had the opportunity for close viewing. Nadia had paintings on display as well and wine and snacks were served.
The show was well received and the aunt and niece duo received orders and attracted new clients. Natalya said while it all sounds simple it took a lot of hard work and garnering sponsorship was difficult, but in the end it was rewarding and their hard work paid off. They now plan to do an annual show and have decided that each year they will present a different concept. For her part, Natalya has big dreams of where she wants to see the collaboration go. She knows that big is the best way to dream and she wants to make an impact, with the help of her aunt, on the way fashion is perceived in Guyana. She believes it is time to take it to another level. She recalled that she had actually enrolled in the Carnegie School of Home Economics but left after she realized that she was not going to learn what she needed there.
Natalya's goal is to make the Guyanese woman, regardless of body shape, a beautiful, confident woman and she is conscious that this involves wearing the right clothes, rather than what everyone else might be wearing. "I want to help women recognise their full worth and potential," she said. And to do this, "they must feel confident." She is already applying this to the clients seeking her out, revealing that she's in the process of working with two important ones at the moment.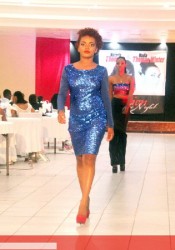 If she could collaborate with any international designer at the present time it would be Michael Costello. She noted that he had failed to make the cut on Project Runway but did not give up on his dreams and is now a much sought after designer.
And while she noted that it's important to be conscious of international fashion trends—she keeps abreast of these by spending hours browsing the internet observing colours and fabrics—she sticks to putting out her originals.
In addition to designing, Natalya is into public relations and marketing. She recognises that she has a knack for marketing and it's something she enjoys, which can only redound to her own benefit in pushing her brand.
Natalya is in a happy place now, doing what she loves. "My experience is that you don't find yourself unless you start doing what you love," she said. Her advice? "Always take that step forward."
Not much of a party animal, Natalya enjoys the occasional formal dinner, but would just as soon spend a relaxing evening with a book, or watching a movie with her boyfriend. She lives with her mom and sisters.
Around the Web