Two-time Chutney Monarch Roger 'Young Bill Rogers' Hinds won this year's competition with his song "Ah Searching For A Good Larki," which is a follow-up to his two previous songs "Ah Chutney For My Larki" and "Gimme Moh Chutney."
In an interview with The Scene, Roger reminded that 'larki' was Hindi for girl. He then revealed that the three songs are in fact a long ballad, which tells the story of how he travelled to India where he found an Indian girl and they fell in love with each other. She then came to Guyana and wanted to know more about the chutney culture and so she stayed. But in the end, she deserted him, hence he was looking for a good larki.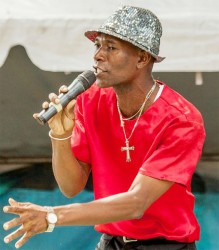 Young Bill Rogers first won the Chutney Competition in 2013. He was the first and remains the only Afro-Guyanese to have won this competition so far. He says his inspiration comes from God and the society as a whole and the way people relate their problems.
A very excited Roger recalled that his love for the Indian culture began when he was just around 12 years old. At that time, he sold sweets as a means of earning a dollar and would often, with his friends, sneak into the Liberty Cinema to see the Indian movies.
But he was always musically inclined and had his first public performance at the tender age of ten when he sang for the "On Show Young Guyana" radio programme, which was hosted by NCN (National Communications Network) then called GBC (Guyana Broadcasting Corporation).
His dad, the late, Bill Rogers, was a pioneer in calypso music and was among the first artistes to put Guyana on the map in 1934, recording for an American company (RCA/Victor Blue Bird Records) which was then a top label.
As a little boy growing up he went on tours around Guyana with his father singing and assisting his dad, who was also a magician. After his father passed on, he took a break to finish his studies, where he attained a Diploma in Industrial Relations and Social Studies.
He later wrote his father's biography titled Life and Work of Bill "Bhagee" Rogers and the Origin of Shanto Music in Guyana.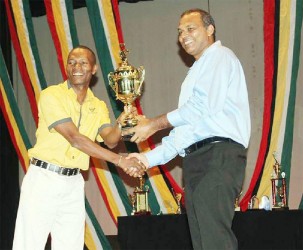 In 1991, Young Bill Rogers's career as a calypso artiste began. He's a five time shanto (another kind of calypso music) monarch and also a two-time calypso monarch for his songs: "We're Still a Paradise" and "Soup Drinka" in 2008 and 2012 respectively. He also twice won the Health Song Competition, a collaboration between the Ministries of Health and Culture, Youth and Sports, in 2009 and 2012.
Among the Chutney King's other accomplishments is having his song, "Gimme Moh Chutney"
place 7th on the United Kingdom Jamaica Top Forty chart; he was the only local artiste whose song was nominated. He also took part in the International Chutney/Soca Monarch competition, which was held in Trinidad and was featured in Caribbean Airlines' Caribbean Beat Magazine in 2008 as the calypso monarch.
Roger has had the privilege of working and touring with the Caribbean Vizion, a group which was led by Trinidadian Kurt Allen. Their tours took them to: Trinidad and Tobago, St Lucia, St Vincent, Antigua, Dominica, St Kitts and Nevis among other countries where they dramatized on the educational welfare of students, etc. He also sang at the Domestic Violence Workshop in Suriname where Caribbean artistes were invited to perform and to stay united in the stand against Violence Against Women.
Apart from singing, the Chutney King also writes and composes his own songs. He's also a poet, an actor and a television co-host for the Payless Power House.
He wrote and composed the winning song "Chinese Taking Over" for the Junior Calypso Monarch last year.
Calypso, Soca and Chutney will always be his genres of music, he says. Fans should expect more of his music along with videos for this year.
The 43-year-old says he hopes to see more love for the Guyanese music and is appealing to the local radio stations to play more Guyanese chutney, soca and calypso music not only in the Mashramani season but also year round. The passionate artiste encourages all young upcoming artistes to stay focused and positive in their endeavours; to always send a positive message to fans and that with hard work and dedication they'll be successful.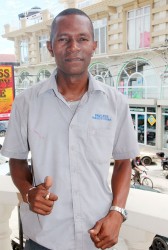 He took the opportunity to acknowledge his sponsors: A&D Pawn Shop, John Lewis Styles, Modern Optical, Giftland Office Max, Star Party Rentals, Payless Variety Store and Avinash Roopchand and Shakti Strings band. He expressed gratitude to his family, friends and especially his fans and said that none of this would have been possible without God to whom he'll always be grateful.
The elated champ has won the coveted prize of $600,000 along with a trophy. He was awarded at the prize giving ceremony which was held at the National Cultural Centre on Tuesday last.
He said he was amazed at the support he got from family, friends and fans and is looking forward to their continued support. He congratulated Haresh Singh (2nd place), Bounty Singh (3rd place) and Halima Khan who came in fourth. Young Bill Rogers is grateful for this victory and is anticipating another win come next year at the Chutney Competition.
Around the Web