UK-based Guyanese style icon Lystra Adams, commonly referred to as 'the Queen of Instagram' is possibly the most vivacious Caribbean woman of style to follow on the social media platform-Instagram. I have been following her for approximately one year. My sister and I are completely obsessed with her confidence level and her fashion freedom.
Lystra's name and picture broke the Great Britain fashion side of the internet when it came to style at the Cheltenham Festival Ladies Day a few days ago. Lystra made a statement in a Barbie pink Moschino suit and one of a kind hat made to match suit by her milliner Sally Sharpe. When I saw the pictures not only was I left in absolute awe but it reminded me of why I always follow Lystra's style diary.
Lystra's look encapsulates a very posh fashion identity. This I can totally relate to. Lystra knows exactly how to pull together a refined look, but she has other fashion identities as well. When in Guyana she switches over to the 'Queen of the Dance' look. Only a few persons can actually manage to do this and remain themselves. I used to swear she had a twin sister. All throughout her outfit of the day mini Instagram videos you only see a woman you is having fun with fashion and expressing herself. Some people dig her local style and some don't. The most important style notes I gather from it, is that you have to be completely true to how you feel.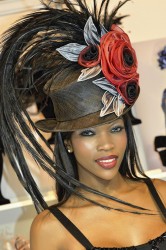 I would categorize Lystra as a style icon for several reasons. The first definitely has to be for shying away from the status quo. If you follow her videos you will notice she has a tongue piercing. It think it's fabulous to stay true to you, even if you are in an environment where everyone else is prim and proper. Lystra keeps it Lystra!
The second is that Lystra doesn't really follow trends. I think she buys the things she likes. She buys the things that are necessary to achieve whatever alter ego she is trying on at the time. By contrast most fashionistas jump on every trend for an Instagram pic; that is not Lystra. It takes a lot of discipline to do that.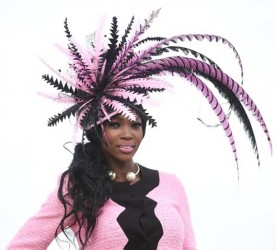 In Guyana she is always spotted with the hottest, shortest pieces and definitely clothing that allow maximum cleavage. She is also a keen Timberland wearer. Though all her pieces may not necessarily be my style, I am always drawn to a person who truly does what he or she feels like. The third is that over the years Lystra has attracted numerous women from the Caribbean to her page with her spilt-personality dressing and her adorable 'outfit of day' mini videos. Each of these women draw different inspirations from her. My biggest inspiration is definitely her confidence. Though we sometimes feel there is a formula for developing style the truth is the real trendsetters are the ones who just embrace themselves
I also believe one of the reasons why women get frustrated with fashion so easily is because they listen too much instead of actually dressing for themselves. Don't get me wrong, some women do need the advice. However, I think it is important to follow your little style voice at times, especially if you really want to be considered a style icon. I would love to see Lystra participating at the Annual Hat Show in Guyana or even judging it. I would also really love to see her getting more acknowledged by regional designers.
www.online-runway.com
https://twitter.com/theonlinerunway
http://instagram.com/theonlinerunway
Around the Web