Hi Everyone, While I have eaten various types of souse – pig's feet, cow heel and cow face as well as chicken feet, green banana and breadfruit – I had never had channa souse until a couple of months ago, while on that trip to Trinidad that I bet you are tired of hearing of by now. What can I say, there is a lot to talk about. I ain't even mention de blood pudding yet. Don't worry though, while it nice, I still prefer our Guyanese-style black pudding. But let's get back to the channa souse.
While Guyana's street-food scene truly comes alive in the early part of the day, I find that in Trinidad, it is the opposite, fires are lit to catch the after work and evening crowd. My friends and I stopped at a place about 5 minutes drive from the UWI St Augustine campus, with drive-time traffic, it took us about 10 minutes. The two women (sisters), were just setting up as we arrived. One was busy rolling dough to fry bakes while the other sister was setting out some of the cooked dishes they brought from home – bunjal chicken gizzards and channa souse.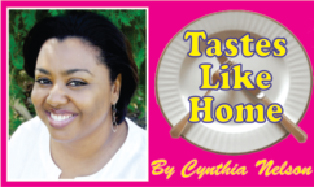 When one of the ladies, let's call her Sonia, said that she had channa souse, I was intrigued. We were hungry, so while waiting for the bakes and fish to cook, we had the souse and gizzards. Sonia ladled the broth-y channa/chickpeas into a Styrofoam cup and asked if I wanted it topped with a little pepper sauce and tamarind chutney. I nodded and reached out for the cup and spoon. The cup was very warm. I gave the soup-like mixture a whirl with the spoon to mix in the pepper and tamarind sauce and took a spoonful, and then another, and another, and yet another. The channa was plumb, soft and creamy to the bite. The broth was hot and spicy and full of flavour. The deft use of the all-time-must-have-herb in Trini cooking – chadon beni – was used deftly. It (chadon beni) was there but in a way that did not overwhelm the palette or the other ingredients.
It was clear that the channa souse was made with dried chickpeas that were rehydrated, you could tell from the texture and taste of the chickpeas and the way in which they split open slightly, all the better to absorb that heavenly broth. The broth was the tricky part to figure out, and here is why – the consistency while soup like but not watery, there was a certain thickness, to it; the kind that you would find in meat souse with that gelatinous texture. I knew that some of the liquid in which the peas were cooked made up the broth but I wasn't sure what else the ladies had added. I finished my cup of channa souse and wanted more but I had to leave room for the bunjal gizzards, bakes, and fried shark.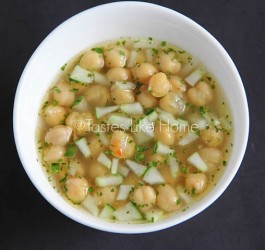 I posted this wonderful street-food find (channa souse) on Facebook and everyone wanted the recipe. I have to admit that I resisted asking for the recipe even though the sisters were willing to share. It's their trade secret and it is something they have created to make a living, and I wanted to honour that.
When I got back to Barbados I reviewed my tasting notes. I had everything figured out except how to get the consistency of the broth they had. By sheer happenstance I cooked some green bananas a couple of weeks ago and wanted to make a little sauce to pour over them. I sautéed some onions and herbs until softened, to which I added some hot chicken stock (I had dissolved a chicken stock tablet/cube in boiling water). I let the mixture simmer for several minutes and then ladled it over the hot sliced green bananas. As I spooned the sauce over the bananas, I noticed that it had thickened somewhat and it immediately reminded me of the consistency of the channa souse broth. I had one of those ah ha moments. It all seemed to make sense because there was something meaty in terms of flavour and texture to the channa souse but difficult to determine.
The following week I set about making the channa souse. Making it with rehydrated chickpeas is a must, the canned version would not give the taste and texture needed for the souse, and if you know anything about making souse, it is important that the main ingredient be cooked in such a way that it is able to absorb the flavour of the broth/sauce. Using canned peas would defeat that purpose. A souse-making tip I learnt long ago was to always add some of the liquid in which the meat was cooked, for added flavour. In this case, using the cooking liquid from the channa is what really gives it the depth of flavour.
How did my channa souse turn out? You know, I have to say, it may not be exactly as the one I had in Trinidad but until I visit again, I am very happy to keep making and eating my version. And I just have to say this to show off. I used freshly picked chadon beni from my thriving little herb garden (laugh).
Try the recipe and let me know what you think.
Channa (Chickpea) Souse
INGREDIENTS
1 (400 grams/14.1 oz./2 cups) packet dried chickpeas, soaked overnight
Water
2 large chicken stock cubes, crushed
Salt (see notes below)
1 tablespoon finely minced parsley
1 tablespoon finely minced chadon beni (see substitute in notes)
2 tablespoons thinly sliced scallions (optional)
Finely minced hot pepper to taste
Fresh lime or lemon juice to taste
Finely chopped de-seeded cucumber (optional)
DIRECTIONS
Drain and rinse soaked peas and drain well. Add to a pot, along with cubes and cover with water about 2-inches above the peas. Cover the pot and bring to a boil, when the pot comes to a boil, reduce heat to low and simmer until channa/chickpeas are cooked and soft, but not mushy. Alternatively, add everything to a pressure cooker, bring to a boil, cover and close the cooker and let come up to pressure. Cook for 10 – 12 minutes (time begins from first whistle or constant hiss depending on your cooker).
Remove pot from heat and transfer the contents (peas and liquid) to a large heatproof bowl. Let cool for 15 minutes, taste for salt and add if necessary. Stir in herbs and fresh lime/lemon juice to taste and set aside to cool and for the flavours to meld (about 1 hour).
Give the souse a good stir and ladle into bowls or cups and top with cucumbers.
This channa souse keeps well in the refrigerator and can be served as the salad component of a meal.
NOTES
Depending on the brand of cube used, you may or may not need to add salt.
If you do not have access to chadon beni, substitute with fresh coriander, however, add an extra ½ tablespoon to the souse.
If you still have preserved limes, mince and add ½ teaspoon.
Cynthia
cynthia@tasteslikehome.org
Around the Web