Hi Everyone,  Do you find that as you get older, that you repeat yourself? I do, and that is what I am doing today.
This column – Tastes Like Home – is in its 9th year, and with Guyana's 49th Independence just 3 days away, along with the current climate of change and calls for unity, I wanted to say something, again, using food as a metaphor to add my voice to the chorus. As I pondered what to say,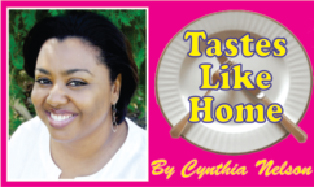 I realized that something I had written during the first year of this column, back in 2007, was worth repeating, because it is relevant today as it was at the time it was first written – An Independence Food Dream.
"I dreamt that I walked into a large, well-lit room and in the middle of the room was a long, wide table that stretched as far as my eyes could see. On this table was a veritable feast of the foods of my country. You name it and it was there. From Pepperpot to Garlic Pork; Cook-up Rice to Mettagee; Roti to Kalounjie; Baked Chicken to Duck Curry; Fried Rice to Shrimp Cakes; Dhal Puri to Cassava Bread; Cassava Pone to Coconut Buns; Bara to Salara; Chester Cake to Mitai; Fish Cakes to Phulourie; Tennis Roll to Butter Flap; Black Pudding to Egg Ball; Tamarind Balls to Plantain Chips; Sugar Cake to… You name it and it was there.
"I tried to wake myself up but I couldn't. You know sometimes there are dreams that seem so real? Well this was one of them.
Still dreaming, I reluctantly moved my gaze from the table to the rest of the room, where voices and shapes became clear. People were all around, mingling, talking, laughing, gaffing, hugging, shaking hands, swapping stories, telling jokes, teasing each other, recounting ole time stories. And more importantly they were discussing our future TOGETHER.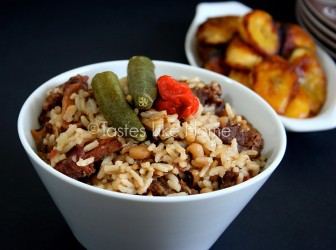 I stared in awe. All the peoples of Guyana were there and I thought, what a beautiful thing food is. It's a uniting force that's second to none. It makes us laugh, cry, rejoice, remember, acknowledge, compare, compromise, try new things, challenge each other, celebrate each other – it can draw us closer together.
"I woke up – hungry. Not for the food but for the dream of togetherness to be real, to be true.
"Often when I think of my country, Guyana, I think about a particular dish, Cook-Up Rice – a large luscious pot of Cook-up. This humble, yet complex dish, for me, personifies so many of our complexities, adaptability, modesty and good-natured hospitality. We are Guyanese.
"Cook-up Rice is the coming together of a variety of meats, rice, peas, herbs and coconut milk to create a one-pot dish that is a complete meal.
The simplicity of Cook-up Rice is seen in the ingredients with which it is made. It is a dish, like so many others that was created out of a need to make-do, hence the use of various bits of meat and poultry, cured and fresh. And we Guyanese know how to make-do.
"The complexity of Cook-up Rice comes into focus when a cook, has to balance and stagger the various cooking times when making the dish with a combination of meats, the type of peas, rice, the right amount of coconut milk, and salt, especially when making the Cook-up with salt-meat and fresh meat. This balancing act is a skill we have and use daily in all spheres of our lives.
"Cook-up Rice is easily adaptable to suit the palates of all Guyanese, if you don't eat pork or pig-tail, you can make a beef Cook-up, if you don't eat beef or tripe, you can make a chicken Cook-up, if you don't eat chicken, you can make a shrimp Cook-up, if you don't eat shrimp, you can make a veggie Cook-up. The peas – take your pick: split peas, black-eye peas, pigeon peas, red beans, kidney beans. It is totally flexible. The flexibility of choosing a particular protein, peas, beans or rice does not mean that there is a compromise on taste because the other ingredients remain the same. The freshly squeezed coconut milk, fresh herbs, onions, and the must-have boiled pepper cooked in the rice, scotch bonnet or wiri-wiri. Each combination has its own unique flavour.
"Ask any Guyanese and they would tell you that a proper plate of Cook-up Rice would not be complete without some fried ripe plantains, fried fish, preferably Banga-mary, a couple of steamed okras and a little salad of lettuce, tomatoes, and cucumbers on the side. To wash it all down, a tall cold glass of swank or mauby.
"Cook-up Rice is also the dish we love to make when having company over; it's one-pot cooking that can feed many and lends itself naturally to sharing.
"Saturdays in our house was Cook-up Rice day, just like so many Guyanese households. The day would just not be the same without this dish. And on Old Year's Night… need I say more? You know we got to have we
Cook-up. People 'sharpen their mouths' and sometimes starve themselves all day just so that they can 'Ring a lash in de cook-up.' Or as I've heard others say, 'Do justice to de cook-up.'"
So this Independence Day, with my dream and all… how about marking the occasion as we do on Saturdays, by making a pot of Cook-Up Rice? Invite family, friends, loved ones and neighbours over for a meal. A pot of Cook-up Rice reflects our diversity and it is a symbol of how good we can be – together.
Let's raise a toast to us, and promise to work and make the dream of togetherness a reality – a dream where we ALL have a place at the table to discuss our future together.
Happy Independence!
Cynthia
Around the Web