You may have seen him in 2012's Front Yard or last year's Shattered Dreams but actor Johann David has been making his mark on the local stage for over five years now.
Johann, also known as JED, was awarded Best Supporting Actor after his first stage performance in Dr Paloma Mohamed's Sukanti, under the direction of Kwasi Edmonson also called Kwasi Ace, who is now a well-known soca singer and former monarch. Johann later won the Best Supporting Actor award for his role in Shattered Dreams, a sign that theatre just did not happen for him, but was meant to be.
Johann was born to parents Shoonay David and Mervin Wharton on August 15, 1989. At the age of 13, while at secondary school, he joined the Dominion Dance Group.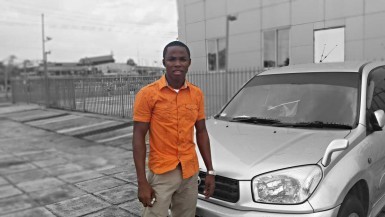 He recalled that with the group, he travelled around Guyana, performing in Berbice, Essequibo and at Linden. Later on, the group performed at the Caribbean Festival of Arts (Carifesta). They reached as far as Barbados performing at a Christian Caribbean Dance Conference/Camp. In 2009 after returning from Barbados, Johann said, his close friend and church member Clayon Halley, invited him to visit the Theatre Guild, months later, he had his stage debut in Sukanti.
He said while Sukanti was his first public performance, acting has always been a part of him; he was always putting on an act at home.
He recalled too that his mother was close friends with the late actor Rudy Pateedeo best known as 'Puddock' from the sitcom "Agree to Disagree," long before that show started. Another of his inspirations was his uncle, Aubrey Denny, who although he never performed publicly, had the gift of making others laugh by the silly acts he often put on wherever he was.
Some Hollywood film stars who have also inspired him are Bradley Cooper, Eddie Murphy, Angelina Jolie and Mark Wahlberg.
After joining the Theatre Guild, Johann said, he was privileged to work with actress, playwright and poet Jennifer Thomas also called Mariatha Causeway, whom he calls his greatest inspiration. Others who have and are still inspiring him are Maria Benschop (producer of "Nothing to Laugh About"), Margaret Lawrence, Linden 'Jumbie' Jones, Elder Rawle Dundas who's like a spiritual father to him and especially his pastor, Apostle Claude Brooks whose messages through his preaching are always inspiring and who would have one-on-one talks with him; encouraging him every time that anything is possible once it isn't against the will of God.
Johann said he believes theatre is another avenue to share the Christian message. "First of all," he said, "I value my Christian life over anything. Through experiences I've learnt a lot, not to make the same mistakes again." He added, "I totally feel like a different person when I act. I feel relaxed and that's where I belong."
Apart from Sukanti, Front Yard (written by Jennifer Thomas and co-directed by her and Sheron Cadogan-Taylor) and Shattered Dreams (written by Sheron Cadogan-Taylor and directed by Jennifer Thomas), Johann has had roles in Swingers on the Playground (directed by Sonia Yarde and written by Timolyn Barkley) and Trevor Rhone's Old Story Time (directed by Ron Robinson). Johann has also acted in shows: "Ah Diffrent Kinda Ting," "Link Show (27-29)," "Nothing to Laugh About (5-8)" and the "Mori J'Von Comedy Jam". He also appeared in the short film Tradition (directed by Margaret Lawrence) and a few weeks ago he was the voice of "the man in the red car" on the radio serial drama Merundoi.
He opined that drama doesn't have the publicity it should. "We should stay away from the North Americans/Europeans identities. We should keep it more Guyanese. Keep Guyanese stuff Guyanese. When tourists visit Guyana they want to see our culture and that's what we should promote. Our media don't do enough to promote and highlight our Guyanese talents. If we stick to doing things the Guyanese way, soon tourists would want it the Guyana way," he stressed. "I love being Guyanese."
He continued, "I think our government needs to start looking into our theatrical facilities. The National Cultural Centre is iconic in Guyana and it needs to be upgraded. It's my wish also that the Guyana Revenue Authority drops the amount of tax we pay on each ticket. Our villages should be named after our local Guyanese people who would have contributed tremendously to our country. We should also have a monument of Linden Forbes Burnham and Cheddi Jagan together since they fought for our freedom."
The patriotic actor is currently heading the Beautification Project with close friend, Clayon Halley. The Beautification Project seeks out parts of Guyana that need cleaning and does so voluntarily. At present, there are teams in Georgetown, Berbice, Linden and very soon there'll be another in Essequibo. It is the shared goal of its members to enhance the country in every area. "One of my desires is to see Guyana as the best country in the world," Johann enthused. "I love Linden and I believe Linden has the potential to be a great tourist destination."
He said the new government could take up the initiative of installing cameras countrywide and charging persons for littering.
The two central things that Johann wishes to have within 5 – 10 years are his own family and to run his own business. At present, he is pursuing a Diploma in Theatre Arts at the Guyana National School of Theatre Arts and Drama.
Johann enjoys playing sports especially cricket. He mentioned that he once played at the Georgetown Cricket Club from 14 until 20 years. He loves helping people and encouraging them and was once a peer educator at Operation Restoration which guided youths on their sexuality and abstinence.
His words for aspiring actors is "Put God first. Don't take a role you're not comfortable with. Education is one of the main factors for anything in this world. You should ensure that you equip yourself education wise no matter your skill. Nothing comes easy but whatever it is; come smart."
Johann said he's blessed with family and friends who are always supportive. Through it all his mom is a good reminder "to be wise and not to put God on the backburner."
He acknowledged the support of his mother, aunt Rochelle Christie, brother Diliza David, foster brother Cleveland Forde, girlfriend Dr Makesha Archer and best friends Nickel McKey and Elijah Brooks. He is thankful for the support and encouragement from Apostle Claude and Carol Brooks, Phyllis Jordon, Lisa Punch, Clayon Halley, Rawle Dundas, Nuriyyih Gerrard, Jennifer Thomas, Abigail Brower, Natoya Whaul, Alicia Sharp, Kwasi Edmonson, Andrew Liverpool, Linden Jones, Clemencio Goddette, Mark Kazim, Michael Ignatius, Jermaine Headley and others and sponsor Giftland Office Max.
Around the Web