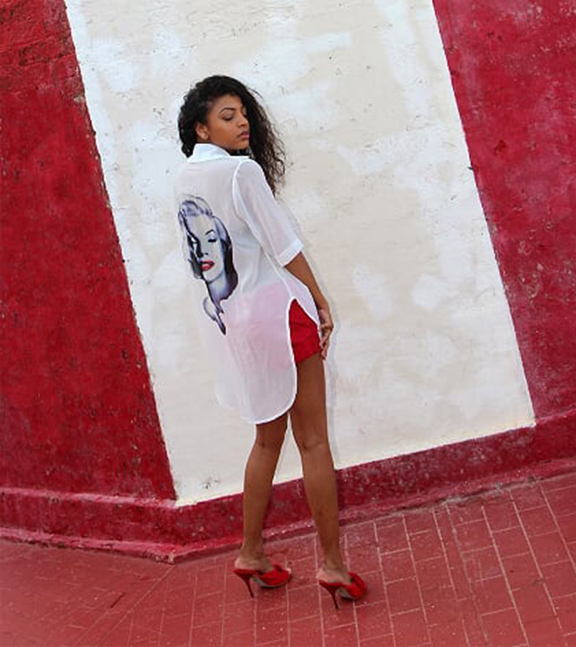 Not too many female dancehall artists in the Caribbean have managed to acquire a social media following like Spice and establish stable brand identity. Spice whose real name is Grace Hamilton has been on my fashion radar for quite some time even though our personal fashion preferences have always been miles apart. In most cases when I am drawn to someone's style, it is not necessarily because of the clothes they wear but the confidence with which they wear them.
Fashion and style have become so programmed that there aren't many style stewards who stay true to individuality. The internet and social media have caused a series of 'controlled style profiles' that ultimately scare us away from being ourselves. We are crushed if we don't receive too many likes and comments.
I don't know about you, but since Instagram, I have become even more scared to post certain pictures. I am constantly checking to make sure my look has reached this tick-box standard. Though this is shallow and embarrassing, I don't think too many persons like the feeling of not being liked.
With Spice however, I have never felt she goes through anything like this. Spice is just so… Spice! She has mastered the style cover on stage and on social media. There is simply just no other.
Perhaps she has gained enough confidence from her popular "So Mi Like It" video which currently has a viewership of over 23 million and perhaps she has found a safe haven within herself to be herself. I am not quite sure what the deal is with her. Whatever it is, Spice is undoubtedly one of the most fashion forward female Caribbean dancehall artists.
Spice's aesthetic
Spices' looks are extremely raunchy and colourful. In most cases, her hair extensions match her outfits or her shoes in particular. She is a like a fashion volcano some say but I find her quite hot and electric. I believe it is the attitude. Nothing is tailored to "fit in" but only to stand out when it comes to her. At times I believe she wakes up and thinks, 'how should I surprise the world today?' Her outfits are usually skin tight, short and extremely flirtatious. While dancehall singers and dancers have a tendency to dress similar, I think Spice somehow manages to boycott the masses. Perhaps, it is her music popularity that is able to popularize her image and make it more stand alone.
Spicey Couture
From Spice's popularity and sense of style, it was most natural to see her establish her own fashion empire. Her store, Spicey Couture is located in Kingston, Jamaica. The store's main aesthetic draws from Spice most obviously and unlike Beyoncé, Paris Hilton and most celebrities who start a fashion line or endorse mainstream fashion lines, there is more authenticity with Spice's store. You could see from all of the pieces available, that the store itself is a brick and mortar version of Spice. She isn't selling what she isn't wearing 100% of the time and consumers aren't necessarily tricked into some form of fan-fashion marketing ploy. Of course her main marketing strategy is her shameless self-promotion and plugs but it's definitely more authentic and natural than the usual one time wear from most celebrities.
July trends
As the month of June comes to a close, there are three trends that are on the top of my list.
Denim – Invest in at least one piece and don't let it be a new pair of jeans.
Pop Art seems to be the new thing. Big, bold, funky statements are the way forward.
Delicate Lace
Daytime lace and elegance
www.online-runway.com
http://instagram.com/theonlinerunway
Around the Web