Guyanese filmmaker Kojo McPherson has won the prize for best project idea and pitch for a feature film at the RBC Focus: Filmmakers' Immersion at the trinidad+ tobago film festival (ttff).
Kojo won top honours and TT$20,000, when he pitched his idea to a jury at the end of the fifth annual ttff last month in Trinidad.
Kojo's pitch was for a film titled Adero, in the genre of magic realism. He revealed that it follows "Adero, a brooding 30-odd year old corporate drone, on a quest to find his true identity. His journey – through his dreams as much as in the physical world – will threaten his comfortable middle-class existence, his very sanity and what we all think we know about what is real before he comes to a more powerful realisation of self then he could ever have imagined."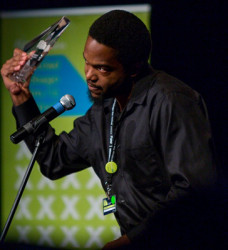 The Immersion saw ten participants from across the Caribbean in an intensive development programme for emerging Caribbean and diaspora filmmakers. Facilitated by Academy Award-nominated screenwriter Christina Lazaridi, it took place from September 23 – 25, during the ttff/15, which ran from September 15 – 29.
Kojo was the first Guyanese to take part in the Immersion and was selected after an open call for applications. He described the experience of winning as "awesome."
"Hearing myself announced as the winner of the Immersion was an awesome, awesome feeling. It's further validation for me as a storyteller, and as a filmmaker coming out of Guyana, a country where the art and craft of film has been trying to make a comeback over the last few years," he said.
He explained, "Winning the Immersion has allowed me in, a very short period of time, to significantly develop the concept I had for the feature-length. We had a great mentor in Christina Lazaridi.
She's an incredibly generous person, a writer's writer and really cared about our projects growing during the short time we had with her."
Participants of the Immersion were able to develop a concept for a feature-length fiction film, into a full treatment.
Lazaridi was nominated for an academy award for her work on the WWII short drama One Day Crossing (2001) and according to a ttff press release, "her latest feature film is Coming Up Roses (2011), starring Bernadette Peters and Peter Friedman, and directed by Lisa Albright."
The release also noted that she has consulted on projects developed for New Line and Bruckheimer Productions and has worked with producers Eva Kolodner, Anne Chaisson, Lester Persky Produc-tions and Academy Award-winning documentarian Richard Kaplan.
Kojo intends to start "shooting the short film version of the feature-length film that I pitched to win the Immersion in mid-2016."
He explained that this will be made possible through a co-production with the Caribbean Film Academy. The cooperation is the result of another award granted McPherson for Adero. In June, he won the Caribbean Film Academy (CaFA) 2015 screenwriting competition in the Caribbean Film project.
The win has allowed him to collaborate with writing coaches to help him polish his script and he is to attend a directing workshop in preparation for production.
When production begins CaFA will provide support in the form of a professional producer and cinematographer and work alongside the writer/directors in promoting the film – online and at film festivals along with distributing the film through its online platform, sharing profits with writer/directors.
For Kojo, last month's experience was a great platform for entering development programmes, like the Caribbean Film Mart executed by ttff, which he plans on doing after wrapping production on his short in 2016.
He hopes that the publicity from this win will help the production garner the necessary support it needs to overcome some of the more challenging production hurdles, such as travelling within the Rupununi.
Around the Web