Local music label, Kross Kolor Records has begun ushering in the Christmas season with the launch of a new album, 'Christmas With Us.'
According to a statement released by the label, the album, which was birthed by Melissa 'Vanilla' Roberts and Simeon Brown and spearheaded by Burchmore Simon, includes several local singers: Vanilla, B52, Tennicia De Freitas, Jovinski, Gavin Mendonca, Shawn English and Ossie O. Several unfamiliar faces such as Randy Kirton, T'Shanna Cort, Shivanie Bhola, Sueann "China" Campbell, Romichelle Brummell, Daniel Dondre and Shaundelle "JP" Alleyne courtesy of Vizion Sounds are also on the list of artists. Poet Leanna Alleyne, steelpan player Andrew Tyndall, keyboardist Trevor John and saxophonist Roy Stewart were also added to produce an "infectious Christmas vibe," the release said.
The statement noted that apart from the musical genius of producers and arrangers Simon, Brown and Drew Thoven, the album's artwork benefited from the expertise of makeup artist Renee Chester of Bromeliad.rnc, designer Keshia Edwards of ShaSha Designs and photographers Azikiwe "Ziggy" Denheart and Dwayne Hackett.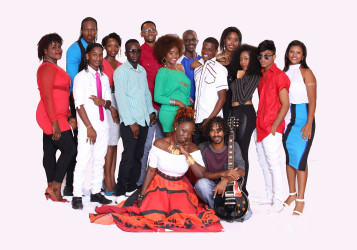 Guyanese can "get a taste of the album" by tuning into Morning Mayhem with Wendell Badrie on 98.1FM at 10 am, On the Block with Simeon Brown on 100.1FM at 11 am and Sunday on Riser with Tamara Rodney on 94.1FM at 6 am.
The release said: "Kross Kolor Records has always been a front runner in Guyana's music industry and with the festive season quickly approaching, we encourage companies and the public at large to give the gift of music."
It added that the album seeks to represent the label's version of Christmas infused with the empowerment of youths.
"We introduced the power of working together to set the example of what a Guyanese music industry represents," the release said.
Around the Web