Photos by Keron Bruce
Twenty-five-year-old Shauna Ramdyhan can now scratch beauty queen off her bucket list as having fulfilled that two Sundays ago when she was formally crowned this year's Miss Guyana Universe at the Ramada Georgetown Princess Hotel.
Sitting down for an exclusive interview with The Scene, the newly crowned queen described herself as a classic Georgetown girl who enjoys the simpler things in life.
And although she is a high achiever, Shauna has a passion for food and enjoys watching cartoons, listening to music, reading inspirational books or hanging out with her close friends to pass the time.
Family also holds a special place in her heart, while her motivation is derived from her desire to live a life that she is pleased with. She said, "I would like to look back at my life when I get older and say I have done everything I wanted to do and would not regret anything regardless of the outcome."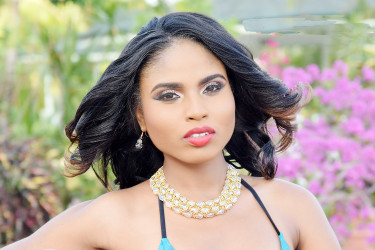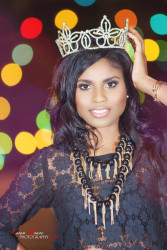 A past student of the Christ Church Secondary School, the young woman explained that most of her younger years were centred on school and family. But after being afforded the opportunity to pursue studies at a university half way across the world, Shauna learned how to strike a balance between her academics and a social life. She explained that she became a very rounded individual during the time she spent pursing her Bachelor's Degree in Economics at Donghua University in Shanghai, China.
"Two years ago when I was finishing my studies and I was returning home, I had several personal goals in mind and one of those was to become Miss Guyana Universe," she explained.
Shauna revealed that while her interest in pageantry dates back to her childhood days, her shyness coupled with her lack of self-confidence prevented her entering pageantry sooner. However, as time went by Shauna grew as an individual and began loving who she is as person. With this new found self-love came the ability to step out of her comfort zone and she took the next step toward fulfilling her childhood dreams and entered the Miss Guyana Universe Pageant.
"It was always a dream of mine. Who doesn't want to be Miss Guyana Universe? And I also wanted to use my skills and abilities to represent Guyana, to show that Guyanese women are capable of anything they put their mind to," she told The Scene. She said that she opted to wait until this year to enter as she wanted to first see what the pageant entailed before getting involved.
The experience, she said, was nothing short of amazing. "I can't believe that it has ended and a queen has been crowned. But it was interesting for me. My life in Guyana was a routine: I go to work, I go home, I cook… entering the pageant added some spice to my life. I looked forward to going to rehearsals, to going to meetings with the girls. I enjoyed training even though it was rigorous."
Going into the pageant, Shauna said, she was confident that she had what it takes to be crowned queen and was determined to do just that as it was one of her personal goals.
On pageant night, she related, she worked hard to stay calm and really project herself to both the judges and the audience and also to have some fun too. For her, the most nerve wrecking parts of the pageant were the question and answer and introduction segments.
The new queen said she spoke her success into being since she adapted the mantra, "Shauna is Miss Guyana Universe 2015" and this sealed it for her along with the support she received from her family and friends. Although this year's pageant did not focus on individual platforms for the contestants, Shauna stated that if allowed, she would like to work along with the relevant authorities to engage the public on positive parenting. "I believe that parents, they mold the minds of our future leaders. And I believe that words have power and whatever a parent instills in the mind of their child that is what will shape what that child does," she explained.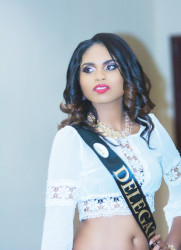 As much as she would love to take part in other pageants, Shauna declared that the upcoming Miss Universe Pageant would be her last, as the age limit for most pageants is 27. This knowledge, she said, is pushing her to work harder as she prepares to compete on the international stage come December 20. And while she acknowledges that time is against her in terms of how much preparation/training can actually be accomplished, she is confident that she will be able to put her best foot forward and make Guyana proud.
Pageant aside, Shauna plans to continue to improve herself through the development of her language skills.
With Mandarin Chinese already under her belt, Shauna wants to add Spanish, French and Arabic to the list. She also hopes to improve her career in the Foreign Trade Department at the Ministry of Foreign Affairs where she is currently employed as a Foreign Trade Officer II, focused mainly on the monitoring and evaluation of Guyana's bilateral and regional trade agreements
Like her role model First Lady of the United States Michelle Obama, she too wants to break boundaries and achieve goals that may not seem achievable.
Shauna urges young women like herself, "If you see pageantry as goal or as a dream, enter the pageant. I think it really helps to shape a young lady's confidence and development… You have nothing to lose."
The young beauty ambassador also moved to thank all those who played a part in her success including her sponsor Modern Agri, the organizers of the pageant, as well as her family and friends.
Shauna has already left Guyana and will compete alongside some 80 other contestants from around the world at the 64th Miss Universe Pageant. This year's pageant will be held on December 20 at Planet Hollywood on the famous Las Vegas Strip, in Nevada.
Around the Web