Sonia Noel returned to her old stomping grounds and was the featured designer at Music Fashion Hair Barbados (MFHB) 2015, which was held over the past week.
According to a press release, the event which began on November 19, with a cocktail party and celebrity chef dinner, was held at the luxurious Sugar Hill Estate on Barbados's West Coast. Chef Orlando from St Lucia was the celebrity chef.
The week of activities included daily hair, music and fashion workshops, music by British singer/songwriter Basheba, British cellist Andrea Rocha and Barbados's Soca and Calypso sensation Terencia Coward.
MFHB climaxed with a grand high level fashion show at the poolside at Sugar Hill, the release said.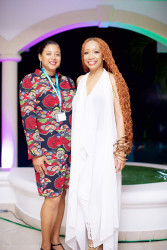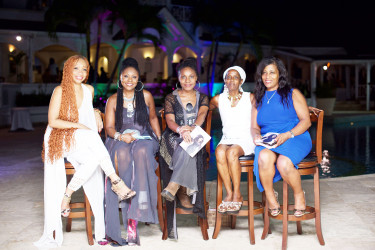 Anya Ayoung-Chee, Project Runway winner from Trinidad and Tobago started the showcase with a resort collection of beautiful flowered flowing dresses and jumpers. The release said models carried palm leaves as accessories to give it an island feel.
According to the release, Veteran Barbadian designer Ricky De Jude presented an edgy men's collection.
It said Sonia closed the evening and the collection started with her earth-toned beaded dramatic pieces.
The all-white lattice pieces for men and women were stunning but the black and whites were the evening's favourites, the release said; from the cocktail dresses to the ultra-glamorous show stopping final pieces worn by Project Runway model Akimie Worrell.
It quoted Worrell as saying: "I can only describe feeling like a queen in… her works of elegant mesmerizing designs, however the show stopper was to die for. I felt like I was wearing the richest black and white design with details I have ever seen."
Sonia said she is in discussions with two boutiques in Barbados to carry the line.
The event attracted the who is who in Barbados and the high-end tourists on the west coast. Acting assistant Consul General to Barbados Monique Jackman was among the guests, the release said.
Around the Web