Come December 18, the Pegasus Hotel will host a Broadway-like musical theatre show under the theme Joie de Vivre, brought to Guyana by the New York-based group LARAMADE, which markets itself as a fusion of song, dance, drama and fashion.
Who or what is LARAMADE? The Scene has the 411. LARAMADE has been in existence for two years, but it boasts a plethora of talent brought by its members, a group of professionals who each have over 25 years of experience in their respective disciplines. Some of the names would be familiar to readers with knowledge of local and regional showbiz history: Launce Northe (founder), Oral Welshman, Rudolph Macbean, Dean Maitland, Linda Northe-Noel (founder), Simone Bazil, Donna Powell, Charmaine Nottingham, Doris Rodney, Simone Baynes and Val Barnwell (founder). The name LARAMADE was derived from the names of a few of its members; 'LA' was taken from Launce, 'RA' from Oral, 'MA' from Macbean and 'DE' from Dean.
The members have taken the art of what they do to places such as Canada, Barbados, New York, France and other parts of Europe and they promise a showcase the likes of which Guyana has never before seen. Writer, actor and runway model, Launce revealed, "The theme, Joie de Vivre; the exaltation of spirit, the joy of anything one does in life. We're hoping to bring this in the production. You'll have to see it. Right from the curtain the actors will maintain that attitude."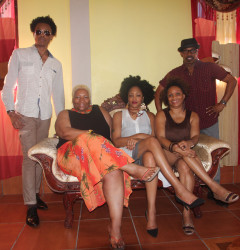 Listening to Launce and his sister Linda, you get the sense that they are already experiencing their own Joie de Vivre at having the opportunity to celebrate Christmas Guyanese style for the first time in 38 years.
Manager, public relations person, actress and vocalist Linda reminisced a bit about 1970s Guyana when the siblings and others began the pursuit of their entertainment dreams. She recalled that there was a radio station called Radio Demerara on High Street, Georgetown.
"Every Saturday, Radio Demerara had a programme called 'Teensville'. We would dress up since it was a fashion show also. They catered for teenagers only, but there were twelve year olds who snuck in," Linda said. "We'd do all our dance moves from Saturday Night Fever. Learn all John Travolta's moves and go perform at Teensville. They played a song while we all danced then they chose eighty and they'd play songs until it came down to five persons who'd have a dance off. Launce was known as 'Dancing Launce' since he always ended up in the finals. We always threw our energy into dancing instead of drinking and smoking and even today they [the guys] don't drink or smoke.
"We might come not liking each other but…we fought our battles on the dancefloor. A few weeks later we'd become friends trying to outdo each other but in the end we were congratulating each other. We tried to stay healthy also because to be a dancer you need to be healthy so we did not smoke."
"Or even ate pepper," Launce piped in.
"We're a product of an era when things were still good for young people. Dancing gives you a discipline. You have to have that discipline to create something for yourself," Linda added. According to her, by the age of 13 children have an idea of what they want to become. "If you feel it's not safe for your child. Go with your child. Don't wait until they're 18 or 21 before you allow them to follow their dreams," she said.
LARAMADE hopes to someday bring "Teensville" back where our young people will have something better to do with idle time.
Back in 2012 the artistes came to Guyana with heavy hearts having left Launce behind in New York hospitalized at Mt Sinai Hospital with cancer. Launce was one of the main characters of the show they were scheduled to put on. Three days prior to show, he checked himself out and took a flight to Guyana. A very determined dancer, he gave the best performance as he always does, performing with a swollen foot which was much worse by the end of the show.
Today Launce is a cancer survivor, three years and counting. This is a moment, according to Linda that the group will always be thankful for. A moment they'll take with them forever.
The group's inspirations range from singers to dancers to fashion icons such as Michael Jackson, Diana Ross, Etta James, Betty White, Angela Davis and the Bee Gees.
For Linda life back home means being DJ Jazzy Lin. Simone, who is costume director, actress and performer in LARAMADE has a day job as a counsellor for persons with disabilities. Donna is a ballroom dancer, vocalist and actress. Oral is a choreographer and he has worked in the past with Classique Dance Company and the National School of Dance. Launce started dancing at the then renowned Shaft Dance School, but relaxes now because of his illness. The other members are yet to arrive in Guyana.
LARAMADE group members are a mixed bag. Their hobbies range from karaoke, fashion, travelling, socializing and indulging in Indian dishes.
"Challenges we face as a group; we're all super-talented people and self-opinioned but we learn to agree. Another challenge would be financially. We're perfectionists. If we can't come big, we stay home," Linda said.
"What makes us different? We have costumes that interplay with the show. Presentation is important. Expect to be wowed!" Launce said.
He adds, "The execution of dance, execution of song, execution of drama; within that there's a profusion of fashion. LARAMADE is inclusive of fashion. We're not independent of fashion. We cannot be one without the other."
December 18's Broadway-style production comprises dynamic acts of acting, singing and dancing in the Jazz and Classical Indian dance idioms while the audience enjoys a four-course meal and cocktails.
The purpose of staging this production is twofold: LARAMADE has a strong purpose of giving back to the society that has nurtured them. The production will also showcase the myriad talents of Guyanese ethnic diversity. The likes of Classique Dance Company, Charmaine Blackman and Kenrick Cheeks Dancing Delights are included.
This production is endorsed by the Pegasus Hotel and Guyana Cancer Society. Part of the event's proceeds will be given to the Cancer Society.
Tickets may be uplifted from Pegasus Hotel, Simpli Royal Beauty School and Spa (call 225-2303) or from LARAMADE (call 639-2813). Persons can also check LARAMADE out on Facebook.
Around the Web