Former University of Guyana lecturer, St. Lucian-born Lyndell Danzie-Black who has been living and working in Guyana for the past nine years is seeking to extend her reach as a coach and trainer into the various sectors of the country's economy, believing as she does that the intensification of skills training for stakeholders will activate what is known across the region to be the country's significant potential.
The daughter of a Barbadian father and St. Lucian mother told Stabroek Business in an interview on Tuesday that significantly sharpening the skills of private sector employees is key to improving some of the evident limitations in service delivery. Asserting that perhaps 80 per cent of local private sector employees may be undertrained, Danzie-Black told Stabroek Business that this is not a matter that Guyana can afford to overlook in circumstances where its current focus is on looking to an external market to satisfy its investment requirements as well boost its tourism industry.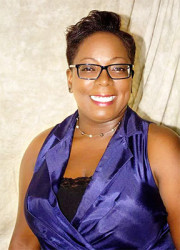 While she describes herself as a tourism services "expert" Danzie-Black has been involved in training in various other areas including Service Quality, Customer Service, Business Development, Event Management and Tourism Management. She has also coached business houses in techniques that aimed at sales maximization and helped prepare groups for participation in trade shows. Those are skills which, she believes, are 'immediately relevant" to Guyana's development agenda. Over the period that she has lived and worked here the St. Lucian has undertaken consultancies with Guyana Goldfields, Optic Vision, Survival Supermarket, Pooran Brothers and the creative arts outfit Miracle Hands. Earlier this week, a chance meeting with Roraima Airways Chief Executive Officer Gerry Gouveia led to an animated discussion that has opened up the possibility of a collaborative initiative to enhance service delivery skills in Gouveia's multi-sector business entity.
Her vision for the local private sector, she says, is that of a well-trained service-oriented institution that can sell Guyana to the world as an investment-friendly country. "It is entirely possible. There is evidence of a strong entrepreneurial spirit here in Guyana. There are areas that are in need of refining and training but it is very much there," she says.
She notes that her interest in broadening her service delivery base in Guyana coincides with the opening up of significantly increased opportunities for the growth of the private sector. In that context she believes that her experience and skills are ideally suited to supporting the training needs of the Medium and Small Enterprise Development project currently being run by the Small Business Bureau to build capacity among aspiring entrepreneurs in a number of sectors in the country's economy.
Setting aside training for groups designed to meet the needs of larger business entities, Danzie-Black says she is positioned to work on a one-on-one basis with rising small entrepreneurs as well as bigger entities encountering particular growth-related challenges. She believes that a lot can change, sometimes in relatively short periods, if the correct approaches are applied to responding to challenges.