Raising its profile and aggressively lobbying for its members to secure more access to state contracts are among the primary short-term objectives of the recently created General Contractors Association of Guyana (GCAG), according to three senior executive members.
"Going forward we are seeking assurances as well as evidence that procedures for awarding tenders to construction firms through the local Tender Board Administration are transparent and that the playing field allowing for access to state contracts is level and allows for access by all eligible contractors," the association's President Aubrey Jones told Stabroek Business earlier this week.
Asked whether the GCAG had reason to believe that tender procedures were still less than transparent despite the undertakings given by the political administration and the adjustments made to the tender administration, Jones responded that the association was under no illusions about the fact that "it would take time to put a new system in place. We have been around for a while and we know what we are seeing," Jones said.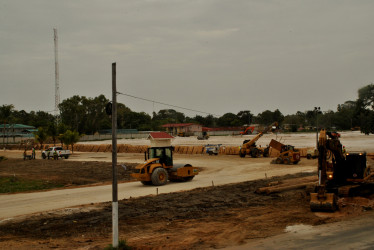 "Part of the reason why the GCAG was created was to help mobilize firms in the building sector to take advantage of the commitment provided by government that the tender process would be reformed and that contractors would all have equal opportunity to access contracts for state jobs in the construction sector," Vice President Frank Fyffe said.
He said that while the association has no reason to "doubt the sincerity of the government" with regard to its commitment to a transparent tender administration "we sense that amongst contractors, there is still a measure of uneasiness with the process."
Jones, along with Fyffe and GCAG Secretary Neil Cort-Rogers met with Stabroek Business to air what they described as "lingering concerns" about "access to state contracts" and to provide details regarding the role which the association seeks to play in the construction sector.
Rogers, meanwhile, told Stabroek Business that an integral part of the GCAG's "two-year plan to improve the quality of construction in Guyana" was an initiative to aggressively lobby government to ensure that all projects issued to overseas contractors" attract 50% local sub-contractors and 60% local labour.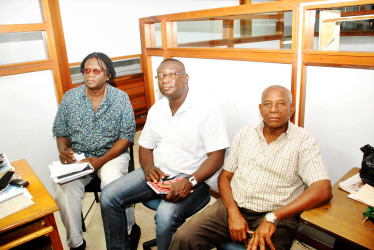 All three GCAG officials told Stabroek Business that they were "disappointed" that their enquiries with public officials regarding jobs in the construction sector on building projects associated with the country's 50th Independence Anniversary had been met with responses that work was not available. Fyffe, who said that the association comprised in excess of 60 members, most of them relatively small contractors, added that it had come as a surprise to the association that little has been said publicly up to this time about prospects for contracts for projects associated with the Golden Jubilee celebrations.
And apart from expressing a measure of disappointment over the prevailing state of affairs, both Jones and Fyffe said that the GCAG will, in the period ahead, be seeking audience with officials, including ministers in the Housing, Public Works and Finance ministries in order to make officials aware of the presence of the association and the role it intends to play in the sector.
Fyffe, meanwhile, told Stabroek Business, that part of the objective of the GCAG was to further broaden the base of its membership "in order to put us in a better position to speak for in industry."
Less than two weeks ago Minister of State Joseph Harmon made reference to a clause in the Small Business Act which dictates that 20% of state contracts be awarded to small contractors annually. "We must insist and ensure that the law is applied and that small contractors get what the law says they must get," Fyffe told Stabroek Business. "I believe that clause is particularly important in the construction sector where it is no secret that small contractors are often locked out of competitive bidding because of their size," Fyffe said.
Around the Web