Having served what he says was an instructive apprenticeship in the early days of the development of visual mass media in Guyana, Kirt Clarke is seeking to make a different kind of contribution to the development of an enhanced audio visual culture through his own privately-run facility, Clarke's Production or Clarke's Pro as it is described in the promotional material.
Training in the various facets of information delivery is the particular specialization of Clarke's outfit, and, he says, he is prepared to work with both the public and private sectors to offer both training and direct media support to local institutions. At the services and product promotion end he said Clarke's is equipped to offer marketing support by working with entities to produce well thought out advertising pitches as well as documentaries, public awareness messages and motivational media initiatives for both governmental and non-governmental organisations.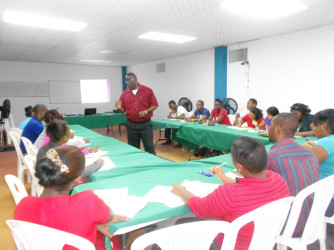 There is, Clarke says, particular relevance in what his company has to offer in an age where image is everything and where creative packaging and marketing of the message can offer a competitive edge.
There is, he says, particular societal benefit to be derived from collaborative work with the country's tourism industry, as it may well be on the cusp of take-off and with a location education system where schools are yet to fully seize the opportunities available by embracing the various technologies now available for information dissemination.
Clarke has shared with Stabroek Business a document that outlines his company's projections for the next ten years and in which he envisages taking his services to a broad range of local organisations, churches, social groups, businesses, state agencies; all of these he says, can benefit from an enhanced understanding of how to put media technology to work to shape their messages and, in the process, render those messages more effective.
Clarke's services have benefited from exposure in neighbouring Trinidad and Tobago and, he says, he is ready to put no less energy into serving Guyana. His team, he says, is ready to work with forward-looking organisations to enhance their images through creatively packaged television features and documentaries, initiatives which he believes can be game-changers in a society where television remains popular despite the advent of other forms of electronic media.
There is room too for what Clarke's Pro describes as "special packages," coverage of weddings, anniversaries, church services and other special events. Apart from professionally recording and editing these events the company offers other services including planning, interior decorating, and make-up artistry. "The whole idea here is to be a one-stop shop," Clarke says.
The company, Clarke says, believes it can play a role is fashioning public awareness messages that focus on positivity and seek to raise the level of audience attention. This service, he believes, can be as valuable in product promotion for the commercial sector as it can be for other forms of information dissemination more suitable to the needs of the state and social sectors. The latter public information initiatives, Clarke says, "will cover areas of social, health and environmental issues that are of national and international concern, for instance, HIV/AIDS, domestic violence, drug abuse."
Nor does the company overlook the role that radio plays in service and product promotion. Its services extend to the production of radio dramas and miniseries as well as the creation of radio dramas for mass audiences designed as much to entertain as to educate.
Clarke concedes that the company's short-term weaknesses include staffing limitations, challenges associated with finding trainable personnel and only limited familiarity with the local market, but he says these limitations are more than compensated for by high product quality, a commitment to professionalism and outstanding creativity. The company, he says, is determined to show Guyana what it can do.
Around the Web