With crowdfunding fast becoming a familiar word in the language of regional entrepreneurship, two prominent women Caribbean Chief Executive Officers took advantage of the just-concluded Summit of Caribbean Heads of Government to launch an aggressive lobby for FundRiseHER, an initiative that seeks to transform the fortunes of 50 women entrepreneurs from across the region.
Earlier this week Jamaican-born Valrie Grant, Founder and CEO of GeoTechVision and Commonwealth 2015 Women Entrepreneur of the Year Cecile Watson of pitchandchoose.com took to directly lobbying regional Heads of Government for their support. FundRiseHER targets the raising of US$1 million in grant funding through a global rewards-based crowdfunding campaign by 10 participating Caribbean countries and Commonwealth member states for the benefit of the 50 women entrepreneurs.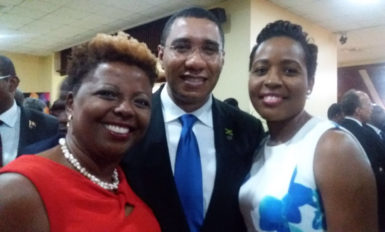 The first ever Commonwealth-wide crowdfunding campaign was announced alongside the opening of the regional summit by Grant and Watson along with Executive Director of the Commonwealth Businesswomen's Network Arif Zaman, in collaboration with the Caribbean Export Development Agency. The announcement, made in the presence of Minister of Business Dominic Gaskin, Minister of Public Telecommunications Catherine Hughes, High Commissioners, the Georgetown Chamber of Commerce and Industry and women entrepreneurs, has been welcomed by Heads of Government as an innovative and much needed response to existing limitations in access to finance for women entrepreneurs to start and grow businesses.
Crowdfunding has been proven to be a powerful driver of economic growth and FundRiseHER is designed to drive the concept for crowdfunding as a vehicle for economic growth and development in the Commonwealth, foster support for the growth and contribution of women entrepreneurs to the national economies of Caribbean countries, provide Caribbean women entrepreneurs with international visibility and profile.
Grant says that the FundRiseHER initiative seeks to respond to "an urgent need to tap into new sources of finance and to find ways of delivering finance to support the strengthening of women entrepreneurship more effectively."
She said the search for innovative finance is even more urgent given an ambitious Post-2015 development framework and a lacklustre global economy that has led to a dwindling of development finance. She added, "With support from governments and development organizations, crowdfunding has an exciting potential to support sustained and inclusive growth, improve access to capital, helps better manage the supply and demand for capital, drive innovation and efficiency and fund new markets."
Comments

A scheduled visit here by a Brazilian trade and investment delegation originally due to take place this month as a follow-up to one to Brazil by a team of Guyanese state officials last May has been postponed until mid-February, Stabroek Business has been informed.

Roraima Airways Chief Executive Officer Captain Gerry Gouveia says that the "legitimate concern" over the recent delay in returning home experienced by a number of Cubans on account of mechanical defects to the Air Aruba aircraft should not be allowed to overshadow the significance of the service to promoting "friendships and business ties" between Cuba and Guyana.   

Work towards the creation of a Secured Transaction Regime in Guyana is being accelerated through a collaborative arrangement between the Government of Guyana and the Inter-American Development Bank.

A letter written to the Managing Director of the majority Russian-owned    Bauxite Company of Guyana Inc.
Information released by the Small Business Bureau (SBB) last week indicates that during last year the agency facilitated a total of fifty loans to clients   valued at $269.7 million and up to November 30, 49 of those loans valued at $221.8 million were disbursed.