Just how high a price Caribbean manufacturers and distributors can pay for being either unmindful or indifferent to United States food safety regulations affecting imports into the country is currently being felt by the world-famous Jamaican food distributor Grace products, among others, after several brands of curry powder including Blue Mountain, Jamaica Choice, Ocho Rios, Oriental and Grace Brand were removed from supermarket shelves in the wake of a turmeric recall issued by the New York State Health Department for possible lead contamination. Turmeric is a key ingredient in curry powder. The recalled brands are packaged for the regional distributors Oriental Packaging Company and reports state that a total of 377,000 pounds of curry powder is affected by the recall.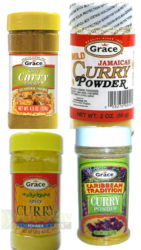 And while there have, reportedly, been no illnesses arising out of the routine sampling discovery made by the New York State Health Department, news of the recall is bound to resonate across the Caribbean where manufacturing entities continue to focus on meeting the standards set for importation of foods under the Food Safety Modernization Act (FSMA).
Local curry powder manufacturer Ricks & Sari earlier this week declined an invitation to comment on the recall of the curry products distributed by Grace and other Jamaican companies. But Director of the local Food and Drugs Administration Marlan Cole told this newspaper that the magnitude of the incident may well mean that the US authorities may now be turning their attention to scrutinizing standards in the region "in a much more focused way."
In relation to Guyana specifically, Cole said the occurrence should be used as a wake-up call as there is need both to train personnel and to create the physical infrastructure to help the manufacturing sector meet what he described as "the rigorous food safety standards" required by the US.
The affected brands include more than 20 products distributed by Jamaican companies.
In Guyana, challenges associated with meeting US food safety standards have been strongly linked to the difficulties which local manufacturers have in seeking to access North American markets, particularly US ones. Cole told Stabroek Business that as long as standards remain unmet, legislation like the FSMA will remain a formidable non-tariff barrier to the export ambitions of local manufacturers and exporters.
Around the Web