The fortunes of more than 100 nomadic porkknockers may be about to change in the wake of a key decision made earlier this week at a hastily convened meeting at the Brickdam offices of the Ministry of Natural Resources to have pieces of prospecting equipment seized from them by the Guyana Geology and Mines Commission (GGMC) restored.
It will take far more than this to redress the balance in a gold-mining industry where there is still a yawning imbalance in power and earnings between the big players controlling vast expanses of gold-bearing lands and small nomadic operators owning no more equipment than they can carry themselves and prospecting illegally on mostly mined-out areas.
Just how they came to be operating in an area known as the North Fork Backdam in Konawaruk, Region Eight, is unclear though reports are that they had been given clearance to work there by security guards in the employ of a local company, Tesouro Mining Resources.
Those kinds of arrangements in a mining sector where illegal raiding of mining property is by no means uncommon and where sudden and sometimes violent eviction often occurs, are risky, to say the least. The measurement of the risk, however, is invariably weighed against the absence of viable options for people who journey to interior regions to seek a living for their families against what, in many cases are astounding odds.
After the officers from the GGMC had arrived with armed security personnel and found them 'raiding' the Tesouro lands they were dispersed and the few pieces of equipment which they own, modest pumps and engines that yield them modest quantities of gold, were confiscated. Their insistence that they were operating in worked-out areas with the blessings of the mining company's security officials was ignored.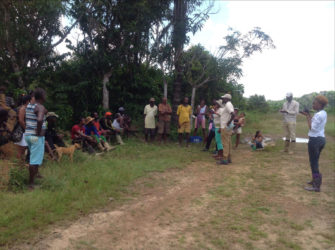 The pursuit of the North Fork group mirrors those of artesian miners in vast areas of Africa where slumps in prices of agricultural commodities have triggered a boom in artisanal mining. In some gold-mining communities in Africa 'colonies' of illegal miners have grown from virtually nothing at the turn of the century to as many as 500,000 small-scale gold miners in some instances.
The World Bank estimates that the number of artisan miners in Africa has increased from about 10 million in 1999 to perhaps 30 million today. Using rudimentary tools they dig out small quantities of gold, diamonds and emeralds.
Here in Guyana, the prevailing illegal mining practices are a reflection of both a wider problem of coastal unemployment that has driven family men and women to a risky economic option. They are also a sign of the vicissitudes of a gold-mining sector, the organization of which is decidedly skewed in favour of the big players and where the allocation of mining lands has, up until now, discriminated heavily against the small operators. It is not that all avenues to land allocation to small miners are blocked, though the bureaucracy with the state-run GGMC has triggered a considerable degree of frustration among the miners.
Garfield Wint, one of the North Fork group, whose coastal home is at Triumph on the East Coast Demerara told Stabroek Business on Monday that after the GGMC officials had confiscated their tools and dispersed them they had been left without any real option. Word that a senior government official was visiting the region and was inspecting a damaged bridge had triggered a hasty decision that they would try to engage that official.
Long before last week's raid by GGMC and the seizure of the miners' equipment, Minister in the Ministry of Natural Resources Simona Broomes had outlined to this newspaper during a discourse on the mining sector a vision of a transformed regime of mining property allocation in the sector, one which afforded a greater measure of opportunity to small miners through arrangements loosely termed as "syndicates" that allowed for legal access by groups of small miners to modest mining areas. It is, the minister had explained, a microcosm of a wider vision, which envisages the fuller integration of the mining sector into the socio-economic fabric of Guyana.
The likelihood that the North Fork group, having had their equipment seized by the GGMC restored to them, will be allocated a plot of mining land on which to legally pursue a living has triggered a remarkable collective animation. Anticipating the legitimization of their moonlighting activity, Wint talks about the creation of a formal structure within the group that allows for collective endeavour, an organized management system and one that allows for mutual support for members of the group. The promised land allocation may not yet be a done deal but the likely spinoffs are already evident and the North Fork group knows it.
On Wednesday, Broomes told Stabroek Business that she believes the precedent set by the experience of the North Fork group could be a game-changer for the mining sector. "There are two issues here. First, what we are terming syndicates could help eradicate the problem of illegal mining, which is something that the government cannot condone," she said. "The other equally important thing is that syndicates can redress the balance in terms of land-allocation. The legal allocation of mining lands to large numbers of organized small miners can, in the long term, create thousands of jobs and raise the living standards of large numbers of families across Guyana. The gold-mining sector offers employment options that are not available in the coastal areas of Guyana. Between the government and people who are willing to pursue that opportunity there are the possibilities of a worthwhile partnership."
Around the Web