Already existing tendencies towards an anti-worker posture in some sections of the extractive sector ought to send clear signals to government regarding its obligation to make new arrivals in the oil and gas and gold-mining sectors, particularly, aware of the laws of Guyana that protect workers from abuse and accord them the right to trade union representation.
"I am aware that there are exchanges going on between government and Exxon, for example which, I suppose, is all part of the process of helping to prepare Guyana for the advent of oil exploitation. However, as General Secretary of the Guyana Trades Union Congress (GTUC) I am not aware that any allowances have been made up until now for involving the trade union movement in the discourse. I make this point particularly in view of the high risks associated with both the gold mining and oil and gas sectors. Those are sectors in which conditions of work including ensuring a secure safety and health environment ought to be key features of the work environment. The history of oil exploitation across the world tells us that the oil companies are not always overly mindful of the welfare of their workers."
And Lewis told Stabroek Business earlier this week that he is no longer prepared to "wait on government" in this matter but instead intended to communicate with the expatriate oil recovery and gold-mining companies in Guyana requesting meetings with them to discuss worker welfare and the rights of Guyanese workers under the constitution.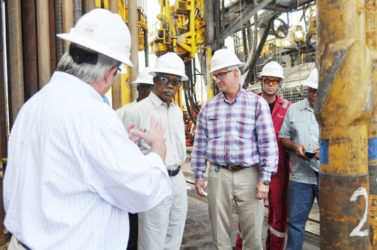 "I can already hear some objectors talking about interventions that chase away investors. That is not the intention here. It would be foolhardy to have foreign companies come to this country and hire relatively large numbers of workers and simply leave those workers vulnerable and unprotected in those instances where their employer might not care about their welfare."
And according to Lewis vigilance in matters of worker welfare in the extractive sector was even more important since Guyana has seen "one glaring example in recent years" of expatriate employers abusing workers in spite of the presence of the Union. Describing the      Russian management of the jointly-owned – Government of Guyana and the Russian company RUSAL as "a blight on the industrial relations fabric of Guyana", Lewis said that the company, Bauxite Company of Guyana Inc. had essentially "taken the country's industrial relations principles and thrown them in our faces. The Russians at BCGI told the previous political administration that it had no intention of negotiating with a Union and there is nothing that we were able to do about it. Nor is there any change in that particular situation with the present administration", Lewis told the Stabroek Business.
Lewis, meanwhile, told this newspaper that since responsibility for notifying foreign investors of the laws of a country lay with government, he saw no reason why the country's investment agency, the Guyana Office for Investment (Go-Invest) should not be given the responsibility to notify investors about the country's labour laws. "I have a seriously difficulty with an argument that says that if you talk with investors about the labour laws of a country you are essentially driving them away. That kind of argument surely raises questions about just how much a government cares about its people.
Lewis told Stabroek Business that while the unionization of workers in the extractive sector was a matter of choice, at the end of the day it had to be their choice. "We cannot afford to have a situation in which that choice is left entirely up to the employer, "possibly leaving the door open to exploitation of employees."
Lewis says that he believes that it is important that the trade union movement "set out its position on issues like core labour standards to expatriate companies in the extractive sector. It is not a matter of foisting the trade union on them in the context of insisting on its compulsoriness.
It is really a matter of letting them know what kind of society we are as far as respect for workers rights are concerned."
Around the Web