While the local manufacturing sector continues to encounter a number of challenges in its quest to secure external markets, including regional ones for goods produced in Guyana, some companies continue to make incremental breakthroughs.
Last week a Stabroek Business free – lance writer discovered that some locally manufactured products are beginning to find their way into shops and stores in Port of Spain.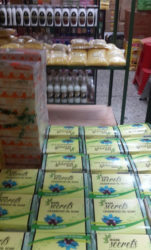 In this picture a batch of Waini Secrets soap manufactured by the Guyanese company Waini Naturals is seen on display at the Mustapha's  Store located at 46 Prince Street in Port of pain, Trinidad.
Mustapha's Proprietor, Alan Romero told our reporter that the soap was introduced to the store by Guyanese distributor. It appears that while sales are slow the Proprietor is sufficiently encouraged by the product to retain it on the shelves of Mustapha's.
What particularly impressed our reporter was that the local product's standard of packaging and labeling matched those of other cosmetics on display at Mustapha's.
Waini Naturals produces a range of crabwood products including oils, soaps, lotions and creams.
Around the Web