The Guyana Marketing Corporation (GMC) continues to promote the exportation of non- traditional agricultural commodities. GMC in its call to Agro-processors to bottle coconut water to sell to local, regional and international markets takes this opportunity to share success stories of producers of bottled coconut water.
The first Agro-processor to bottle coconut water in Guyana was Raymond Trotz of Phoenix Enterprise, which is located at Enterprise on the East Coast of Demerara. The Agro-processor stated that he commenced bottling coconut water in 2004 and officially launched his product at GuyExpo 2005, in 1/2 litre (500 ml) bottles under the brand name 'All Natural Coconut.' Trotz stated that this product was well received.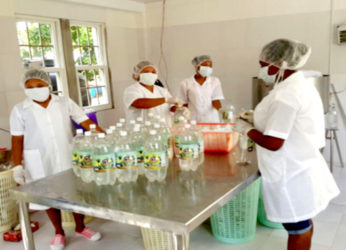 Today, 'All Natural Coconut' is supplied mainly to shops and supermarkets in Georgetown and on the East Coast Demerara. He also highlighted, that coconut water production creates a supply chain from production to consumption; all creating regular sources of income that contributes to the development of the economy.
Nateram Ramnanan is an Agro-processor on the Essequibo Coast who started selling coconut water in cups at his stall in Charity in August 2004. The Agro-processor affirmed that the commencement of his operation entailed purchasing one hundred coconuts weekly. This operation commenced in August of 2004.  Nateram stated that within months he saw his business "boom" and he decided to start bottling coconut water under the brand 'Original Juice.' Today his production of coconut water has increased to five thousand bottles per week. The Agro-processor asserted that Sterling Products Limited came on board by investing in his business and gave him the opportunity to be trained. Currently, bottled coconut water is supplied to supermarkets, hospitals, restaurants and many small retail outlets.
Irwin Garraway; a Trinidadian national was also instrumental in developing this industry in the Pomeroon. Under the brand name 'Virgin Caribbean', bottled coconut water was exported to Trinidad during the period 2007 to 2014. Virgin Caribbean is no longer in existence.
Vilma De Silva ventured into the coconut water business in 2011, after realizing that there was a significant surplus, in terms of coconuts being produced on their farm.  De Silva, who had been working alongside her husband in this venture over the years mentioned that a decision was taken in that instead of having the coconut mature into 'hard' coconut and sell as a primary product, they opted to bottle the coconut water for the local market.
She now produces bottled coconut water on a large scale, under the brand name 'HENVIL FARM' and supplies to Sterling Products and other local outlets. In addition, bottled coconut water is sold to exporters for the Trinidad markets. The Agro-processor confirmed that her venture has been successful. After starting off with 250 bottles of coconut water, she now produces approximately 24,000 bottles per month.
In her pursuit to earn a living she continues to strive in the coconut water business and is now able to manage staff effectively and provide job opportunities for persons in her community.
Meanwhile, the General Manager of the Guyana Marketing Corporation  Ida Sealey-Adams noted that there was a lull in the exportation of coconut water for six months from October 2014 to March 2015. From April 2015 to date, coconut water has been exported monthly primarily to Trinidad. In 2015, the largest quantity of bottled coconut water; 27, 591 kg was exported in August to Trinidad. Similarly, to date in 2016, the largest quantity of coconut water; 20,000 kg was exported in May.
Sealey-Adams also stated that during the last sixteen months approximately 224, 017 kg of coconut water has been exported.
GMC usually facilitates the exportation process by providing various services to stakeholders. The Ministry of Agriculture through GMC acquired refrigerated forty-foot (40ft) containers to improve the Cold Chain for Non-Traditional Agricultural Produce. This is aimed at benefitting farmers and exporters in maintaining the required environment for fresh produce and Agro-processed products. Cold storage facilities are located at the GMC's packaging facilities; namely the Central Packaging Facility which is situated in the National Exhibition Complex and the Parika Agro-Packaging Facility which is found behind the Neighbourhood Democratic Council Office. In addition, the Corporation provides refrigerated trucking service to transporters such as farmers and exporters of fresh and valued-added commodities. Additionally, GMC provides an export customs brokerage service to all stakeholders.
Moreover, GMC continues to receive inquiries and market information from interested persons who are desirous of exporting this local beverage. These linkages are continually provided to Agro-processors by the Corporation. Further, the Corporation also plays a critical role in facilitating meetings and visits between the buyers and Agro-processors.
Coconut water continues to gain great attention on the regional market, more specifically Trinidad; so much so, that Pomeroon is now leading the way in the bottling of coconut water. In terms of the international market, this product is currently being exported to the United States.
A Guyana Marketking Co-operation feature
Around the Web