With the need to attract high value external markets (HVMs) for Guyana's agricultural produce having long been high on the list of priorities of the country's export sector, the Canadian-funded initiative titled Promotion of Regional Opportunities through Enterprises and Linkages (PROPEL) project has already made an important footprint in the journey towards that goal.
PROPEL regards itself as a sustainable economic growth project, its particular objective being to increase the value of regional food produce to meet the demanding standards of HVMs particularly in North America and Europe by Cdn$100 million over six years.
Funded by the Canadian Department of Foreign Affairs, Trade and Development (DFATD) and implemented by World University Service of Canada (WUSC), the project is working with producers, private sector buyers, other value chain actors and business service providers to facilitate the safe, effective and efficient movement of fresh produce from the farm level to high value markets. In the process, PROPEL must focus on the requirements set by the HVM buyers as the entry point for determining market prospects at the local, intra-regional and extra-regional levels.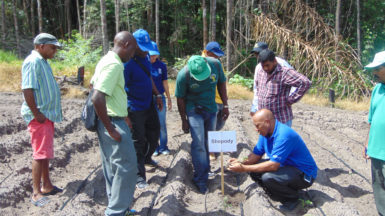 Here in Guyana, PROPEL's interventions have contributed to a number of worthwhile improvements in the agro-processing sector. Its work with the Guyana Marketing Corporation (GMC), for example, has resulted in the creation of a regime of nutritional facts for agro-processed products, a key requirement among HMVs. A total of 48 local entities including the Guyana School of Agriculture, Alpha Foundation College, Gobin's Farm and Kitchen and Major's Food Manufacturing have utilized the software to generate and display the information.
PROPEL's work in Guyana has also included facilitating discourses among vegetable consolidators and outlets to realize purchasing agreements. Within the first month of these exchanges a total of Cdn$6,698 worth of fresh vegetables, including tomatoes, cabbage and pepper were traded.
Over the past year PROPEL has also been working with local plantain producers to provide technical training in agronomy aimed at improving the management of the dreaded Black Sigatoga disease and improving efficiency in farming techniques, including minimizing fertilizer use. PROPEL's collaborative work with the local National Agricultural Research and Extension Institute (NAREI) has resulted in the creation of important manuals on the disease which have been added to the training that target plantain farmers across coastal Guyana.
Not least among the initiatives undertaken by PROPEL with the agricultural sector in Guyana has been the monitoring of environmental and quality concerns in the process of the production of fresh vegetables. This initiative begins with an awareness of the risks associated with the indiscriminate use of inorganic fertilizers, weedicides and pesticides, climate change and disasters, which compromise the availability, quality and affordability of fresh foods.
PROPEL says that its commitment to food safety continues to be informed, principally by the public health consequences of chemical use on and off farms. Accordingly, the project has collaborated with Health 2000 Agro, an agricultural input provider that supplies organically based inputs derived from innovative technologies developed by reputable international companies.
Going forward, World University Service Canada (WUSC) Caribbean in collaboration with Health 2000 Agro and in partnership with farmers cultivating pineapples, vegetables and plantains within the agro-ecological zones of Regions 2, 3, 4, 5, 6 and 10 will be conducting an environmentally sustainable agriculture trials using organically based agro products classified as Innovate Package of Practice (IPOPs) for the identified crop on designated portions of their lands.
Potato trials
With import substitution in mind WUSC /PROPEL in collaboration with NAREI has facilitated the creation of a potato pilot trial programme locally, bearing in mind previous modest successful initiatives designed to cultivate potatoes locally. Last year Guyana imported approximately 5,674.62 tonnes of potato. PROPEL estimates that it would take just over 870 acres of land to meet local potato consumption needs. Preliminary assessments of the potential of local potato cultivation has been undertaken by the project in various parts of Guyana and the outcomes suggest that the Hilly Sand and Clay Region possesses the best agro-ecological prerequisites for potato cultivation.
In furtherance of the potato initiative training sessions have been undertaken for NAREI Extension Officers and potential potato farmers through Farmer Field Schools as well as indoor training sessions.
Eight selected farmers from Regions 2, 4 and 10 have been charged with collectively creating approximately 2.75 acres of potato fields. NAREI has also created its own pilot initiatives in Regions 4, 7 and 8 which, collectively, total 1 acre.
Onion trials
Onion imports have been a significant part of Guyana's food import bill. Over the past three years Guyana has the value of onion imports has exceeded US$4 million. During the 1970s, Guyana had successfully grown commercial quantities of onions only to be defeated by problems associated with transporting the produce to coastal markets. Accordingly, production was discontinued.
In 2011, under the new Hinterland Crop Initiative Project, the Ministry of Agriculture (MoA) has renewed cultivation efforts with an integrated approach to production and marketing based on value-added and processing initiatives. With PROPEL's support the search continues for varieties of onions that can be grown commercially and at a competitive prices in Guyana.
Earlier this month a Memorandum of Understanding (MOU) was concluded to formalize the relationship between the technical agencies of the Ministry of Agriculture – (NAREI; New Guyana Marketing Corporation; and Guyana School of Agriculture – and the World University Service of Canada (WUSC). The conclusion of the agreement is expected to enhance collaboration between WUSC/PROPEL and the local agricultural sector.
The direct payback from the collaborative initiative is already evident. NAREI, for example, has been equipped, through the project, to provide farmers with immediate recommendations following on-the-spot soil test for liming requirements, nutrient levels and fertilizer content. WUSC Caribbean and NAREI plan to enhance their partnership with special emphasis on improving environmental restoration and climate change initiatives. Specific areas of cooperation are likely to include plant diversity within farms, uptake of integrated plant health technology, restoration of the ability of soil to function as a natural reservoir of carbon and provision of extension support and research in climate smart agriculture.
Around the Web